Basic white sourdough boules
Hello,
Tried this out...   33% preferment (33% of that with my starter) -- all white KAF bread flour, natural leavening.
1.  Levain at 80% hydration, cold fermented for 24 hours at 46F (levain had risen appx 2.5x, was domed and had not collapsed).
2.  Bulk fermentation of final dough at 68% hydration at room temp (low 70's F) for 2.5 hours, two stretch+folds.
3.  Shaped into boules, put into brotforms with cloth, retarded again for another 20 hours at 42F.
4.  Heated up oven + baking stone at 500F.
5.  Took out loaf from cooler, scored + baked immediately.  It was appx 1.6 lb total.
Results:   I believe the loaf was underproofed a bit still.   Also my scoring for boules lacks any "ears", which, depending on your point of view, is good or bad, but I was hoping for something.  I've had good ears on other breads, but whenever I do a boule there are little to no ears.
The best:  This has produced the most excellent flavor and chewing texture.  Very happy with the results, ears or not.  Much better than store-bought bread.   I won't win any international awards, but not bad for my beginner skills.
I normally keep my starter @ 125% hydration to prefer the yeast activity (I don't own a microscope so I cannot say for sure), and from what I read, the lower hydration levains prefer the acidity, so I did a long slow levain at lower hydration to see how far I could push the acidity.   The final bread is really good!  Bold sour but also complex sour.   I love it, actually.  So in a sense, mission accomplished.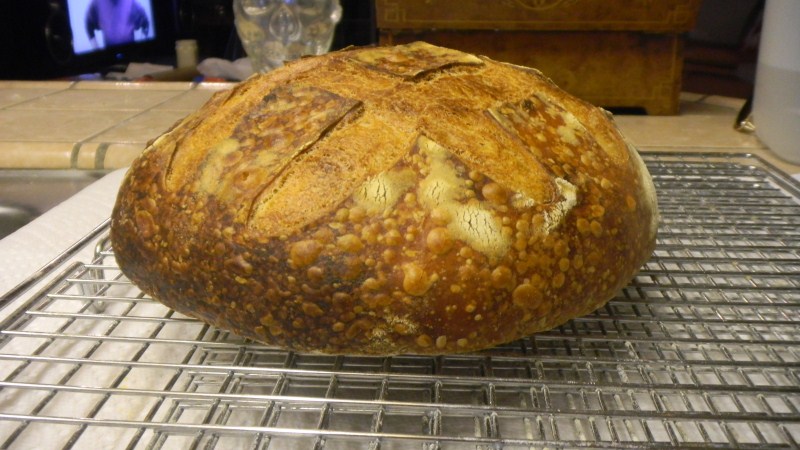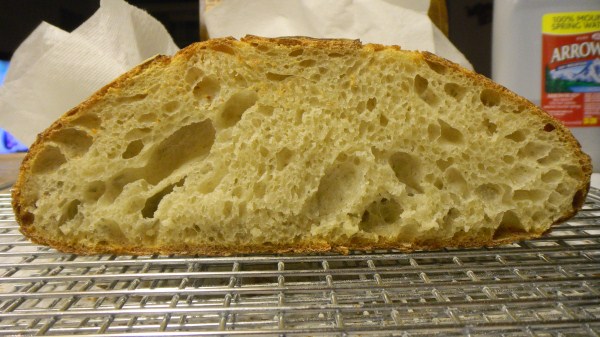 Not the most open crumb in the world, but good for me!