Extra-sour cold autolyse 2.45 kg Miche. Cold retard too?
Hi everyone,
After my recent trip to Germany, and being just blown away by the piece of an amazingly sour miche I purchased at Soluna Brot und Oel in Berlin (see here for description and photos), I was inspired to try making an extra-sour miche like that one.
I think I came close.  In my previous efforts with trying to make my sour bread more sour (lower hydration starter), I tried Reinhart's idea of using a larger percentage of sour levain in the final dough.  So rather than the usual small amount of levain, I used just more than 40% levain in this dough.
The levain was 1020g (66% hydration) of a total of 2.445 kg dough  (170g starter, 510g flour and 340g water).
I also have had good results in coaxing complex flavors from my flour when making baguettes by using the cold-autolyse method: I put a bowl of flour in my freezer for about 1/2 hour, along with a large jug of spring water (just more than the recipe requires, since some freezes) and icecubes.  Mix the water and flour together and refrigerate overnight.  Since I was feeding the sourdough starter overnight, I decided to try this cold autolyse as well for the non-levain part of the flour.
Cold autolyse: 754g flour with 518g ice water (68% hydration).
final dough: all the levain and cold autolyze, plus 28g sea salt and 125g water.  Total dough weight of 2.45 kg at 70% hydration. 
Fermented for about 4 1/2 hours, with five S&Fs, one every half hour, at the beginning, then 2 hours undisturbed.
Shaped the whole loaf round with minimal degassing.  (I now think I should have bench rested it and shaped it again to further increase the surface tension.  It might have managed a bit more height and not almost run off my pizza stones if I had done so.)
I intended to increase the sourness by also retarding the loaf overnight.  But because of its size and the vigor of my sourdoufgh starter, after two hours in the fridge it was already looking dangerously close to over-proofed.  I don't think a 2.25 kg dough could cool quickly enough to retard the rising happening inside the dough.  So I chickened out; took it out of the fridge turned the oven on and baked it 3/4 hour later.
It turned out pretty good.  Caramelized crust (not uber-crunchy after cooling) with a cool creamy crumb that tastes both sweet and sour (at 18 hours after baking; I hope that will improve with time).
But still there is this ideal, even-more-sour version I had in mind, that the cold retardations could have produced.  
My question: Has anyone had success at cold-retarding large and vigorous loaves like this? Is this size the impediment to effective retardation, as I suspect it would be?
Here's how it turned out:
I proofed it in a large stainless steel bowl lined with my linen couche cloth.  It about 2/3 filled the bowl after shaping.
After 2 hours in the fridge, it had risen to about 1 3/4 the size it was after shaping (which was not fully degassed when I put it in the bowl to rise).  From the look of the surface at this stage, I figured that it was not going to slow down enough by being in the fridge, and it would be better to just bake it soon.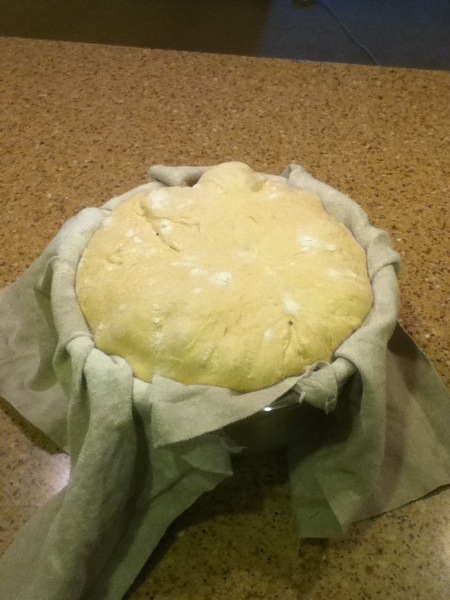 Just out of the oven.  This monster is about 16 inches in diameter; bigger than my pizza peel.  It just barely fit on the 20x16 inch pizza stone in my oven.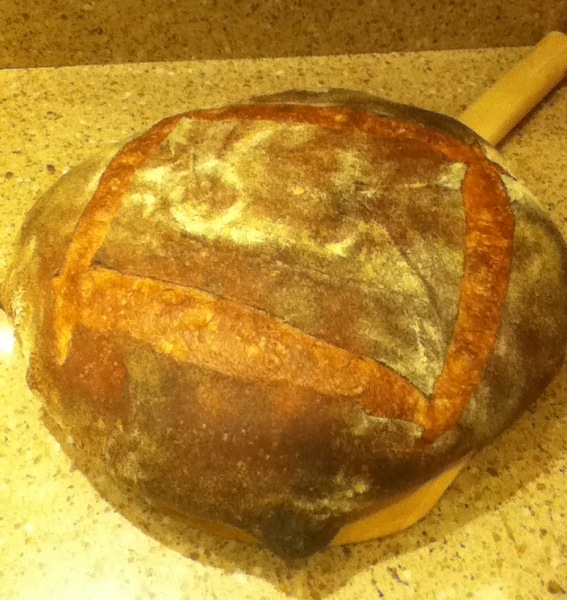 Crust is nicely caramelized and cracked in tha few places: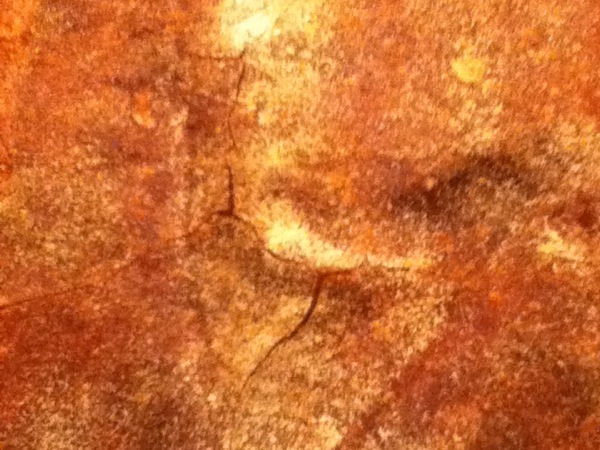 The crumb is translucent, and has nice holes.  None too cavernous, but large enough.