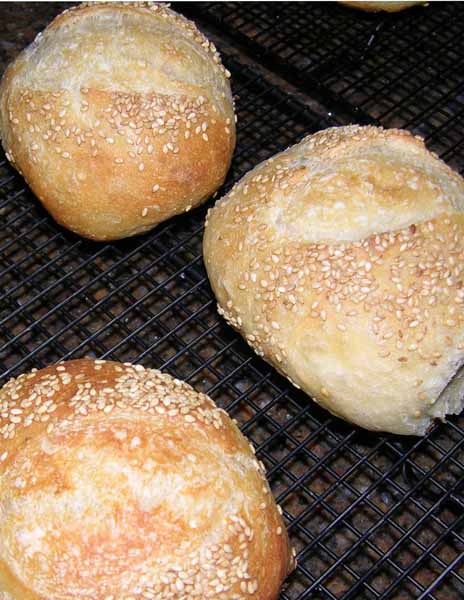 Today's experiment.  I got tired of chasing hard rolls for my husband's lunches and these worked out well.  I rolled 4 oz of dough and put three in each oval brotform to rise.  Then baked them in oval clay bakers for 30 mins and an additional 5 mins uncovered to darken.  Egg white/water wash with sesame.   Here's the recipe:
15 oz KA bread flour
1 Tbsp dried buttermilk
1.5 tsp sea salt
1/2 tsp yeast
1 tsp diastatic malt powder (optional)
11 oz liquid (I use 50 / 50 water and ale)
Mix all together and let ferment overnight or 10 - 12 hours.  Stretch and fold dough; let rest 10 - 20 mins.  Divide dough into 6 equal parts (4 oz).  Bake @ 450- 460 degrees for 30 mins; remove covers and bake an additional 5 mins to darken or until 200 - 205 on thermometer.