February 22, 2011 - 6:32pm
How Many Loaves Have You?
March 4 is World Day of Prayer 2011. The theme this year is 'How Many Loaves Have You?'.
There is a preset program (world-wide, I think) which includes, at the conclusion of the service, all attendees being given a loaf of bread!
What to do? I belong to a very small Church in a rural area of southwestern Ontario which might have decided, otherwise, to bypass this part of the program. I have been making bread for over a year now, have taken several courses, and thought that - if this is what the program suggests we do - then we should try to do it! (luckily, we seldom get more than 60 - 70 people attending)
I decided to make Jeffrey Hamelman's Oatmeal Bread in small, 3" x 6" loaf pans. Due to mixer, bread pan and oven limitations, I have been making them like an assembly-line using the 'home' quantities, over and over. I mix a batch, set it to proof, mix another batch and set it to proof, and so on. I made up a schedule sheet to keep track of where I was with each batch, and numbered my mixing bowls to avoid confusion. I found that I can make 4 batches - of 6 to 7 small loaves per batch - in a day.
I am freezing the loaves until March 3. I have over 50 loaves so far, so am hoping that one more big bake day will get it done.
Here is yesterday's bake -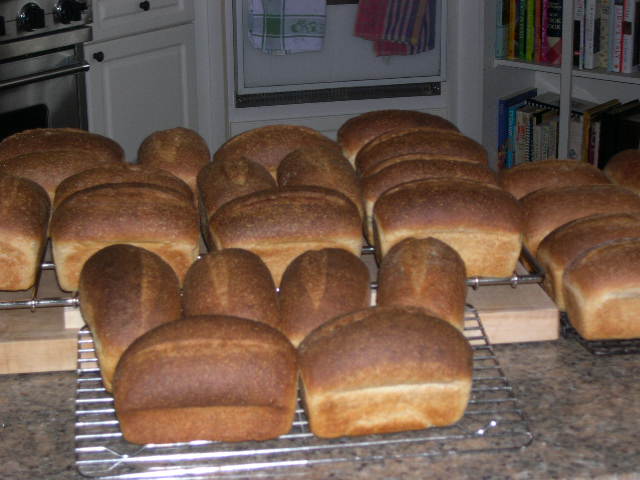 And, of course, every big effort like this requires a supervisor. Here is mine -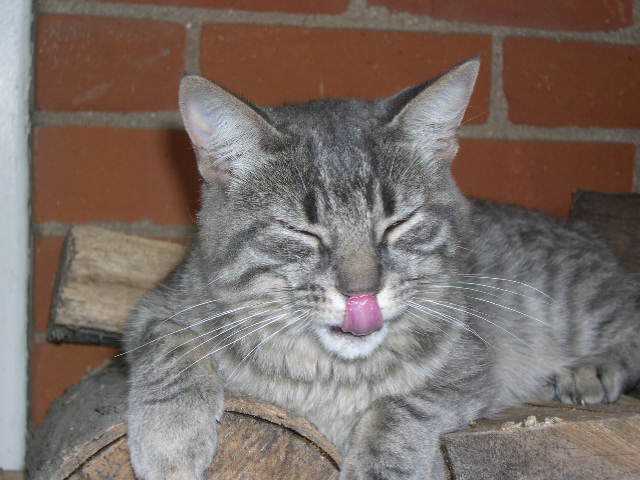 Wish me luck!