December 9, 2010 - 7:56am
I've learned a lot from both this forum and from baking lots of bread. One of the lessons I learned early on is that specialty pans are expensive and that 99% of the time there is an alternative in the cupboard already. So-not having a pannetone pan and not planning well enough ahead to order the papers for holiday baking was not too much of a barrier. I decided what size loaf I wanted to bake, went to my cupboard and found some adequately sized cans-YES cans!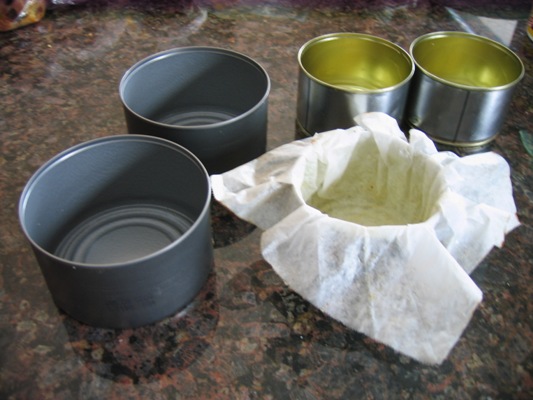 These are individual sized pannetones- turns out the water chestnut can and the mandarin orange can were the perfect size for my project. I also decided that since the dough was so sticky, I should have a release paper liner with parchment paper. I tried exactly one time to form-fit a pannetone paper that would sleekly hug the can and have a disc of paper on the bottom so the bottom wouldn't stick. I used all my scissor skills learned in kindergarten. What a job that was! No way I'm doing that 10 or more times! What I ended up doing is taking a square of parchment paper,centering it over the top of the can and using the next size smaller can as a plunger and carefully plunging it into the receiving can-taking care to flatten all the folds (and not tear it) in my version of a tulip paper. (more like a chrysanthemum paper). I sprayed the inside with pan release and I was good to go!
I filled them 3/4 of the way since this dough was not going to rise much-it had risen for about 24 hours and I projected at least a 5 hour rise in the can-it turned into a 9 hour rise,even in a warm,moist environment. I didn't take a pic of that but here is the crumb.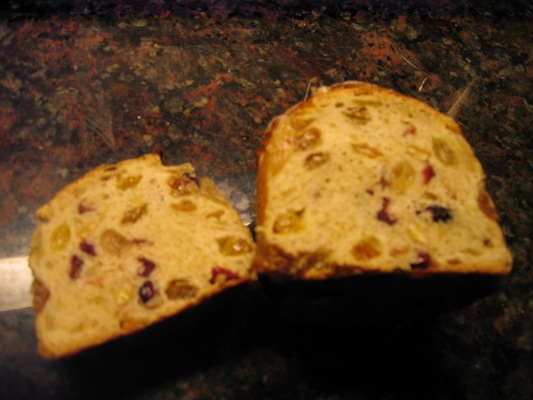 This was from floydm's Pannetone recipe on the homepage picture. It is quite delicious but more fruit bread than bread with fruit. I think next time I will use only about 1 1/2 c fruit total (fruit and raisins together) than 4 cups (as in recipe) as I prefer my holiday bread to be more bready. It may rise faster,also. I had orange flower water and added vanilla for a really wonderfully scented bread. The dried fruit I used were craisins,candied orange peel,candied pineapple and golden raisins. I had slivered almonds instead of sliced. Sliced almonds would have been better. The topping was sugar mixed with a few drops of the orange flower water and vanilla,stirred to a wet,crumbly stage and put on top before baking for a crackly kind of finish.
A new camera is on the Christmas wish list-this one is almot dead! Wish the pics were better.
Happy Holidays! and don't let the holidays break your bank. Take a look around for what will work! It's a good exercise for the brain!
Thanks to floydm for the delicious pannetome and brioche recipes! My co-workers and family love you for it!