February 20, 2007 - 8:02am
Presidential sourdough weekend
This weekend was a long weekend. Presidents' Day, we call it in the U.S., and presumably, it's a day on which we celebrate the birthdays of Washington and Lincoln. I don't know this for a fact, but I'm pretty sure both presidents ate sourdough bread at some point, given the scarcity and expense of baker's and brewer's yeast. So, in their honor, I baked sourdough. And apparently, the sourdough beasts were having a party as well -- perhaps it was my rigorous application of an 85 degree F final proof? In any case, the sourdough critters were mighty happy over the long weekend.




On Monday, I made a couple of loaves of Five Grain Whole-Wheat Sourdough Sandwich Bread. I've never had sourdough rise like this before. And, wow, is it sour. I'm not sure what got the lactobacteria so excited -- the butter? the rye chops? the oats? who knows? -- but it is delicious, if, like my wife and I, you like sour bread.

Here's how I made it:

Ingredients:
430g starter (at 60% hydration)
560 grams whole wheat flour
465 grams water
18 grams salt
27 grams butter (roughly 2 Tbs)
170 grams mixed grains (cracked wheat, ground flaxseed, rye chops, millet, steel-cut oats) soaked overnight in 250 grams hot water
How I made it
First, I dissolved (as much as possible) the starter into the water. I then added the flour and salt, and mixed it up until I had a dough. I gave it a good thorough kneading of about 450 strokes, and then added the butter, which I'd cut into pats. I spread half on the dough, folded it over and then repeated it. After another 100 strokes, the butter was mixed in, so I then used the same process to incorporate the grains.
I shaped the dough into a ball and let it ferment for about 4 hours at 68 degrees. It probably tripled in size. Next, I did a stretch and fold, let it rest for 15 minutes, divided it and shaped it into loaves. I then put it in my makeshift proofbox at about 85 degrees F for 2 hours, after which it was just about spilling over the side of the pan.
A slash down the center and then 55 minutes in a steamy 350 degree oven.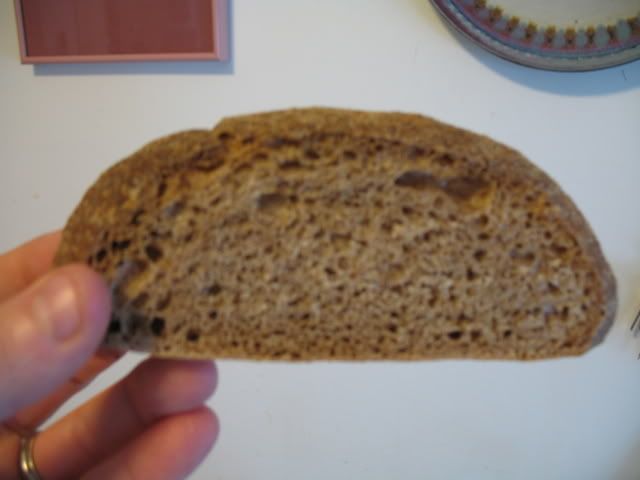 On Saturday, I made another loaf of
desem bread
MountainDog has a beautiful post on her success
here
. As you can see, though, by the time I got around to taking a picture, there wasn't much left (and, darn it, the best photo I have is blurry -- ah well). In any case, I made it this time at 80% hydration, and was pleased to see that I got an even lighter loaf. Next week, I'll shoot for 85%. For some reason, the crust was not as crispy as it had been last week. Still delicious though, and a good keeper. Two days later, it's still fresh, which is pretty amazing for a lean loaf.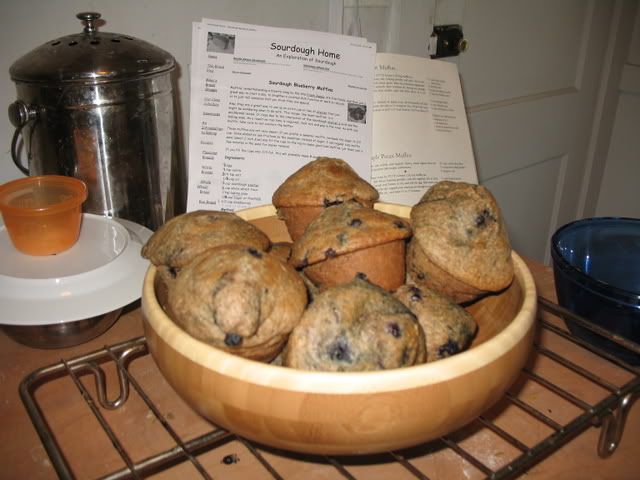 I had some leftover starter, so I took a bit of it, and built it into a wet starter for
sourdough muffins.
I played around with the recipe a bit. For starters, I doubled it. I also (in the doubled recipe) upped the salt a bit to 3/4 tsp, used brown sugar instead of white sugar, added 1 tsp cinnamon, increased the bluberries to 1.5 cups and only used 1 tsp baking soda for all 12 muffins. They really popped in the oven but, sad to say, they were a bit bland. Next time, I think I'll up the blueberries to 2 cups, use butter instead of oil, and up the salt to 1 tsp. I think I'll also use less hard whole wheat flour and more soft whole wheat flour, and go ahead and acidify the whole thing overnight.