November 7, 2010 - 9:35am
We love fresh Challah, by itself, buttered, even jammed; but, within twenty-four hours, it's just another bread...Except, when it's used for French toast! Recently, a good neighbor and friend gave me a recipe for baked French toast, that exceeds anything I've done with eggs and Challah on a griddle.
The original recipe calls for "French bread". I've substituted day-old Challah. In my humble opinion, it's much better with the Challah substitution.
Here's the recipe.
Baked French Toast
Ingrediients:
1 and 1/2 lb loaf of day-old Challah (or French bread) cut into 1 inch cubes
8 large eggs
2 cups milk
1 and 1/2 cups half-and-half
2 tsp vianilla
dash nutmeg
1 tsp ground cinnamon
3/4 cup butter
1/4 tsp salt if the butter is unsalted.
1 and 1/3 cup brown sugar
3 Tblsp light corn syrup
Butter a 9x13 baking dish; put bread cubes in pan. Beat together eggs, milk, half-and-haf, vanilla, cinnamon, and nutmeg. Pour over the bread, and refrigerate for 2 hour, or overnight. (I've done it for less than two hour, just make sure all the bread cubes are moistened.)
Pre-heat to 350°F.
In a small saucepan, combine butter, brown sugar and corn syrup (add salt if necessary) heat until bubbly. Pour over bread/egg mixture. Bake, uncovered, for 40 to 45 minutes.
My wife eats it with added maple syrup. I like it as is.
Here's a shot of a 1/2 recipe (4 or 5 servings)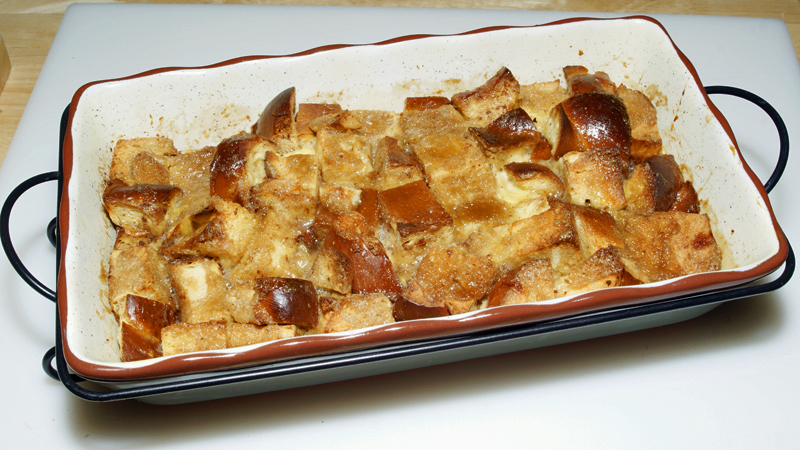 David G