October 26, 2010 - 7:55pm
Today, I made several bread using TFLers fomula. All of them are delicious.
First, I made mutigrain (100% whole wheat flour used) using Franko's formula.  I decreased the water amount down to 9% compare to the original one.  I have make his original one at the first time  that was a failure that the crumb was really tight.  The flavor was great but the texture was dry. I was kneading too much...    Anyway I will challenge the original one when I get spelt flour because it is a great recipe!
I used a  half of oats and a half of wild rice for the soaker this time. I also added 5% sugar ( 10g molasses and 15g honey)  While I was baking this bread, I smelled nice aroma all over my kitchen. It was a quite  gift for me.    But I have a question.  What do you think about this crumb?  I am a very new to use 100% whole wheat or other grain flour.  
On second,  I made David's San Joaquin Sourdough  http://www.thefreshloaf.com/node/20036/san-joaquin-sourdough-updated, and  I made it shape into dragon tails that David posted how to make.  http://www.thefreshloaf.com/node/20226/baguette-and-variations    I understand why many TFLERS make this baguette. It is really good!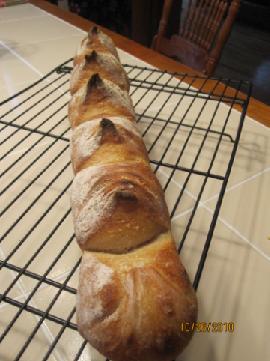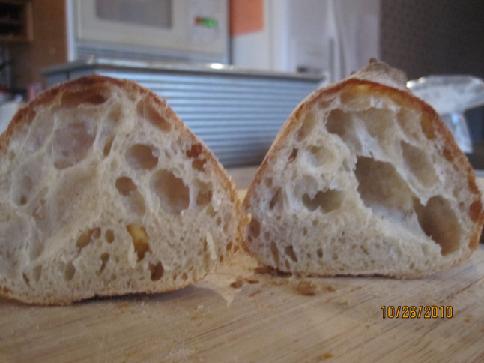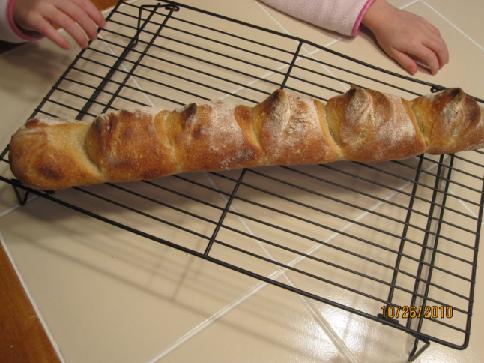 It was difficult to get rid of excess flour on the surface so that I couldn't attach the tails onto the dough nicely. Should I brush off the flour using a brush?  
On third, Wally's rye bread. I posted my result on his blog already. I should not slice it until the day after tomorrow although I had a little concern about this bread...  In fact, I left this dough outside for 4 hours before baking ( the temperature was 70F or so) because I had to go out.( I didn't mention this story on his blog.)  Fortunately, the dough was not active enough from beginning. I shaped the dough in one hour although the dough was not risen enough.  I don't know why I did that though,  it was good in the end because the dough was still keeping the height when I came home. It may be overproofed... But The taste was awesome.    I was so happy to see the crumb and the taste so I wrapped this with linen and covered it with plastic bag until I eat it.
http://www.thefreshloaf.com/node/19882/two-ryes-more-variations-hamelman#comment-140209
In the end, I made Floyd's Lasy broiche. I also posted it to his blog too.
http://www.thefreshloaf.com/recipes/lazymansbrioche#comment-140211
My brioche must be dryer than his because the little kids was having so much fun to knead and shape too much so that the crumb was little dry.  I don't care about this at all. I just enjoyed to make this nice and easy brioche with the kids.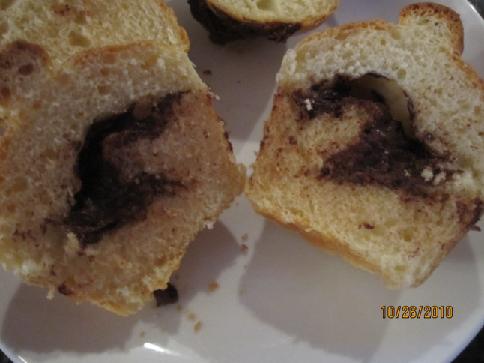 Thank you everybody!!
Akiko