September 26, 2010 - 6:08pm
When you don't have time to bake bread, bake bread.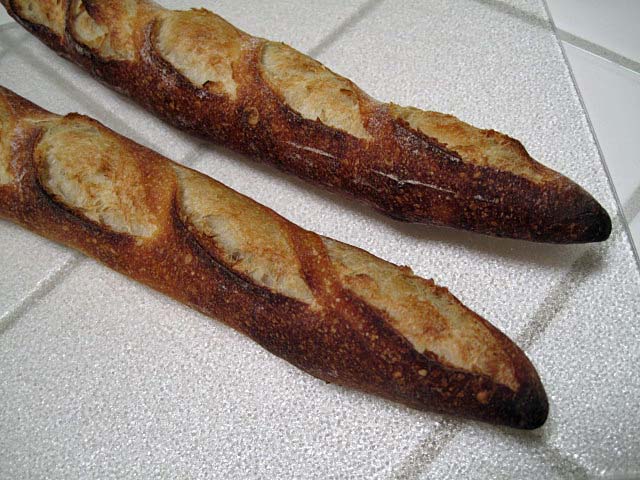 I based the formula and procedure for these ficelles on Pat Roth's (Proth5) baguette formula, which I have made several times. These are entirely levain raised and use a 65% hydration dough. The dough is entirely hand mixed. It employs a long bulk fermentation. The bread develops a delicious, sweet baguette flavor with no noticeable sourness when made following Pat's procedure. See Baguette crumb - 65% hydration dough
I wanted to make baguettes this weekend, but didn't have a block of time long enough. Also, I had a 125% hydration levain but not time to convert it to Pat's 100% hydration levain. So, I improvised.
| | | |
| --- | --- | --- |
| Ingredients | Wt. | Baker's % |
| AP flour | 11.25 oz | 100 |
| Water (80ºF) | 6.25 oz | 55 |
| Salt | 0.25 oz | 2 |
| 125% hydration levain | 3.0 oz | 27 |
| Total | 20.5 oz |   |
Note: Taking into account the flour and water in the levain, the Total Dough hydration is 63%.
Procedure
Prepare the liquid levain and let it ripen at room temperature until the surface is all bubbly (8-16 hours, depending on how active your seed starter is and the room temperature).

Refrigerate the levain for a day.

In a large bowl, dissolve the levain in the warm water. Add the other ingredients and mix to a shaggy mass.

Cover tightly and allow to rest for 30 minutes.

Stretch and fold in the bowl for 20-30 strokes. Re-cover the bowl. Repeat every 30 minutes 3 more times.

Transfer to a clean, lightly oiled bowl.

Bulk ferment 1.5 hours. Do a stretch and fold on the board.

Bulk ferment for another 2 hours.

Refrigerate overnight (8-12 hours).

Take the dough from the fridge and immediately divide it into 3 equal pieces.

Pre-shape each piece loosely into a log and cover them.

Let the pieces rest for 1 to 1.25 hours. The should feel a bit puffy but should not have expanded much.

Shape into ficelles and place en couche, seam side down.

Pre-heat the oven to 500ºF with baking stone an steaming apparatus in place.

Proof the loaves until they spring back slowly when pressed with a finger tip.

Pre-steam the oven.

Transfer the loaves to a peel (making sure that they are seam side down on the pel) and score them.

Load the loaves onto the stone. Steam the oven and turn it down to 460ºF.

Bake for approximately 20 minutes, until the loaves are nicely browned and the bottom sounds hollow when thumped.

Transfer the baguettes to a rack.

Cool completely before eating.
The ficelles had a crunchy crust. The crumb was sweet and tender with a very slight sourdough tang.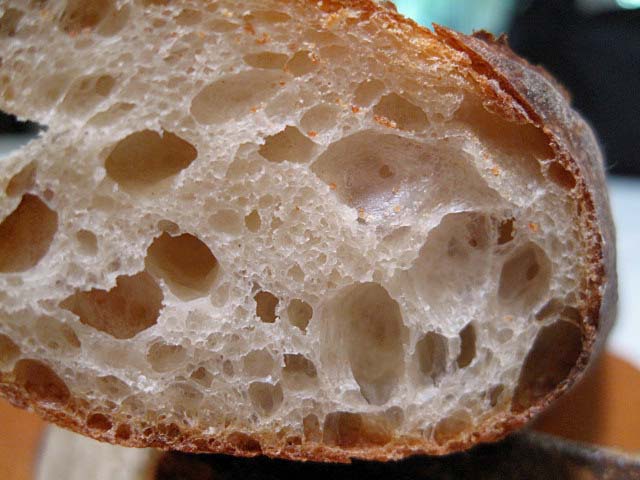 There is frequent discussion on The Fresh Loaf about how to fit baking into a busy schedule. I share this experience as an example of adaptation of a known recipe, usually made in one day, to a two-day procedure. I think it was reasonably successful, and I may very well do this again when I don't have an 8 hour block to babysit dough.
David
Submitted to YeastSpotting