September 26, 2010 - 12:36pm
Interesting Experiment with Sourdough Starters
I just tried my first recipe from Hamelmann's "Bread" - the Mellow Bakers September challenge: Sourdough Rye with Walnuts. Since I had enough mature rye starter I decided to experiment a bit. I made two sourdough starters, one following Hamelmann's instructions to the letter, ripening the starter for 16 hours at 70 F. The other got the 3-steps treatment (3 feedings at falling temperatures, from: M. P. Stoldt "Der Sauerteig-das unbekannte Wesen").
After 16 hours the 3-stage starter looked more developed and hat a very pleasant sweet, almost fruity, smell. The "Hamelmann-starter" looked a little less smooth and its aroma was much less pronounced. Both starters went into the fridge overnight. The next morning they looked about the same, the Hamelmann one smelled stronger, but still less than the 3-stage one.
Mixing the doughs I realized that Hamelmann's instruction pertains only for industrial mixers, no way a regular stand mixer could incorporate a cup of walnuts at the end of the mix, when the dough is almost fully developed, at low speed. Because I wanted to see the difference, I nevertheless followed the instruction with the "Hamelmann-dough", and, as expected, had to mix some more by hand in order to avoid the dough getting too warm. To the other dough I added the nuts slowly and continuously through the feed, and had no problem incorporating them without additional time or hand work.
Both doughs were then treated exactly the same, proofed in bannetons and baked together according to the recipe. When they came out of the oven, they looked pretty much the same. But when I cut them there was a remarkable difference: the "Hamelmann-Loaf" was denser and had an oddly marbled look - the nuts being basically in one layer - , whereas the "3-Stage-Loaf" was less dense and had a more uniform look - the nuts being evenly distributed.
But the most amazing difference showed when we tasted the breads. 3 people found unanimously that the 3-stage Sourdough Rye with Walnuts tasted better than Hamelmann's one stage version!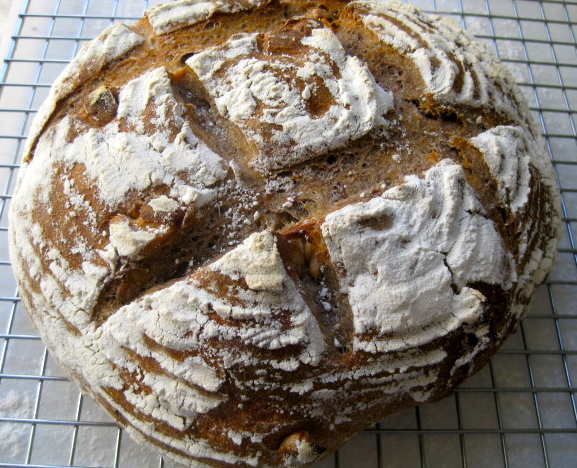 Both breads looked like this one: Sourdough Rye with Walnuts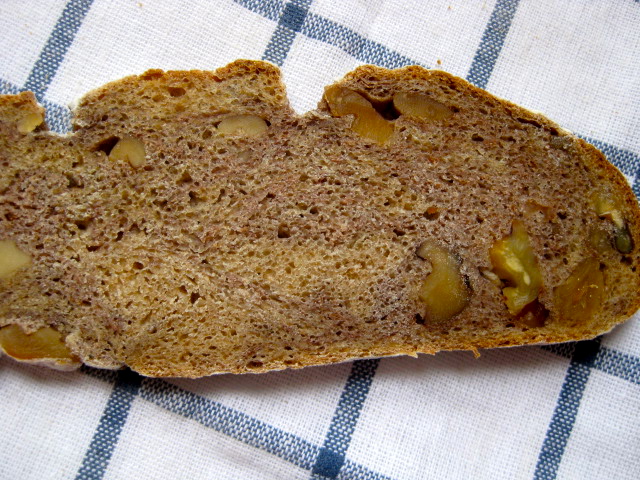 Crumb: Sourdough Rye with Walnuts (following Hamelmann's instructions)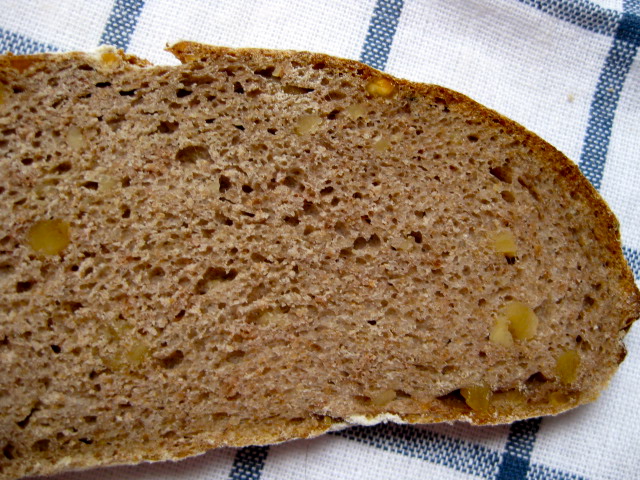 Crumb:Sourdough Walnut Rye (3-stage version)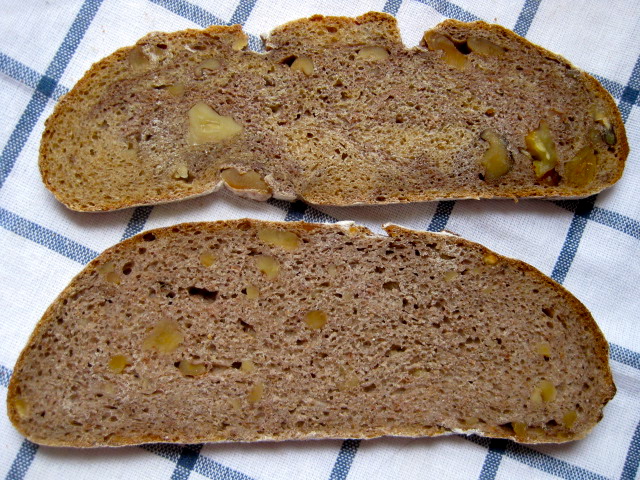 Comparison - the upper slice is the "Hamelmann-Loaf", the lower one the "3-Stage-Version"