September 22, 2010 - 11:02am
Hi to all from Philly area
Hi all,

My name is Jack and I am a recently retired USPS maintenance supervisor from the Southeastern suburbs of Philadelphia, PA.

Since retiring at the end of May, I have spent a lot of time my watching grandkids swim in my backyard pool, my tomatoes and cukes grow (bell peppers didn't seem interested in doing so) and perfecting my Sudoku skills. One day, towards the end of August, I got the idea in my head that I wanted to bake some Italian bread. So with absolutely no experience in that area and not realizing the possible addiction I was heading for, I went out and bought some King Arthur bread flour and a few packets of yeast. Shame on me, if my wife had seen what was coming she would have hobbled me and put a padlock on the oven door.

Since that fateful day, I have probably constructed 16 loaves of bread and made a miserable attempt at making danish pastry (it came out more like bread than some of my bread). A few of those loaves did get over an inch in height though and to tell the truth, even the worst tasted pretty good. Recently, my ears are continually assaulted by the plaintive cries of my granddaughters, "PopPop, can I have another piece of bread?".

I wandered into "The Fresh Loaf" as I was googling the internet for everything from "autolyse" to "Baker's Percentages" to "hydration". I never realized how many other breadheads were out there, kinda makes me believe there is hope for me after all. I'm hoping to learn a lot from all of you.

Since my bread has gotten a little better I've uploaded some pics hoping to maybe get a discussion started. Ideally, some of you will give me some constructive criticism. Feel free to cut my bread up as much as you want. (my son just did, about half a loaf's worth).

These are 2 loaves of a semolina Italian bread, the recipe for which came from

http://www.inmamaskitchen.com

and is called

"Semolina Bread from a Professional Baker"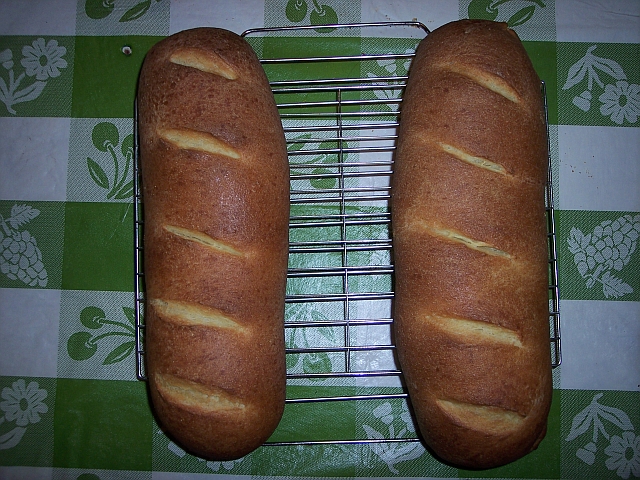 I used a cornstarch wash and steam, neither is in the recipe.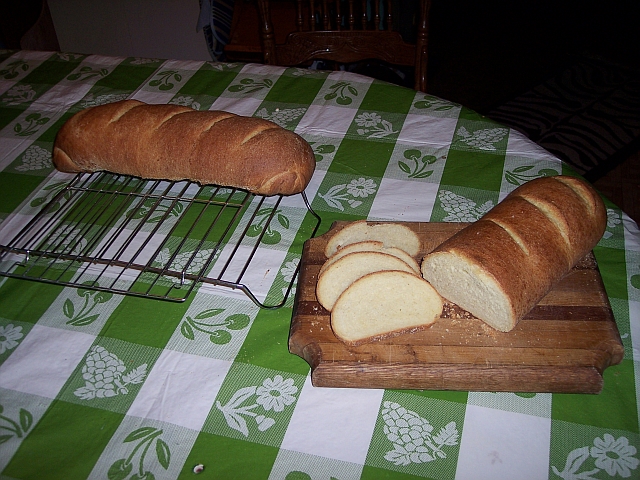 The bottoms split on one side of each loaf and I'd like to have more large air pockets