Potato Rosemary Rolls, Cheese Rolls, and Trumer Rolls, Oh My!
Wow, I just just realized I've been on a bit of a roll kick lately :-) As the result of being busy, and being lazy about blogging when I actually do have the time, I am a bit behind. I would like to give more details on each of these bakes, but at this point I know that if I try to put in too much information I'll never get around to writing anything at all!
My daughter came for a visit, and she brought friends along, so I actually baked quite a bit. First up was a sourdough version of floydm's potato rosemary roll recipe. This is the second time I've made this recipe, both times with a levain rather than commercial yeast and the rolls are delicious. The first time I made them, I thought they would be good as hamburger buns. So that's what I used them for this time!
Unfortunately, I baked my first batch a little too long (28 minutes) and the crust was a little tough for a burger bun. The second batch, I cut down to 23 minutes, and it was better but still a tad tough.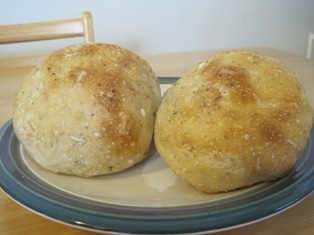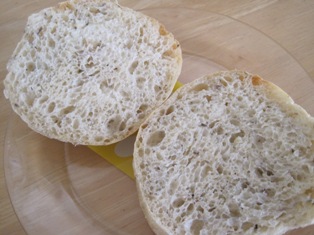 Next I made some cheese rolls. Anyone familiar with the Cheeseboard in Berkeley, CA knows about these! Absolutely delicious! I used spelt flour instead of whole wheat and spread out the fermentation, shaping, and proofing of these rolls over 3 days due to a busy schedule and not wanting to bake at midnight. It was too much for the spelt. As you can see from the picture, the rolls collapsed and didn't really get any oven spring.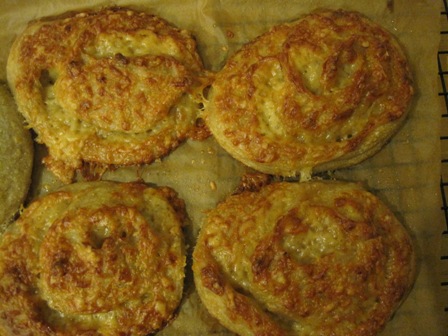 I also made a pizza using the Pizza Napoletana recipe from BBA for the crust. The BBA Pizza Napoletana recipe uses the same cold fermentation technique as the Pain a l'Ancienne recipe, so needless to say, it is fantastic. I've actually tried using a dough from the Pain a l'Ancienne recipe as a pizza dough, but the higher hydration makes it too difficult for me to shape into a pizza crust. This pizza had carmelized onions, figs, goat cheese, basil, and a balsalmic vinegar based sauce. Sorry, no pictures... everyone was hungry and the pizza was devoured in short order.
Last, but certainly not least, I baked up a batch of Trumer Rolls to bring to a friends house for dinner. This is my own recipe and something I bake on a regular basis. I'm sure I'll post the recipe at some point, but at a glance, the recipe is a sourdough (of course) with 40% spelt flour and the final dough is hydrated with Trumer Pils beer. Thus the name. Mmmmmmm... I wish I were eating one now as I write this ;-)