Hi tfl,

I am baking artisan bread for quite some time now and use your info on this site intensively.
It is now the time to try to return something back to the forum and ask a question.
The recipe is taken from a mix of a few sources and was developed during dozens of loaves in a home oven where my colleges at work who keep buying it twice a week helped me a lot with their comments.
The overall characteristic of the bread is a 33% bread flour, 33% whole wheat flour and 33% whole rye flour. The leaven is 70% hydration with the same mix of flours. The crust is quite thick and stays very crunchy for several hours after the bake. The crumb is somewhat dense and a little chewy. Just a little. It gives the bread a great country taste.

Here is a picture of it. (It's better than the pictures).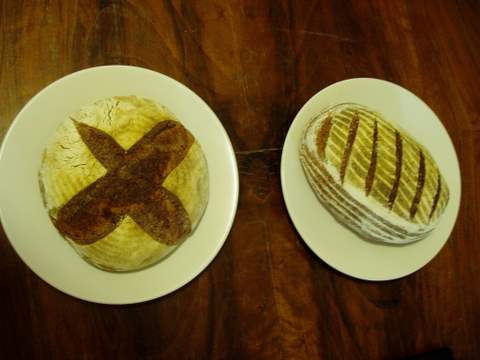 Here is the overall recipe:

Dough intergradient's
240 gram whole rye flour.
280 gram whole wheat flour.
280 gram bread flour.
590 gram water.
270 gram 70% hydration starter.
Salt 24 gram
Starter
12 hours before the final mix add the following to a mixing bowl and mix thoroughly. Cover with plastic and put in about 24c for 10-14 hours until it ripens.
60 gram whole rye flour
60 gram whole wheat flour
60 gram bread flour
125 gram water
25 gram of mature starter.
Process
Add all the intergradient's to mixing bowl except for the salt.
Mix 30 seconds after the dough comes together on first speed.
Add the salt.
Mix on second speed for 3 minutes. The dough should be developed and not very wet.
Put the dough in a lightly floured plastic for a bulk fermentation of 2 hours.
Fold once after 1 hours.

Final fermentation
Shape two oval or round loaves. Let rest in proofing baskets for 4-5 hours. 45 minute before the bake start the oven to 230c with a pizza stone on the bottom of the oven.
2 minutes before the push the loaves to the oven steam the oven with ½ cup of water. Then, another ½ cup just before loading the loaves.
Score the loaves and load them to the oven.
Bake for 1 hour.
Slightly open the door 3 minutes before the end of the bake.
Cool down.
Preferably, let rest for at least 4 hours.
Hope some of you will find this bread as good as me.
Please let me know if you know of other recipes with similar characteristics.
Thanks a lot,
David