Merlin's Magic (by the book)
After some of the comments on my other post, I tried another recipe, KAF's Merlin's Magic Sourdough. This recipe omitted the sugar, but still used the Vital Wheat Gluten which I used to boost protein and make a softer crumb. I took the recipe, by volume, but I did weigh at each process.
Basic Recipe
½ Cup Sourdough Starter (130gr)
¾ Cup Warm Water (180 gr)
1 Packet Active Dry Yeast
1 ½ Tbsp Vital Wheat Gluten
1 ½ Tsp Salt
⅛ Cup Olive Oil
3 to 4 Cups AP Flour (420 gr/3 Cups A-P F)
I began by making the sponge; starter, water, wheat gluten, dry yeast, 1½ cups a-p flour . Once mixed I let this rest on the counter for 10 hours. This is what it looked liked. I had more than doubled in volume and yeast activity looked healthy.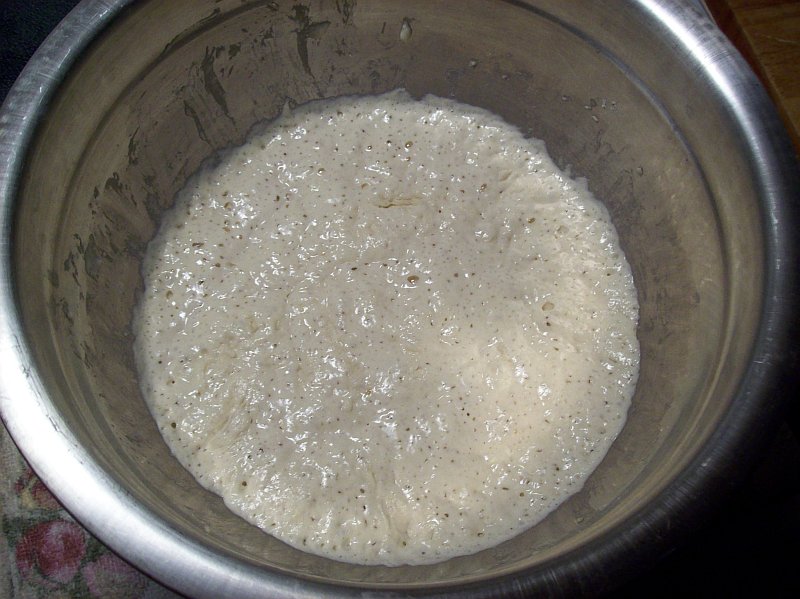 After 10 hours I added the salt, olive oil, and the remaining 1½ cup of flour and kneaded for 10 minutes or so on top of my stove, best surface I have for kneading. The dough got elastic and had the feel I wanted, something similar to a good pizza dough. Here's the pic of the kneaded dough ball.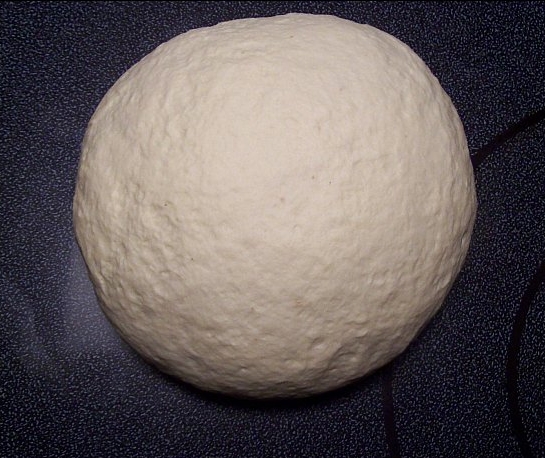 Next, I put this dough in the pan to rise for a few hours.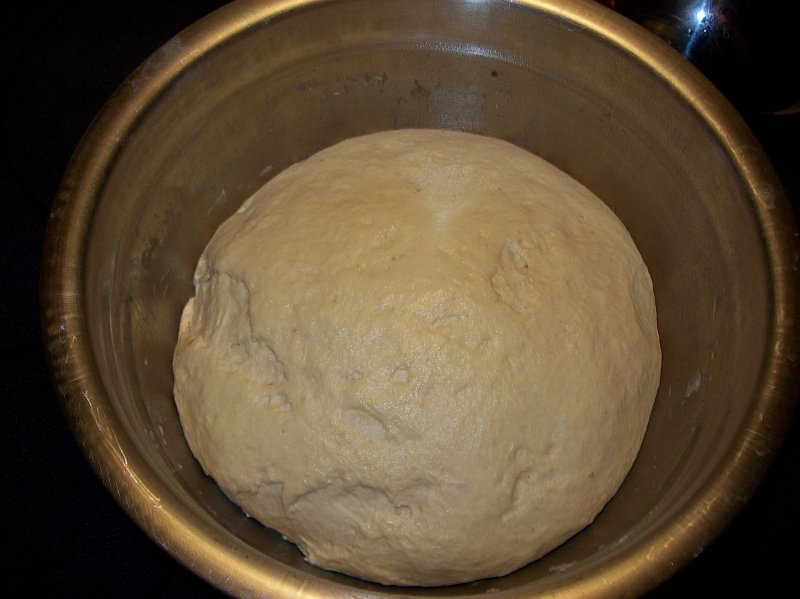 I had more than doubled and it was getting late. Two hours by the recipe, or it could have gone for 12 to develop more flavor. Here I lighlty floured my surface and used the strecth and fold technique to avoid overworking my dough. Then I formed the dough into a smooth ball, about the size of a grapefruit.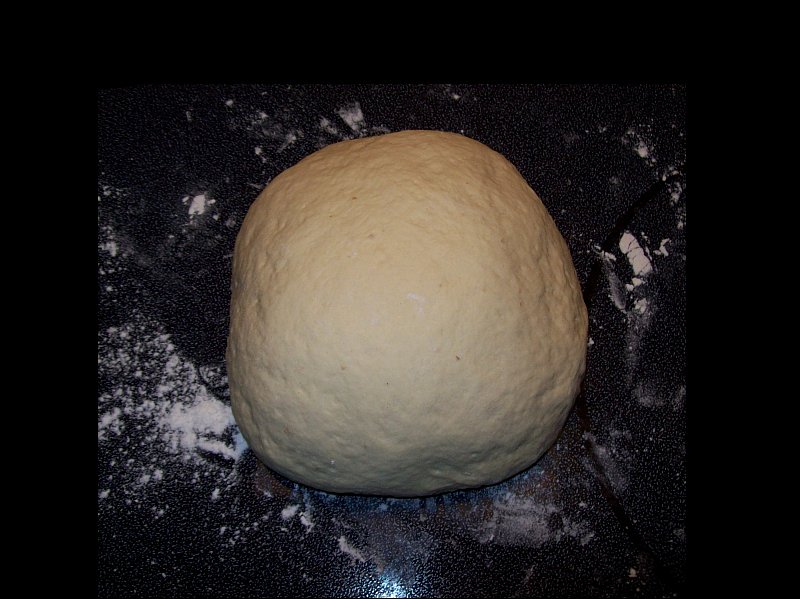 After forming the dough into a small boule, I put it on a cookie sheet, lighlty sprayed with olive oil, covered in plastic wrap, and covered that with a plastic mixing bowl, which I refridgerated overnight, another 10 to 12 hours. The recipe called for letting the dough rise for 2 hours and then baking, but it was after midnight for a loaf I started that morning, but it worked into my schedule quite well.
Here's the proofed loaf which I have just scored for baking. Recipe calls for baking at 375 degrees F for 35 minutes. I spayed the oven first, then again when I inserted the loaf, and again about 10 minutes later. I used a thermometer to bake to 200 degrees.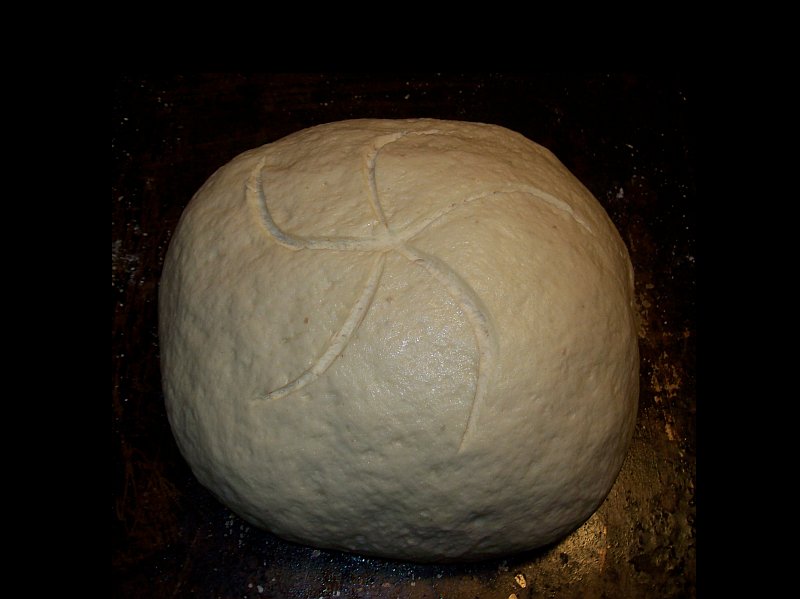 This is the resulting loaf.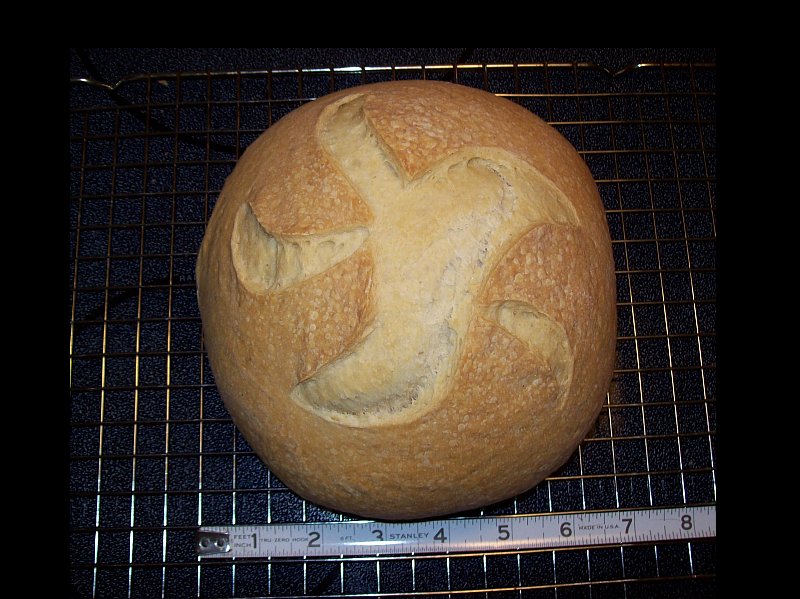 Baked weight was 683 grams or 1lb 8 1/4 oz. Perfect size. However, the crumb had a soft and finely holed textured, I suppose from the wheat gluten. Almost sandwich bread quality, soft with a chewy crust. While lighlty soured, I want more. I've ben looking for citric salt but haven't found any locally.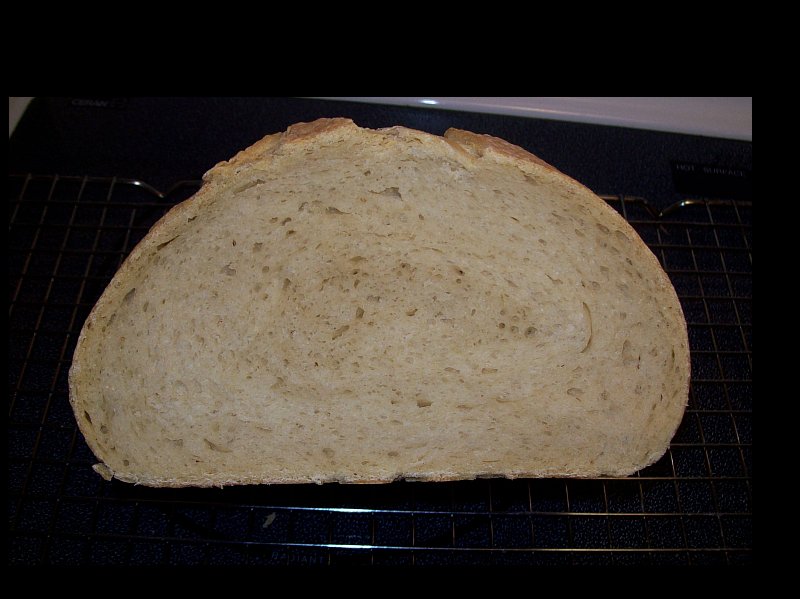 I just ate a slice with orange marmalade. Um! Um! Good!!
I'm thinking about making a few tweeks. Like using less or no wheat gluten, adding a bit of WG Rye (1/4 C), and starting with a cold oven. If that doesn't work I'm going with a hotter preheat (425-10 minutes), and then dropping to 375. Maybe I can get some citric salt in the meantime.