Over the past 2 weeks, I made several easter breads to share with family and friends, here they are...
- Tsoureki - Greek Easter Breads. No, I am not greek, and I didn't know of this bread until this year, but some of my running friends are, and I made this for our recent gathering.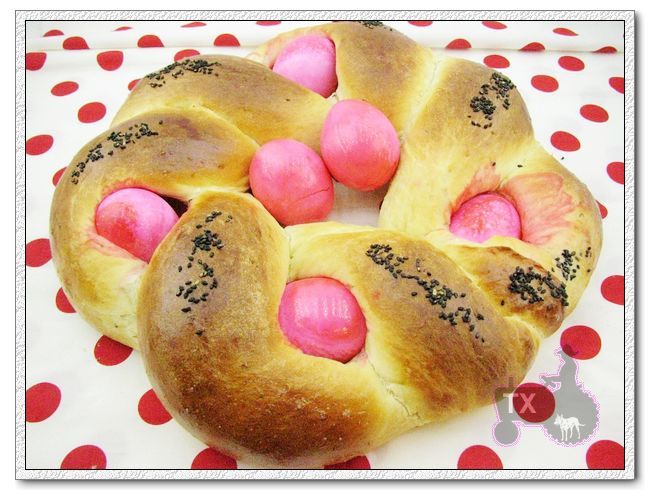 The recipe is from the book "Celebration Breads", an old fashioned but very interesting book I got from the library. There are many similar recipes online, it's just a pretty rich (19% butter, and some eggs and sugar) firm dough braided with eggs in it. The shaping was quite interesting: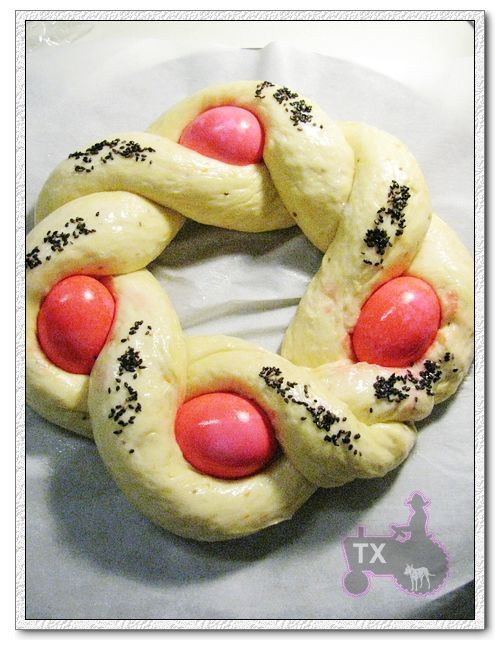 Nice crumb, very flavorful, very well received by my friends.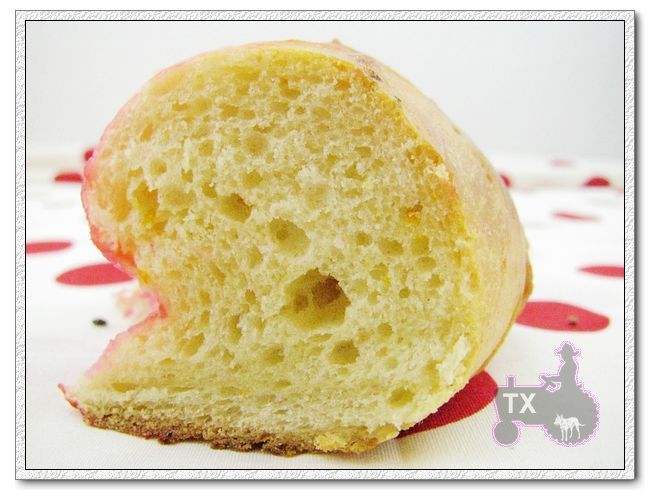 - Hot cross buns, using Dan Lepard's recipe here: http://www.danlepard.com/forum/viewtopic.php?t=723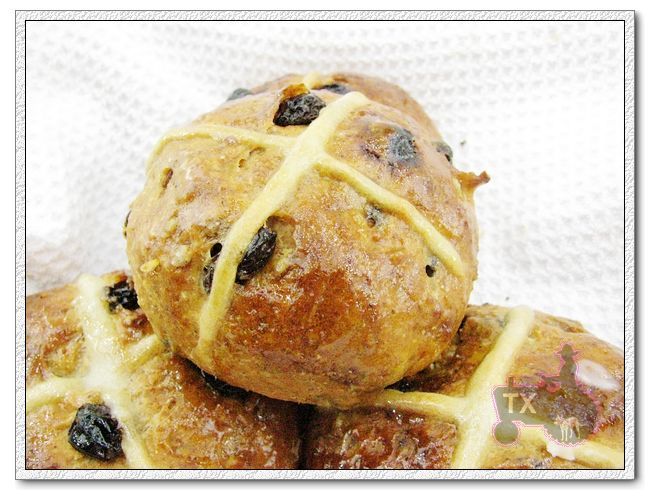 The interesting thing about this recipe is that it mixes the dough, retard it for 12 hours, THEN knead and shape them. Make the process pretty easy.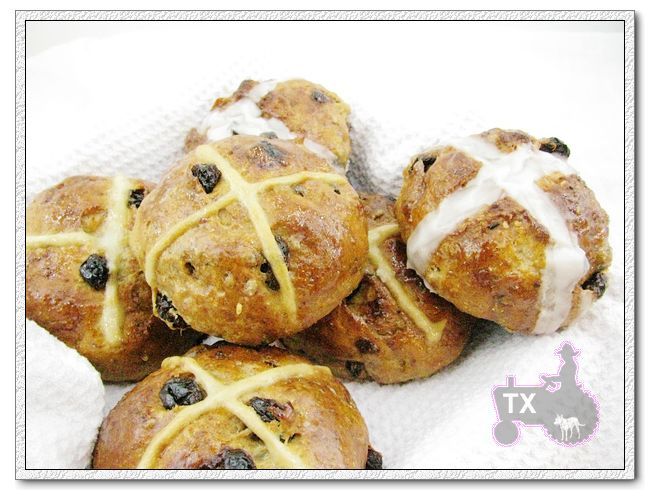 I tried two methods for the cross on top: equal parts of water and flour mixed together and piped on before baking, and icing poured on after baked and cooled. Most people liked the icing one, I thought it was too sweet, especially because there were so much dried fruits in the buns already. Both are tasty though.
- Colomba di Pasqua , Italian Easter Bread. Again from the "Celebration Breads". I know there are authentic sourdough version of this bread that takes days to make like Pandoro, but I was making this for a work gathering and had no time to babysit sweet starters. It's a simple straight dough method with almond paste, about 9% butter, sugar, etc in the dough. The dough was very wet, but it made a high risen, fluffy bread in the end. You can find the recipe online here: http://wandasue22.blogspot.com/2008/01/birds-of-feather.html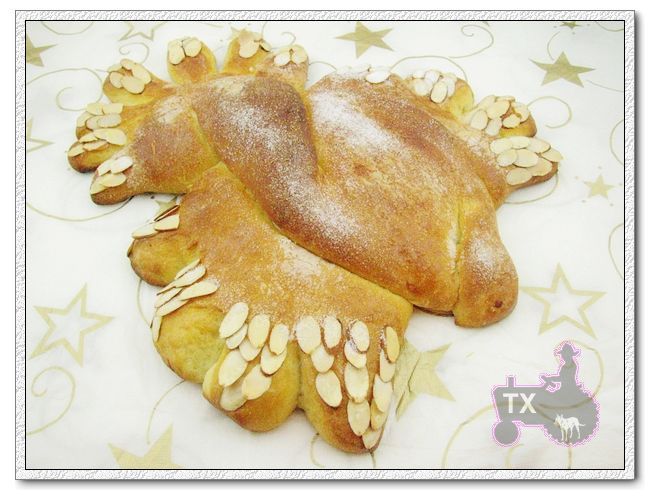 Shaping was not as complicated as you might've thought. The whole recipe makes two birds, for each bird, divide the dough in two equal parts, and shape as following: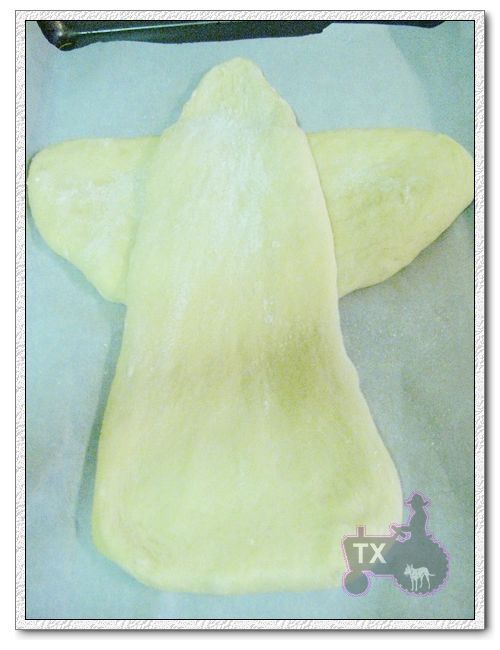 Twist and get get the head and tail, pinch a bit to get the beak, and cut to get feathers: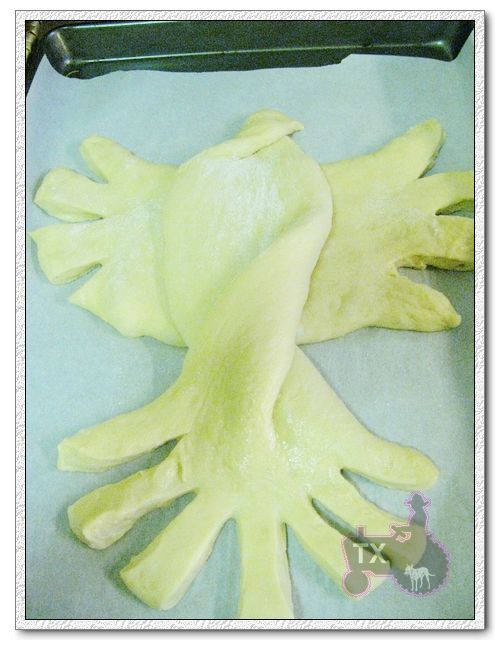 At the end of the proofing, brush the dough with egg white mixed with water, and stick almond slices on as feathers. Dont' forget to put a bit of almond as the eye.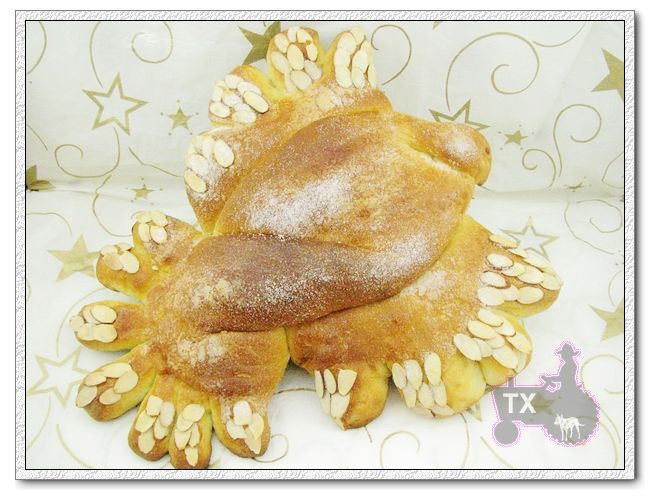 I think I actually prefer this to using the mold.
Very fluffy and soft crumb: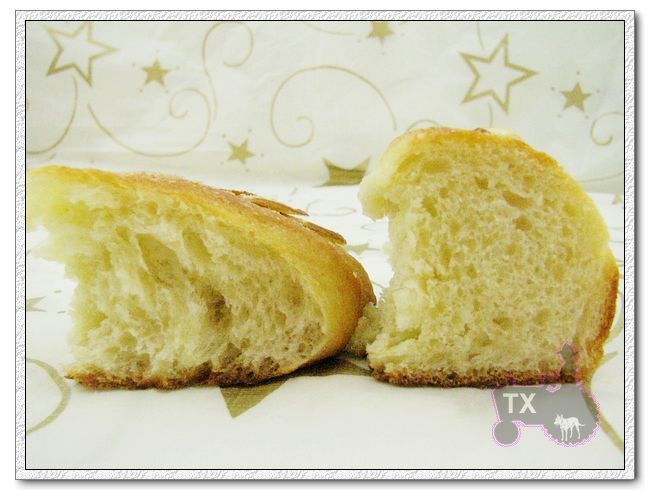 Happy Easter Everyone!