My starter's first produce... Meh
So I decided (with help from people here) that my starter was ready to bake with (link to that discussion: http://www.thefreshloaf.com/node/16928/my-starter-ready-baking). And I decided to try Peter Reinhart's 'basic sourdough' in BBA. I think the starter itself was fine, but for one reason or another (or more than one reason) I got so so results. The bread was tasty and not a complete disaster, but the crumb was definitely denser than I think it should be and the loaves were a little flat. The crust was very nice and crispy though. For a first attempt I think this is pretty good but something definitely needs to improve and I was wondering if anyone could give me any suggestions.
Here are the loaves I produced: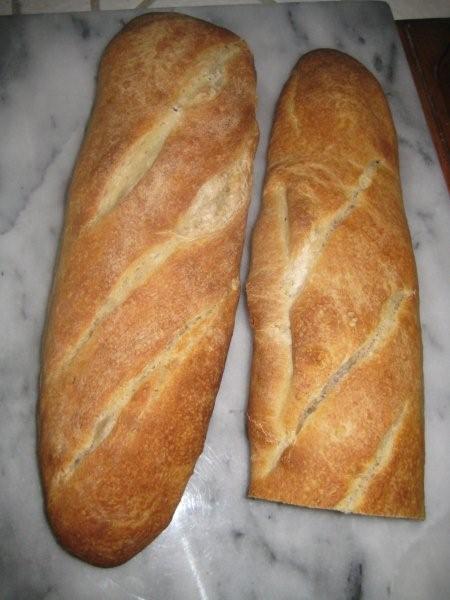 And here is a crumb shot. As I said it's not a disaster, but how do I get those nice big holes? If anything the dough was wetter than the recipe called for. I thought wetter dough made for bigger holes? Do you think I didnt ferment the shaped dough long enough? Too long?
And here's one other problem I had. I used this thingy pictured below. I dont know the real name for it but I used it to ferment the shaped dough and then put this whole thing with the dough on it into the oven right onto the baking stone. I use this because when I try to imagine myself sliding those very messy wet loaves into the oven and onto the baking stone I just can't convince myself that they'll slide nicely off of the sheet pan and onto the stone without sticking or getting misshapen, or falling off the stone onto the oven floor, or any number of other possibilities, no matter how much cornmeal I lubricate it with. The problem I have though is that although the loaves I made were not very big, as they fermented, the side of each loaf started spilling over the side of the pan, and the problem became much worse after they were put into the oven. I managed to tuck the side of each back up into the pan, but I cant imagine that that helped the bread rise properly in the oven. Am I missing something here that I need to know about these things in order to prevent this from happening, or is the only solution to make smaller loaves? I'd be willing to try to learn how to put the loaves directly onto the baking stone if anyone has any good advice on how to do that without a tragedy occurring. Anyone?
It is so frustrating to spend more than a whole day of preparation to bake and then turning out something mediocre.