February 19, 2010 - 6:57am
Frightening texture. I am not talking about cottage cheese, nor tapioca pudding, but rather the 100% whole wheat sourdough bread that has been having a good old time disgusting me with its texture of late. I have used the tactics that I have found here on the Fresh Loaf site- stretch and folds at 30 min /1 hour intervals, autolyse, and the great slap and fold technique. Yet my sourdough bread remains stubbornly dense except for a sprinkly of yeast tunnels scattered throughout the bread, and each slice of the bread results in wheaty streaks on the knife. Argh. I know that I am capable of making bread that doesn't knock a hole through the wall when you hurl it in frustration: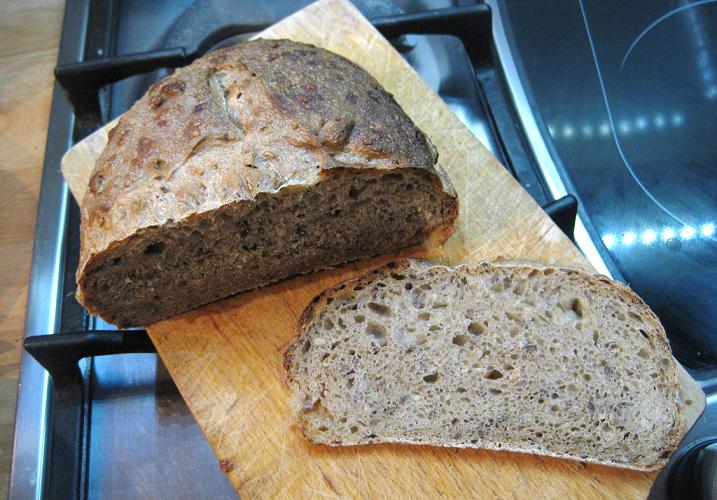 the above bread is 100% whole wheat (with some seeds added), but contains yeast. Here would be my attempts at 100% whole wheat sourdough: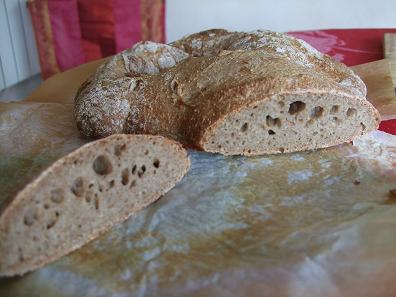 and worse yet: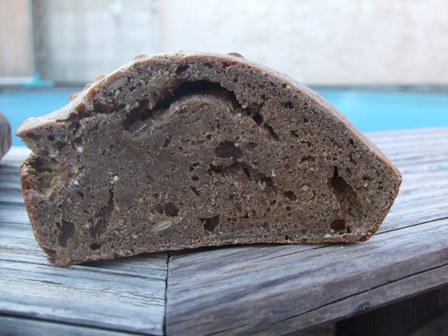 and here's the knife after cutting into these fiber nuggets: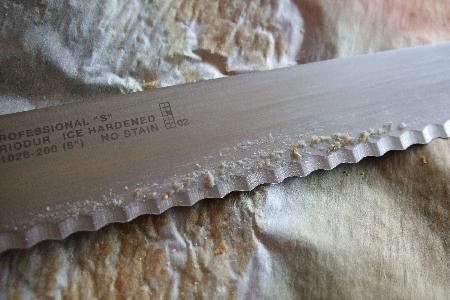 frustrating. typically my procedure mimicks that of a post I found on this site: an overnight levain consisting of 90 g flour, 7.5 g levain (100% hydration), and 73 g water and an overnight soaker of 375 g flour, 302 g water, and 9 g salt. "Flour" refers to whole wheat flour, or more specifically type 150 flour as I am in France and flour is sold by its "type" ranging from 45 to 150; 45 resembles baby powder and 150 contains the most bran. In the morning (~7h30) , I mix the soaker and the levain and perform stretch and folds every hour until 11h00, when i shape the bread and then let it rest about 3 hours. Into a 425 F/220 C oven for a few minutes it goes after the rest- and after a few minutes i lower the temperature to 375 F/190 C and let it bake for 45 min.
 I would be overjoyed if someone had some advice on what I can do to improve the texture of my sourdough. My hypotheses are that my dough is too hydrated (it can get pretty gloppy at times- in my head is the chant "wetter is better!" that I have picked up from multiple posts on this site. wetter may be better, but a swamp is well, a swamp), or that the flour's high bran content is slicing up the gluten, although I doubt that as my yeast bread comes out fine.
I look forward to your responses,
Claire- a longtime Fresh Loaf lurker who has finally decided to step into the light and create a post