February 1, 2010 - 7:29pm
This bread is from Maggie Glezer's gem of a book: Artisan Baking. I have been wanting to make this bread for a while because it was named after the Columbia River. As a Washington State native, I had to make it. I'm glad I did as this bread has become my new personal favorite. 
Formula:
Bread Flour 45%, All-Purpose Flour 45%, Whole Wheat Flour 8%, Whole Rye Flour 2%, Toasted Wheat Germ 3%, Barley malt syrup 3%, Water 67%, Levain 41%*, Salt 2%* (*Glezer's formula specifies 41% but by my calculations it was more like 46%. I used 30g 50% hydration firm white starter to innoculate 150g bread flour at 63% hydration (63g water). *I decreased the salt from 2.4% to 2% overall.
I made a small change to the original recipe in method. Instead of mixing for 10 minutes (!) which I thought was a bit much, I mixed to shaggy mass then let rest (autolyse) for about 50 (instead of 20) minutes before adding the salt and levain. I then did two stretch and folds for the first two 45-minute intervals of the 5 hour bulk ferment. The dough was then divided, shaped and proofed for 4 more hours. I also changed the baking from what was recommended in the book. I baked at 500 degrees F for the first 5 minutes with steam, then turned the oven down to 460F, then 425F for the last 10 minutes, for a total of 34 minutes baking time.
This is the best ear/ bloom that I have ever gotten on a loaf. It was really fun to watch it open up in the oven.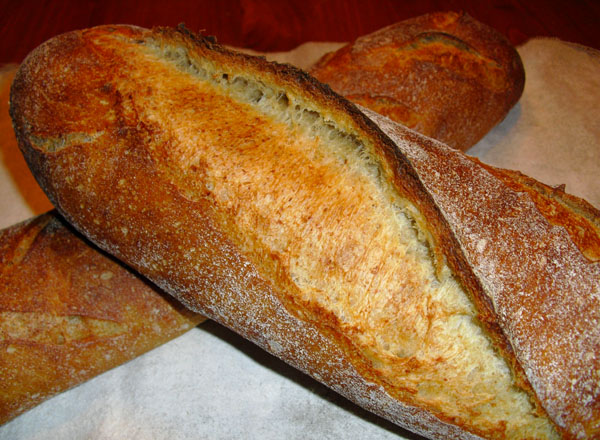 We like the toasted wheat germ that was added to this bread. It adds a lot of nuttiness and depth of flavor along with a small amount of rye and white whole wheat. Some others on TFL have tried it with spelt with good results. I might try that. The picture above shows one that I slashed twice, and the other tried to follow the "grapevine pattern" instructions described in the book. THere is only one small off-to-the-side picture of the actual bread, so I wasn't quite sure what Glezer meant. My attempt wasn't pretty- too many scores. The below picture is of some sort of shape I made-up today to avoid a disaster. I tried shaping these batards differently than I usually do (actually, I tried GR's technique shown here) and the batard ended up too long for my baking stone. (Not to discount this shaping method, just my learning curve error to blame) So I made a coronne/ ciabatta shape to fit. Worked pretty well, and I kind of like the look :-)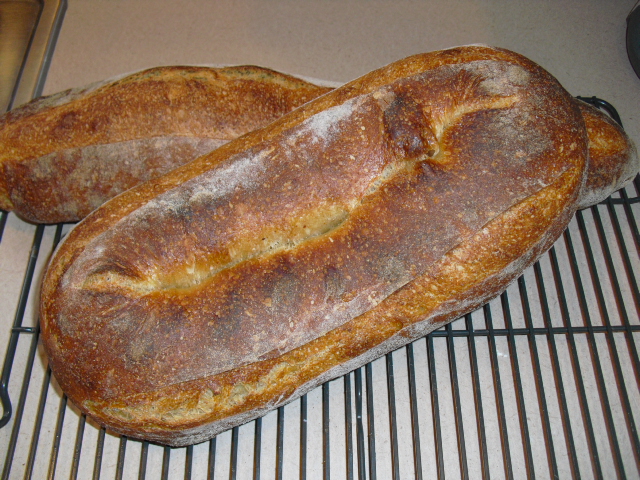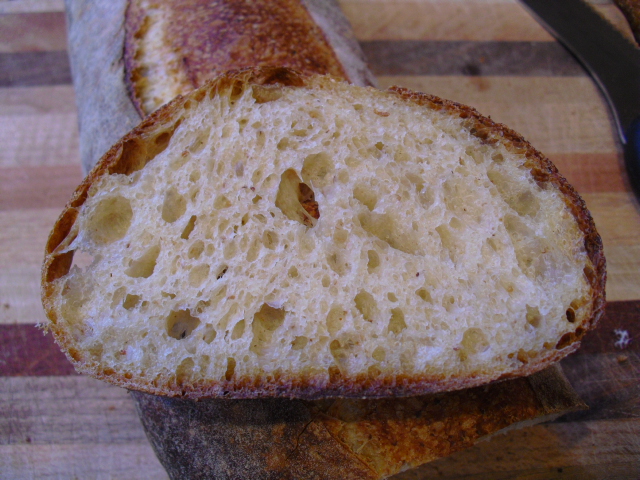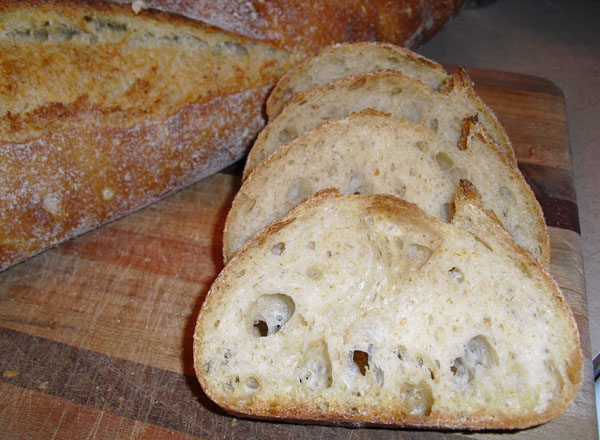 Wonderful flavor and texture, I love this bread.