January 23, 2010 - 1:35pm
The first rye that I made can be found here. It was a 80% Rye with a Rye Flour Soaker from Hamelman's Bread. I have to add to my previous post, that the flavor developed over the next few days and the crust softened up. I liked the bread a lot and it was good with just a little butter on it :-) At first I wasn't that impressed but as time went on I came to really like it. I saved the last third or so of the loaf for use as altus. 
The next rye I tried was a 70% Rye. The formula for this loaf can be found here. It is Hansjoakim's favorite rye using dmsnyder's write-up. (thanks for the clear instructions!) 
I really liked this rye! The taste was really good- hard to describe, but better than my last rye. I think this was partly due to the fact that I had used Hodgson Mills whole rye flour with the first loaf (which is course ground) and with this loaf here I used an organic medium whole rye flour from PCC. The texture was dense but moist and the crust was perfect- not too hard. I was happy to get this "cracked" pattern on the bread from placing the dough seam side down in the brotform. I love how it looks- Hansjoakim's turn out way better of course.
Overall, I like this bread. I think I may use it as a base in the future for a bread with caraway seeds, anise and something else in it- cardamom maybe. 
Third Rye: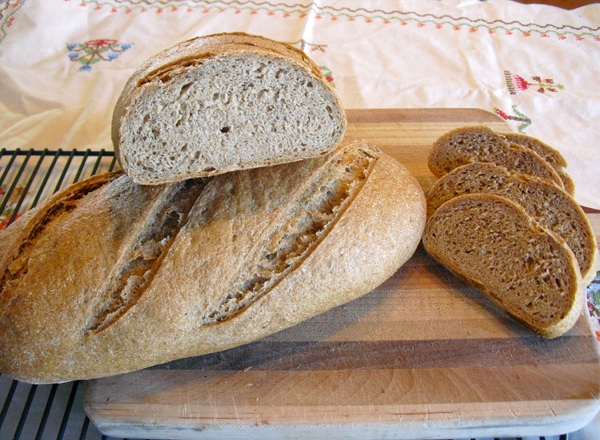 This is a Jewish Deli Rye using (again) dmsnyder's write-up which can be found here. I didn't know if I like caraway seeds or not, turns out....I do! This bread is really good and would make a great sandwich. Very flavorful.
I used First Clear Flour for the first time with these loaves, and again used the organic PCC medium rye flour. I built-up my rye starter over the preceding three days to make this loaf which calls for 750 grams rye sour. I'd like to try this bread again with a WHITE rye sour instead of the whole rye starter/sour that I used. I think it would have been lighter in color and more authentic? tasting. I don't know- I have nothing to go off of since I have not had rye breads before except the ones that I have made!
It is important to me to try different breads, and rye bread in particular. I appreciate history and learning of different people groups, their culture and heritage, and making these rye breads is a tiny way to be better connected to them. Every country in the world has their own breads, and I find it interesting and poignant to eat the same types of flavors they did/do, and learn the "why" behind the ingredients they use. Fascinating to me.
So, I'm going to keep on with rye for a while. I was going to move on to the Detmolder Rye's but I think I may wait until I can fashion a proofing box for that (you have to keep certain temperatures for each sour build). Next rye? I'll take suggestions. Maybe "Eric's Favorite Rye" or a swedish rye...we'll see.