January 18, 2010 - 11:08pm
Honey Whole Wheat from Michel Suas' "Advanced Bread and Pastry."
The Honey Whole Wheat pan loaf from Advanced Bread and Pastry is made with a white levain, more as a pre-ferment for flavor than for leavening. It also uses instant yeast. It is otherwise 100% whole wheat. I used KAF Organic WW.
Suas' formula calls for a "double hydration" method, where most of the water is mixed with the other ingredients and the remainder is added gradually, after the gluten is moderately developed. The dough is rather high hydration - quite gloppy at the finish of mixing. Suas doesn't call for any stretch and folds during fermentation, but I added some to strengthen the dough. By the time it was ready to shape, it was surprisingly manageable.
This dough was so different from the whole wheat breads I had made before from Reinhart's BBA and whole grain baking book. His doughs are quite dry in comparison. This dough had me kind of spooked until after fermentation was complete. But the results were quite satisfactory, some cosmetic issues aside.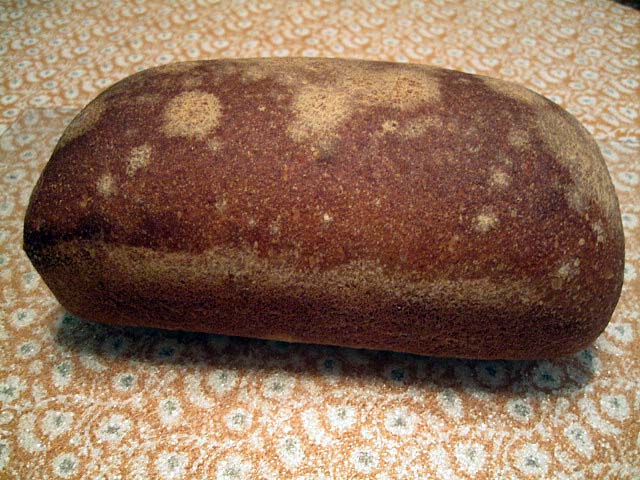 The spots on the crust are from oil I sprayed on the loaf before proofing it. Not pretty.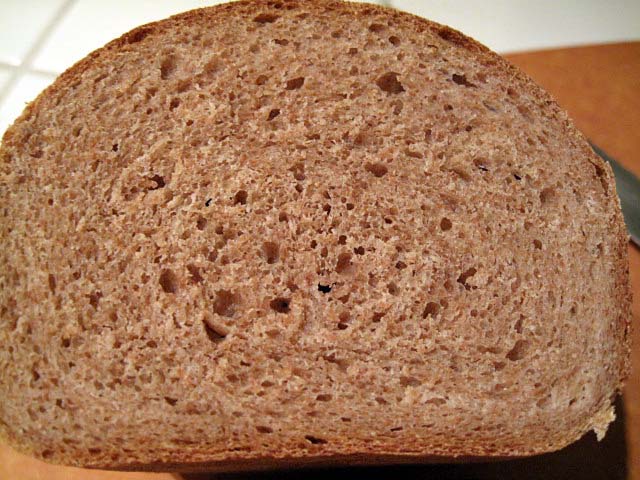 The crumb was not dry, but less moist than I expected. It was somewhat chewy. It has a wonderful wheaty flavor with none of the grassiness that I find in some 100% whole wheat breads and even in some white breads with as little as 10% whole wheat. It was slightly sweet, but not so sweet as to detract from the wheaty flavor. 
This is pretty close to my personal ideal for a whole wheat sandwich/toast bread. I'll be making it again, probably with a bulgur soaker and maybe some sesame seeds.
David