November 21, 2009 - 12:56pm
Pizza Margherita (Naturally Leavened)
Pizza is bread, bread crust.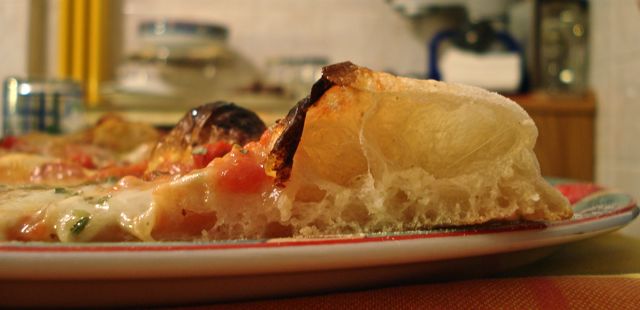 I think a good pizza should have:
good dough: naturally leavened or proofed with indirect method like poolish or biga (that is: small amount of fresh yeast and a lot, a lot of time). I said "pizza is bread" because the actor in pizza is dough first, then the topping.
no more than 2 topping ingredients: mozzarella, pomodoro (tomato). I never eat and I do not agree with super topped pizza with "strange and exotic" topping. The biggest hazard I can do is mozzarella, pomodoro ciliegino and rucola (?garden rocket?) ... sorry I forgot olive oil and origano or basilico.
fast baking: the best pizza is baked in a wood fired oven at about 460°C in 00:01:30 / 00:02:00. In no more than 2 minutes the thin dough should cry, springing and browning.
There are a lot of pizza experts all over the world but the best pizza I ate was in Napoli. Is there a secret? I don't know! So my pizza is simple and good, not as good as true Pizza Napoletana, but I can't do better ...
Overall formula

| | |
| --- | --- |
| Bread Flour | 100% |
| Malted Flour | 1.5% |
| Water* | 65% |
| Salt | 2.5% |
*water should be adjusted with the absorption rate of **your** flour.
Preferment: 15%-20% of the total flour (bread flour) is prefermented at 100% hydration. Remember to subtract the flour and water from the final dough ingredients. I usually do a 1:2:2 feeding in the morning (08:00) so that my starter is ready after lunch (14:00) and I can mix the dough for pizza dinner.
Dough consistency: soft dough
Process
Mix all ingredients except salt (desired dough temperature 26/27°C)
Autolyse 00:30, then add salt on top
Mix at medium gluten development
[Puntata]Rest for about 01:00.
[Staglio] Divide and shape small ball (220-250g)
[Appretto] Proof 04:00 at 25°C
Bake on stone at the high temperature as fast as you can.
When pizza is removed from the oven I add a bit of olive oil and a pinch of salt on top.
I use a small electric pizza oven with baking stone and 400°C temperature (G3 Ferrari) - this is my baking trick. With this oven I can bake in about 5 minutes! Not fast as a wood fired oven ...                                                
Dough: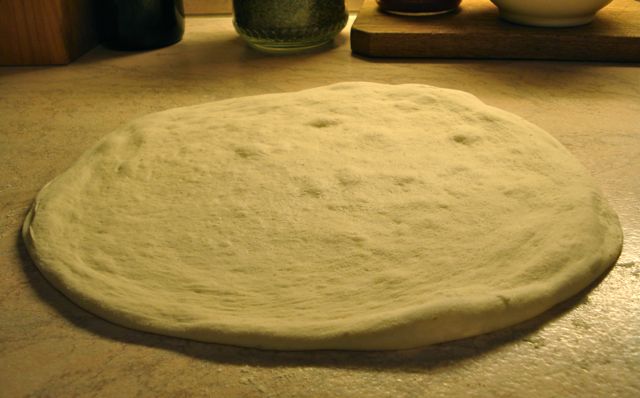 Pizza: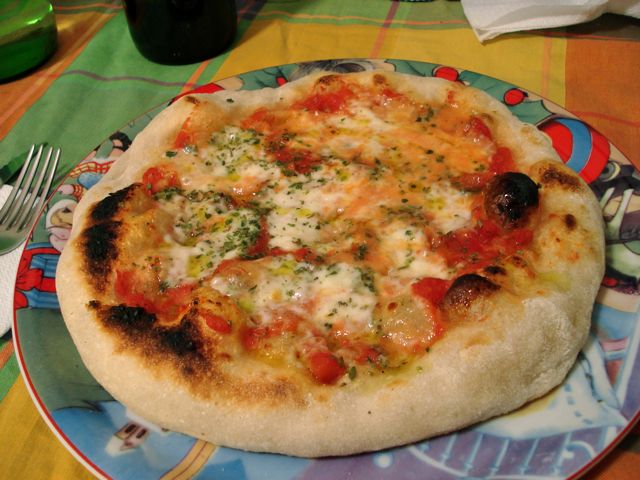 Cornicione: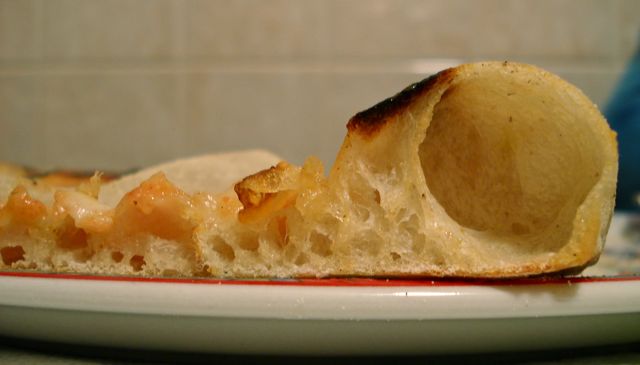 Bottom (blistered crust and brown spots):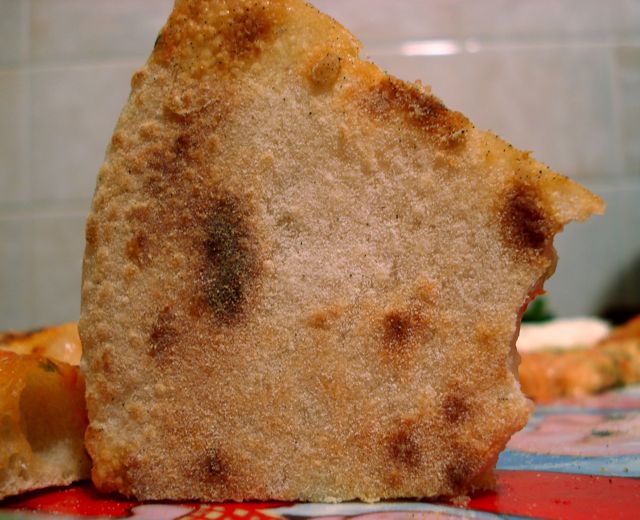 Giovanni