November 9, 2009 - 4:11am
Orange Turmeric Pain au Levain
Many years ago I went to South India with a group of Taiwanese friends to attend Dalai Lama's annual congregation.  It turned out to be a bad idea for me as I never liked group activities.  I deflected half way through the event and years' later I still felt embarrassed by it. 
It may sound funny but one of the things I missed about the trip was the Tibetan butter tea that they served throughout the congregation.  Dalai Lama is a very personable leader; he made sure that everyone gets his share of butter tea.  I first read about this strange salty tea from Alexandra David-Neel's My Journey to Lhasa.  She was French and the first Western woman to ever step foot in Lhasa early last century.  When there is nothing else to eat, this butter tea can be a meal on its own.
The second thing I missed about the trip was the vegetarian lentil curry soup that they served for lunch with Nan breads.  It was so delicious that I asked to have a tour at their kitchen facility and see how they cooked this dish.  But it was many years ago now and I have never been able to replicate it.  In memory their soup was a lot more soupy and flavorsome than mine.
Anyway I made a big pot of lentil curry soup with chicken the other day and I was wondering what bread I would make to go with this soup until I saw my husband juicing an orange.  I had decided that I wanted to make some sort of yellow/orange colored bread and so the issue was how to get that color into the bread and what the dominant flavor it would be in the bread.  I have been making Pain au Levain variations and I knew this bread would be no exception.  I thought orange and a mild curry flavor using Turmeric powder would go well together - orange would soften the taste of turmeric and gives it an extra dimension.  Hence, Orange Turmeric Pain au Levain.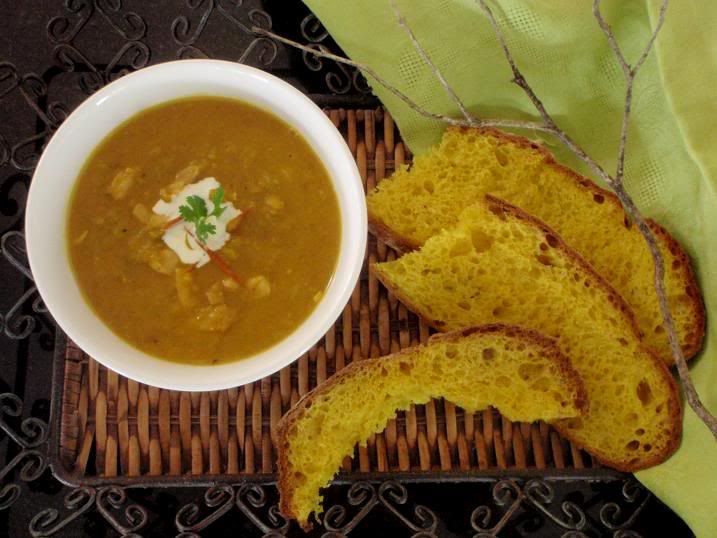 My Formula 
465 g starter at 75% hydration (5% rye)
465 g flour (5% rye flour and the balance white flour)
155 g orange juice (about 2 medium oranges)
120 g water
6 g (2 tsp) turmeric powder
Very fine zest (from one orange)
14 g salt
Total dough weight 1.2 kg and dough hydration 65%
Bulk fermentation 2 hours with 2 stretch and folds and proofing 2 hours (assuming dough and room temperature around 23 - 25C / 73 - 76F).  Retardation in the refrigerator 9 hours.  Pre-heat oven to 250C / 480F.  Bake with steam at 220C / 430F for 15 minutes, then lower the temperature to 210C / 410F for another 25 minutes.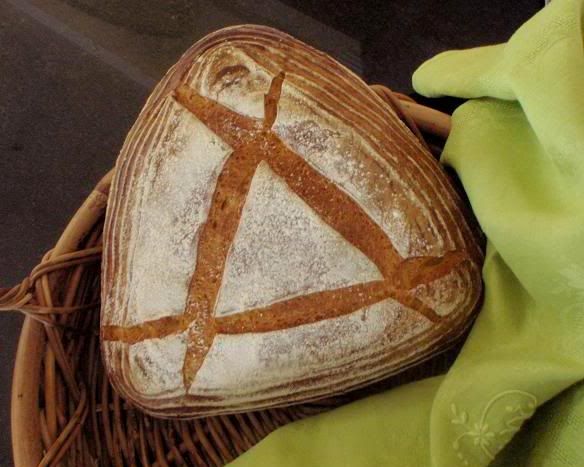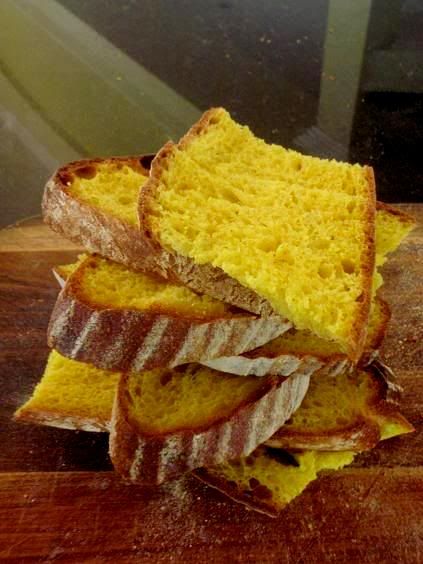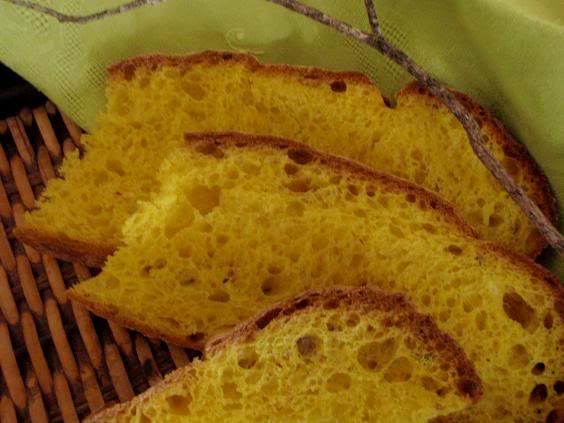 I always love orange zest in baked goods; the aroma is very refreshing.   Turmeric, like ginger, is a root vegetable and is an important ingredient for curry.  Turmeric and coriander go very well together.  Dipping a slice of this Orange Turmeric Pain au Levain into a lentil soup which is garnished with fresh coriander herb, you pick up some beautiful coriander aroma as you bite into the bread.
We were watching the latest series of Great British Menu on TV while we were having our soup dinner.  In this series the chefs in Britain competed to honor the returning soldiers serving in Afghanistan with a homecoming banquet that captured the authentic tastes of Britain.  One of the dishes that were chosen was a curry dish.  What was interesting to me was that one of the judges said that curry is an authentic British taste.  Hmm... how interesting.
Shiao-Ping