October 24, 2009 - 10:41am
Another twist on steaming
David Snyder (dmsnyder) has convinced me pre-steaming is beneficial, but I've still been uncertain I'm generating enough steam, considering my oven door is not an airtight fit, and the convection fan blows some of the steam out around the door. So, today, I tried a new way to generate steam. I saw it recommended in Hamelman's Bread, but I ignored it happy as I was, at the time, generating steam with pre-heated lava rocks. It was only when David wrote of his experience pre-steaming his oven that I started reexamining the details of my steaming practice.
My wife's dog/horse treat baking (see blog http://www.thefreshloaf.com/node/13862/baking-going-dogs-and-horses-too) gave me a clue. Here pet snack recipe is packed with fresh shredded carrots, resulting in a very wet "dough". Watching her open the oven door while baking three half-sheet pans full I saw a large amount of steam (water vapor, really) pour out of the oven.
Today I fitted a half-baking sheet with a terrycloth shop towel that covered its bottom. Five minutes before I put in the first loaf I poured a cup of hot tap water onto the towel. It was enough to soak it thuroughly, but there was no free standing water. I placed the pan on the lowest shelf.  As usual, I also covered the oven's top vent with a folded towel. Before five minutes were up I saw water vapor escaping at the bottom of the door where its sealing gasket's ends meet. I've never seen that before, although I was previously convinced steam was escaping.
When I placed the loaf, the oven was visably full of water vapor; nevertheless, I added another 1/2 cup of water to the towel. At ten minutes I reduced the oven temperature, and removed the sheetpan, and uncovered the oven vent.; for safety reasons I'd never attempt to remove the lava rocks. Whatever water vapor remained in the oven I'm certain disappated quickly. After the sheetpan and towel cooled I felt the towel. Its center was still damp, but the edges were dry, justifying the additonal 1/2 cup of water added.
Here's the visual results. I bake this sourdough (Vermont sourdough with a stiff levain) once every week. This loaf's oven spring is as good or better than any before now.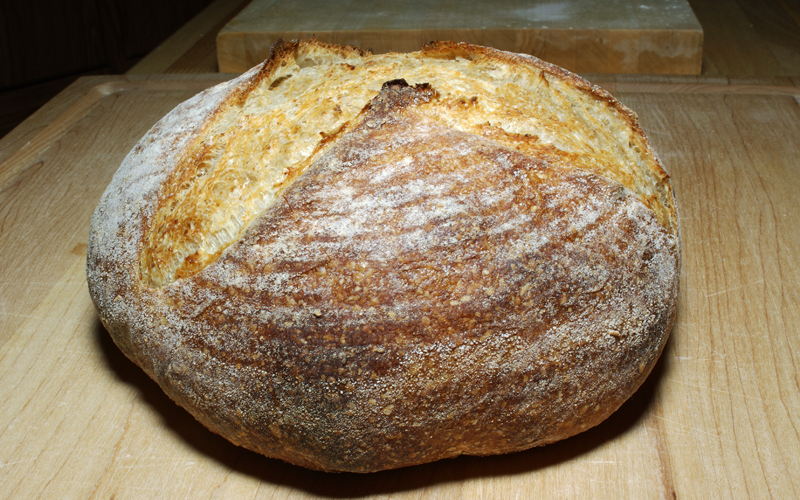 I'm going to adapt this method, at least for the near future. I think it's safer than splashing water into a pan of lava rock, all indications show it produces more steam, and it can be simply and safely removed to immediately stop the source of steam.
David G