October 4, 2009 - 11:15pm
Baking is going to the dogs (and horses, too)!
At the moment we have three Welsh Corgi's, two "found us" cats, and a Haflinger pony. I think we give more thought to the healthiness of what we feed them, than what we consume ourselves.
Here's a very pet-healthy pet snack recipe my wife makes about every three weeks. It originated with our wonderful neighbor, and accomplished horsewomen, Cathy, pretty much as she gave it to us. Both our dogs and Mimi, the pony, love them.

Buck-a-Roo Bites
As far as the cookies go, I usually have some basic ingredients and add whatever I might have.  
4-5 cups dry ingredients:  3 cups rolled oats, 1 cup flax, bran, ground pumpkin seeds, barley, corn meal......or whatever.
1 tablespoon salt - sea salt, mineral salt....
lots of shredded carrots and apples (skins and all)
a little sweetener - molasses, raw honey.  (I don't use much any more, everyone so concerned about insulin resistance but so many folks feed a processed feed that has a binder of molasses anyway.  What I use most now for adding sweetness is applesauce, pumpkin (Calabasa), sweet potato (boiled, baked with the skins)
mix together, make a mess everywhere.  You want the mixture to be like a wet cookie dough, so if it is dry, add oil.

bake at 350 degrees till golden brown or burnt if you forget and then put in dehydrator till very crunchy!!!
[or a 150° - 200°F oven, if you don't have a dehydrator]
Cathy
You can vary the recipe for the dogs by adding protein - chicken, steak...
-----------------------------------------------

This batch is shredded carrots, oats, flax seed, yellow cornmeal, and apple sauce.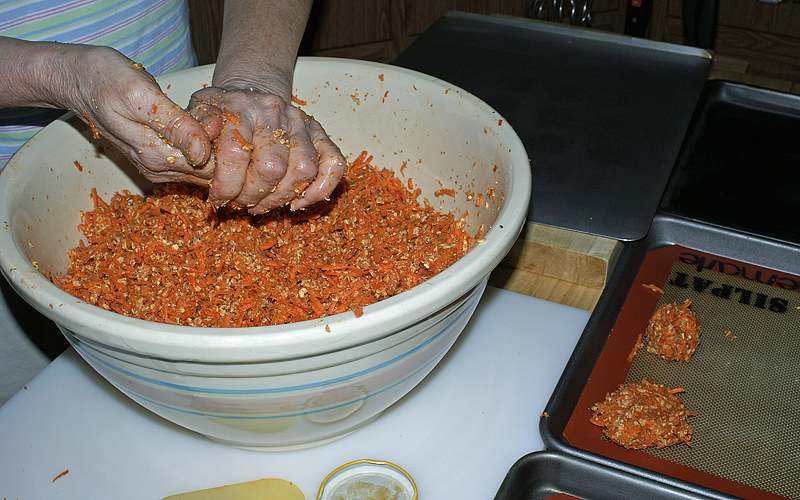 ...and, the finished product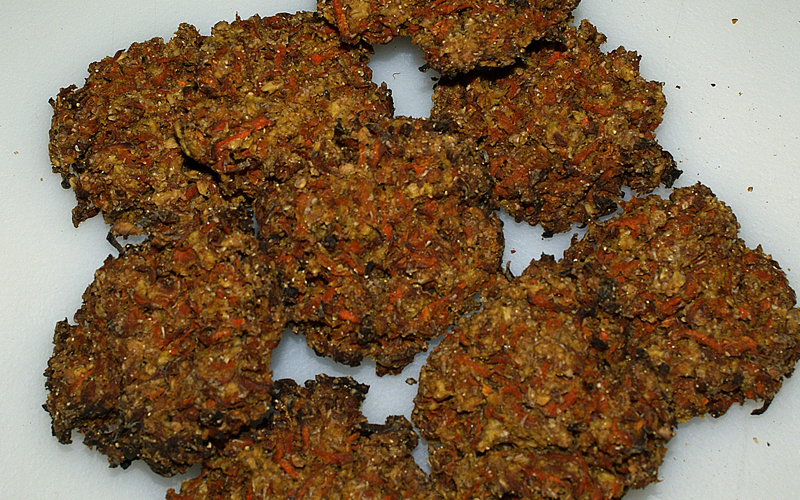 David G