Guinness Walnut Loaf - Thanks Qahtan
I've been out of town some lately, but really wanted to post the pictures of my Guinness Walnut Loaf which is a recipe that I got from Qahtan here:
http://www.thefreshloaf.com/node/1649/walnut-levain
It turned out to be delicious and perfectly timed since I just read a NY Times article touting the health benefits of walnuts here:
http://well.blogs.nytimes.com/2009/10/02/walnuts-the-original-health-nut/?scp=1&sq=walnuts&st=cse
There are some yummy looking recipes in that article as well.
About the baking: One change that I made is that I retarded the dough overnight and should have reduced the yeast since the centers of the loaves dried out a little about a day after cutting into them.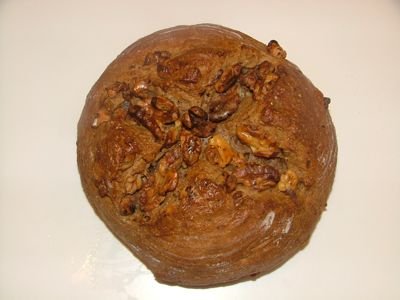 I left the walnut halves on the top of the loaf whole.
Try this recipe for a simple but satisfying and healthy loaf!
Summer