Doughnuts.... Time to make the doughnuts!
My husband woke up Saturday morning to an early morning show featuring the best doughnuts in the country.  So he announces he wants doughnuts for breakfast.  Unfortunately, doughnuts are not like pancakes or waffles that you can just whip up without notice.  He had to settle for sourdough (from starter scraps) waffles with fresh raspberries and cream and of course, bacon.  And then I got off to starting the doughnuts for next day's breakfast.
The recipe I used is Lightest Fluffiest Doughnuts from Country LIving.  Instead of manual kneading, I opted to use my Hobart N50.
Ingredients:
1/2 cup whole milk
1/3 cup olive oil
1/2 cup water, warmed to 110F
4 1/2 tsp. active dry yeast (2 packets)
3/4 cup + 1/4 tsp sugar
1/2 cup sour cream (I used homemade Greek-style yogurt)
2 large eggs + 2 large egg yolks
2 tsp salt
2 tsp vanilla extract
4 1/2 cups AP flour
Glaze:  1/2 cup confectioners' sugar + 1 tbsp. whole milk
Directions:
To make the dough:
Combine water, yeast and 1/4 tsp. sugar in large mixing bowl.
After 5 minutes, add warm milk and oil and stir.
Add the remaining sugar, sour cream, eggs, yolks, salt and vanilla and stir.
Add the flour gradually.
Using a dough hook, knead the dough at medium speed until you have a soft, smooth, shiny dough- about 6-8 minutes.  The dough is quite wet and will not completely clear the sides of the bowl to form a ball.
Place dough in a large oiled container and cover.  Let rise at room temp. until doubled in size, about 2 hrs.
After doubling, punch dough down, recover, and refrigerate for 2 up to 12 hrs.
To make the doughnuts:
Turn the dough into a generously floured surface.
Lightly flour the dough and roll out to about 3/4 inch thick.
Cut doughnuts using a 3 inch cutter.  I used a 4-inch tumbler lid.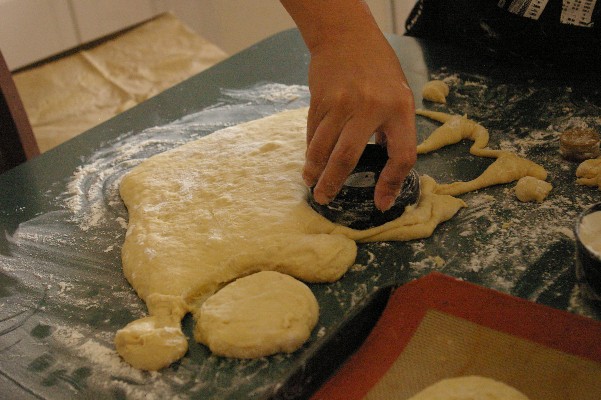 4.  Transfer rounds to a baking sheet.  Gather scraps, reroll, and repeat cutting doughnut rounds until all dough is used.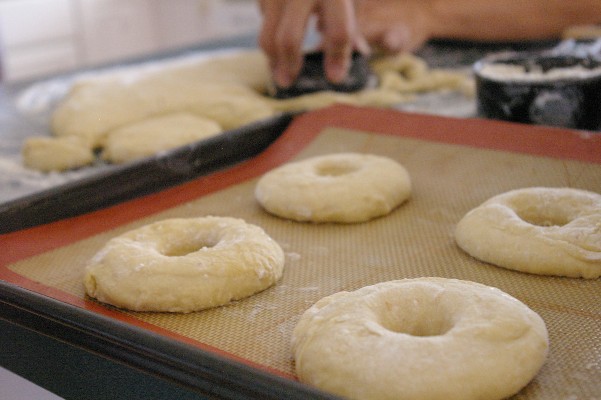 5.  Chill doughnuts for 30 minutes before frying.
To fry the doughnuts:
Heat about 4 inches of vegetable oil in a large deep skillet with a thermometer until oil reaches 350F.
Fry doughnuts 3 at a time until golden brown, about 2 minutes per side.
Remove doughnuts with slotted spoon and drain on paper towels.
To make the glaze:
Combine glaze ingredients in a shallow bowl until smooth.
Dip doughnuts while hot then transfer to wire rack to cool.
Try different flavors like lemon, raspberry chambord (raspberry preserves + Chambord to thin), chocolate Kahlua sauce, etc...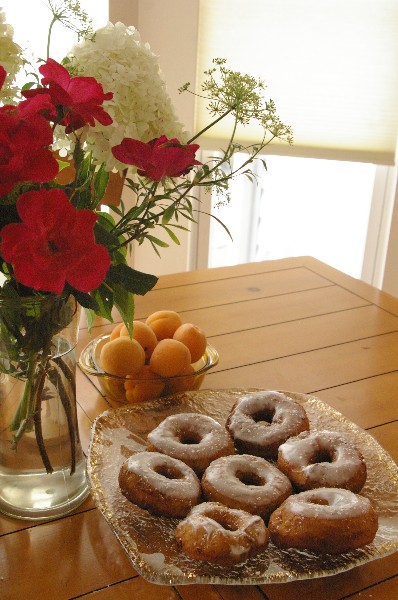 Up close...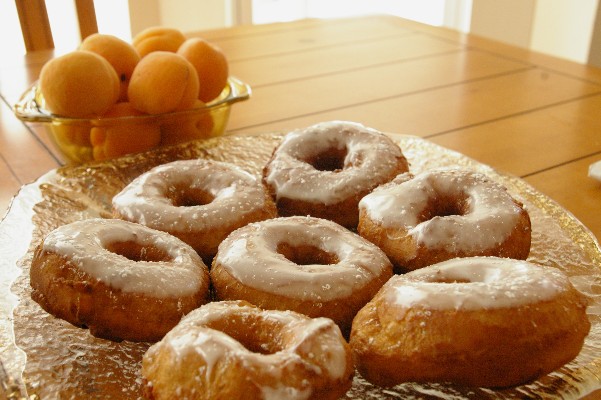 The requisite crumb shot...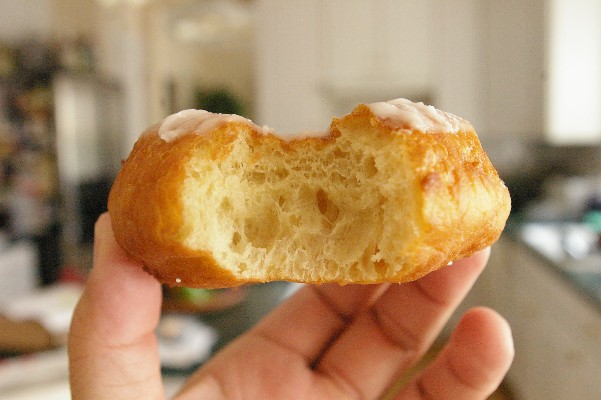 Results:  Bite was like getting your teeth down into a soft pillow without collapsing like you would with those doughnut chains, texture was smooth and airy. mouth feel was substantive, flavor not too sweet which is how you would want it with the glaze on top, and simple, i.e., no added flavors, no hint of tang from the longish fermentation.  I'm sure this would be even better with the Kahlua chocolate sauce, or a fruity glaze like Raspberry-chamboard.  I give this recipe a thumbs up for its ease of making and deeply-satisfying results.