I'm pretty new to both sourdough baking and TFL, but I was asked for my recipe, so here we go...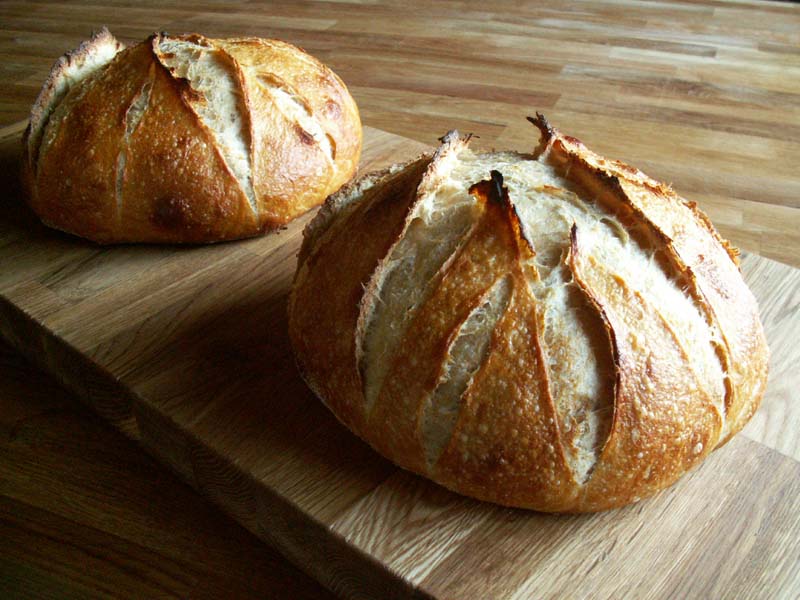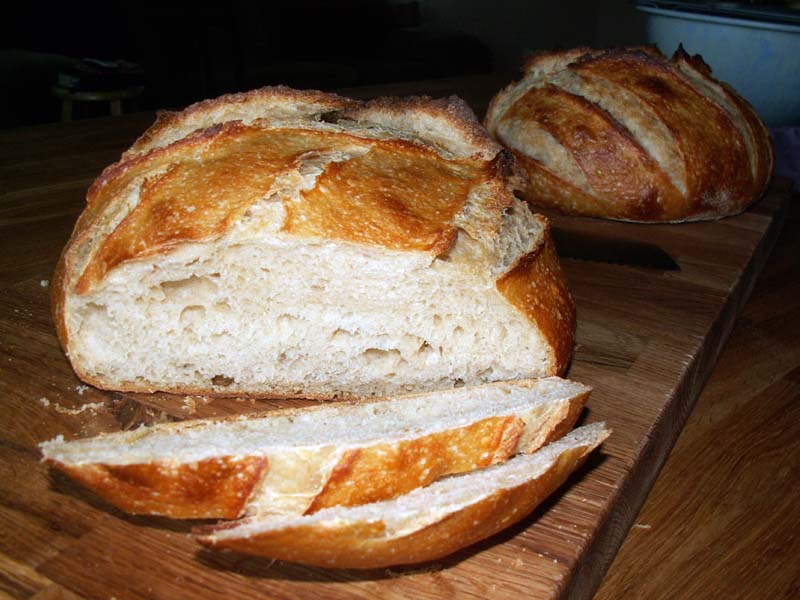 This is actually a variation of the Times No-Knead, which I got from Eric at Breadtopia.  However, and here's the "Devil's in the Details" moment, I didn't have what I would call success with that recipe.  So, I knocked the water from 12 to 11 ounces, and changed the way I'm handling the dough and baking, and Voila', good bread!
Glass-Weaver Sourdough
80 grams ripe 100% starter
11 ounces iced water
5 ounces whole wheat bread flour (I'm using Trader Joe's White Whole Wheat)
11 ounces bread flour (I'm using Power Flour by Pendleton Mills -- highly recommended)
1 1/2 tsp. plain salt
Mix until moistened, then knead about 30 strokes by hand in the bowl, spray-oil container, put dough in container, spray-oil top, cover, leave at cool room temp overnight.  In the morning, or perhaps closer to noon, when dough has doubled pat out on a wet cutting board, deflating large bubbles only, and stretch-n-fold, put back in container until doubled again, repeat deflating/stretch-n-fold two more time, for a total of three sets.  Then pat dough out on wet cutting board, stretch-n-fold, ending with the dough in a ball.  Allow to rest a couple minutes while preparing a sheet of parchment with a sprinkling of semolina.  Form the loaf by holding in both hands and tucking the skin under until the top is taut, paying attention to kind of "sealing" the gathering point at the bottom.  Then flip the ball over into the left palm and pull the gathering point up into a kind of "stem" about 2" high.  Give the stem a quarter-turn and then flip the dough ball back to right-side-up and sit it down on the parchment, trying to keep the "stem" in the center-bottom.  This helps the loaf climb higher and spread less.  Put an inverted mixing bowl over the loaf to keep it moist and allow to rise until it springs back slowly from a poke with a wet finger.
In the mean time, when it's about half an hour until baking time, preheat oven to 500 degrees and put water in the steamer.  Yeah, steamer, but more about that later.  When the oven is up to temp, slash loaf, use a peel to put the loaf, parchment and all, onto Fibrament baking stone, cover with terracotta pot and inject 5 seconds of steam, cover hole in pot.  Reduce temperature to 450 degrees, bake 15 minutes, remove pot, bake 15 more minutes.  Pull out with peel, invert loaf into pot-holder-protected palm and pull parchment off bottom, cool on rack.
I got the idea for using the steamer and pot from several different threads here on TFL, and put together my own version.  It so happened I already have a steamer, intended for either steam-cleaning or for pressing clothes ($129 from Costco, a whole bucket of attachments, used it twice, grrr.)  As you can imagine I was thrilled to have a use for the steamer, so I worked hard at making a home-made "cloche".  The pot was easy, but I wanted a way to handle it without getting burned, and I wanted to be able to inject steam, trap the steam and divert the steam off the raw dough.  The handle I came up with is made from 1/16" TIG welding rod (which is stainless steel) and two food can tops removed with a side-cutting can opener, and some nuts and bolts.  Hopefully you can see from the photos how I did it.  Oh, the most expensive part of the project was buying a drill bit for tile (about $9.00).  The cover for the hole just sits loose on top and is shifted to open and closed positions with a potholder.  Seems to work fine.
I know some people are nervous about using pots that aren't intended for food, but the pot never touches the bread, and lead, which is what I think people are worried about, is used in glazes, not the clay itself, as far as I know.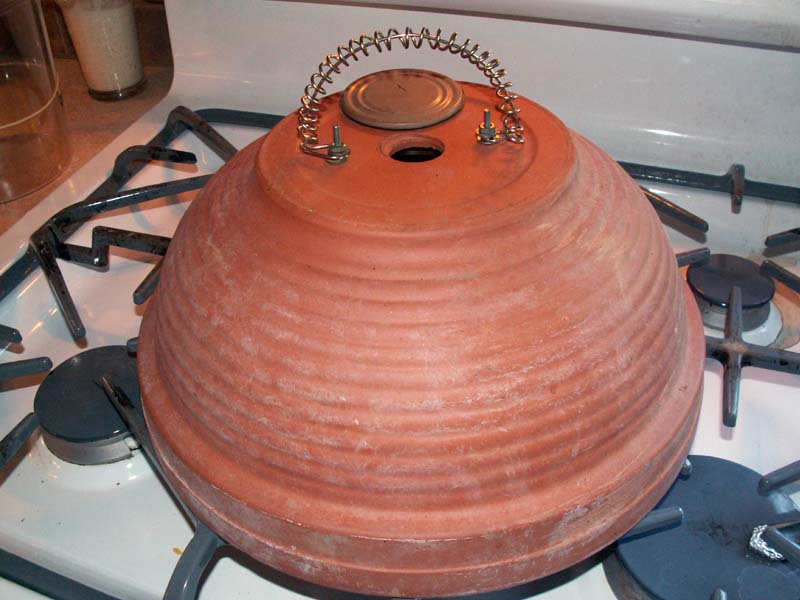 The handle was made by wrapping the piece of welding rod around a 1/4" steel tube (I needed help for this, hard to hold onto), a loop was formed in each end to go around the bolt.  Then, a curved piece of rod was passed through the spiral and cut off, more loops in the ends were formed (crudely, with pliers.)  It was a struggle to get everything lined up between the washers and get the bolts tightened down, but I did it myself.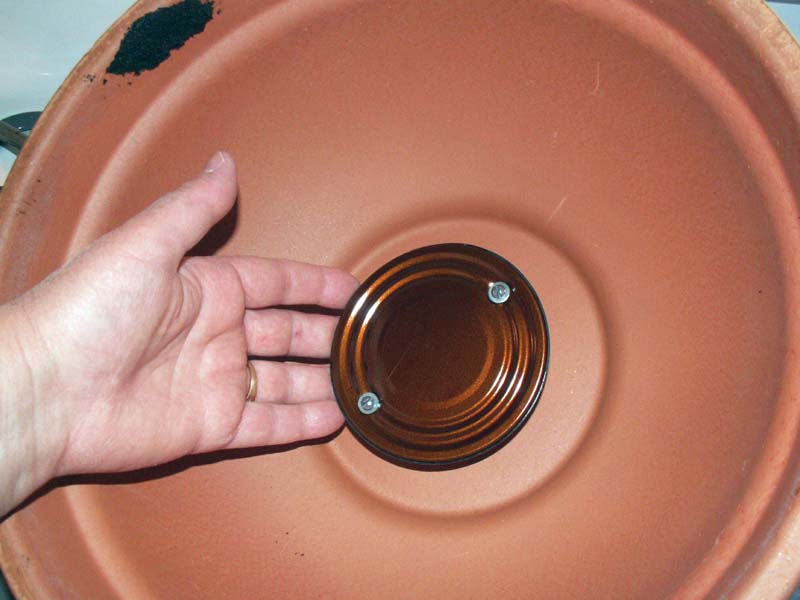 The "diverter", which is a can top, is about 3/4" below the hole in the pot.  This allows the steam to enter, but not hit the dough directly.  The space between the pot and the diverter is maintained with nuts and lock washers on the long bolts.
The steam makes a lovely shining crust, chewy and crisp.  I knocked down the water to 11 ounces because I wanted smaller holes in the crumb.  (I know, that's not what lots of people here are after, but I like the sandwich fillings to stay in the middle!) 
You'll notice that everything I've mentioned was learned and gathered from posts here on TFL.  Thanks to all the great bakers who are so happy to teach and share.  So far, this bread is my one-note tune, but I hope to be expanding my repertoire soon.
Terri (Glass-Weaver)