I'm adding this to my blog. It's also in Sylvia's post for Scali bread.
 I'm very happy with this bread. Yesterday I made a double batch and made 7 rolls and one braid. I didn't take a photo of the braid but the rolls are shown below. They were delicious with that stretchy pull apart crumb that I like in Italian breads. To make yesterdays batch I made the starter as given in the KAF recipe very early in the morning, let it sit 7 hours, mixed the dough, let it rise 90 min., deflated it and put it in the fridge overnight. In the morning it was risen about half way, I divided it, let it rest for an hour then shaped, let rise and baked. The flavor was delicious in the rolls and like I said a nice stretchy holey crumb. I didn't taste the braid, it was a gift. I did not make the strips 24" long like the recipe called for. I only made them about 17". The loaf was much higher and I liked it that way.
Last night I made up another starter and today made the recipe as written but made batons instead of the braid and used poppy seeds because I had used up all my sesame seeds. It probably can't be called a Scali anymore :o)  I was surprised with the high rise of todays loaves. They were a good 3 1/2"-3 3/4". Todays bread tastes very good but not as delicious as yesterdays and I'm wondering if it's because today I used the dry milk called for instead of using the whole milk I used yesterday or because the dough for the rolls was retarded overnight. Still very good but not quite up to the other. Todays crumb is not as open either.
Anyway, thanks again for introducing us to this KAF recipe. It's become a favorite. Wish I had some of that cherry jam! A friend gave me 5 lbs of the huge dark sweet cherries. I couldn't get out to her place to get them right away so she froze them for me. Do you think I could still make cherry jam with them?
weavershouse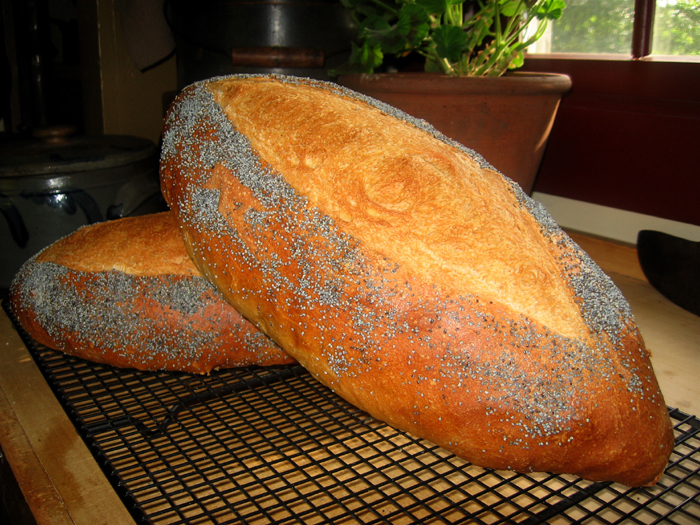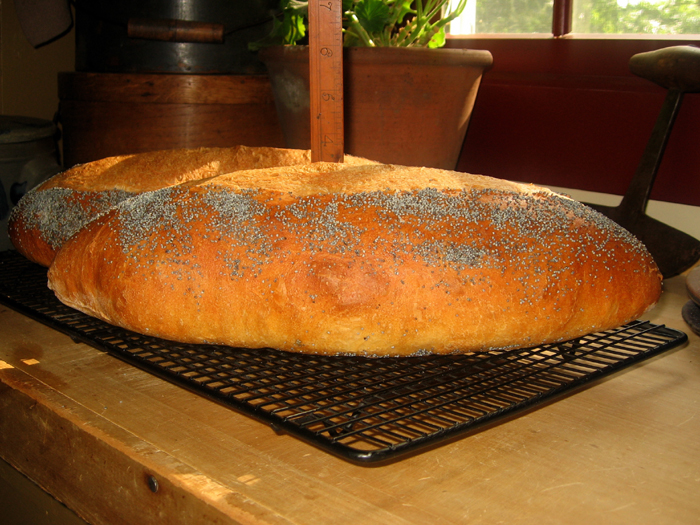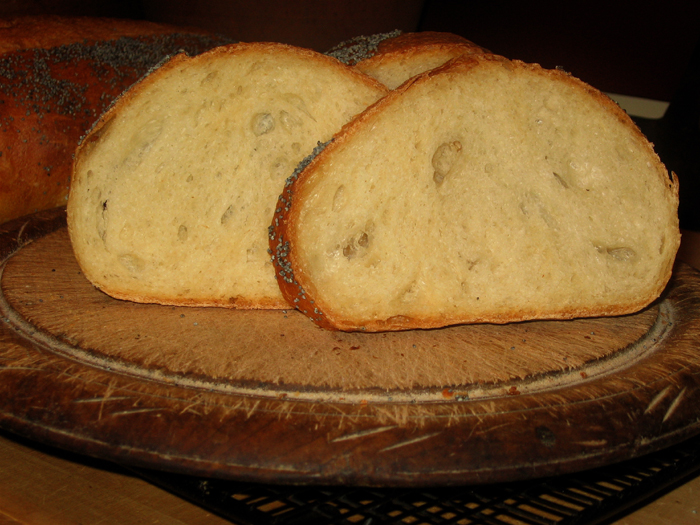 The rolls shown below were made with the Scali dough