Starter Accumlation Getting Out of Hand
I'm limited, by time and the fact that the two of us can't eat much more than a loaf a week.  So my starter can sometimes accumulate to the point that I have to either pour some of it out or use it.  I'm not good at wasting food.
Today I found that I had about 1/4 cup more starter than I should have at this point in time.  So I dumped out a quarter cup, added a quarter teaspoon or so of yeast and a cup and a third (approx) of flour along with half a cup of milk, a teaspoon of "Altern" brown sugar (my wife is diabetic) and a half teaspoon of salt.  Added a bit of flour while kneading (10 minutes) to create a soft shiney dough just past the point of being sticky.  Following the routine mix, rise, shape, rest period, I boiled them in about two quarts of rapidly water  and two tsp. baking soda about 2 minutes, turning once after the first minute, removed to rack, brushed with unsalted butter and sprinkled with coarse kosher salt.  Baked to internal temp. 210 degrees (about fifteen minutes)
I got three of these beauties.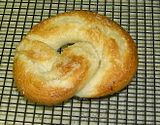 Feel free to click on it for a larger image view.
In the interest of full disclosure, not all of the trio look quite this good.  But it's my first attempt and the taste fabulous so I forgive myself.