Daniel T. Dimuzio's new book Bread Baking: An Artisan's Perspective is a textbook on the craft of artisan bread baking.  As such, there is more emphasis on understanding your ingredients and technique rather than on recipes.  That said, the book does contain an appendix of reliable formulas, one of which caught my eye this afternoon. 
As can be seen in the photo, some of my techniques, such as my scoring, still leave a lot to be desired, but this bread was quite simple to make, made the house smell great, and tasted delicious.
Rosemary Olive Oil Bread (makes 2 loaves)


Pre-ferment
250g bread or AP flour
170g water
5g salt
2g instant yeast

Final Dough
750g bread or AP flour
510g water
40g extra-virgin olive oil
5g rosemary leaves, chopped
15g salt
5g instant yeast
427g pre-ferment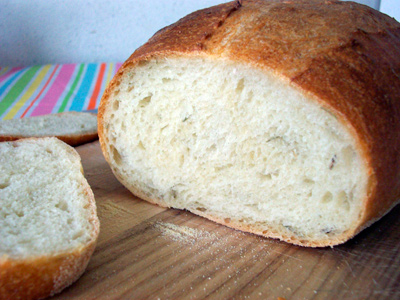 Combine the ingredients to make the preferment the night before baking.  Leave them out at room temperature for roughly an hour and then refrigerate overnight.
The next day, combine the remaining ingredients with the pre-ferment.  Use your preferred mixing and baking technique, which for me was about 8 minutes of mixing in the standmixer followed by a 3 hour bulk fermentation with two folds.  Shape, score, and bake your loaves as appropriate for the shape you choose, which for me was roughly an hour final rise followed by 20 minutes in my steamed oven at 475.
Bread Baking: An Artisan's Perspective is available from Wiley & Sons.
Read a Q & A with Dan DiMuzio here.