new to The Fresh Loaf; bread baker for a while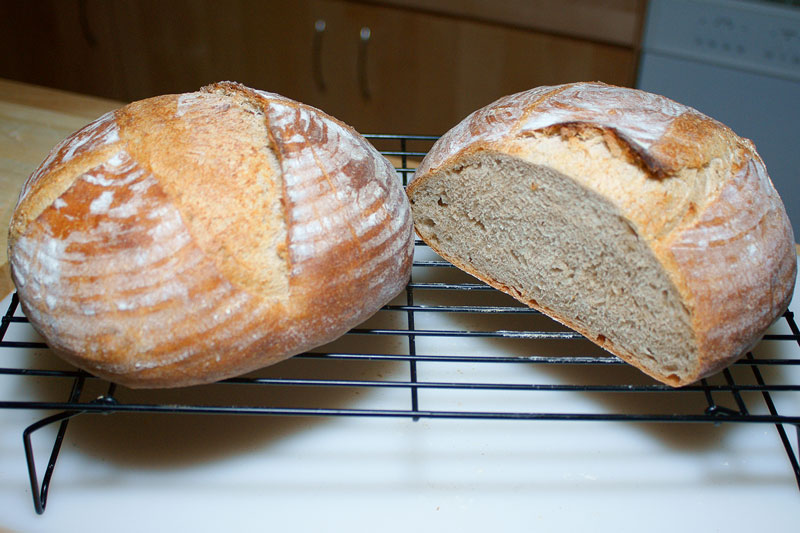 Been in a slump with my bread baking of late; only braggin' quality in the past month a sundried tomato and rosemary foccacia, and some pecan sticky buns to kill for. So, yesterday I decided to try my hand at a sourdough whole-wheat loaf. I've been keeping a 100% hydration King Arthur strain happy for about six months, and heard a comment on a YouTube video by Rienhart hyping his latest book that set me thinking. Here's what I did:
Feed a cup (8-1/2 oz.) of starter with a cup of KA all purpose flour (my standard feed), and let work at room temp for 12 hours. Mixed 2 cups (9 oz.) KA whole wheat with one cup water (approximately 100% hydration), and set it aside too. Slept well. This morning I added enough KA bread flour and water, salt and yeast to build a three-pound dough with 65% hydration. I agonized over adding the yeast, and finally decided to use it to shorten proof time. I figured I got plenty of flavor from the sourdough starter, and the autolysed whole wheat, but the down side might be well developed dough-destroying enzyme from the whole wheat. (I'll try  it again without the yeast.) Proofed, shaped, proofed again, and baked at 450° F(convection oven, early steam) to 205°F internal. Picture tells half the result, flavor is excellent, crumb and crust delightfully chewy.
Glad I found The Fresh Loaf. Been surfing for quite a while with disappointing success until now. Learned a lot, already.
David G.