After going to breadtopia.com I decided to try the Poilane-style miche. I was amazed at how easy it was! Unfortunately the crust went from 'done' to 'oops' in the last couple of minutes that the inside was finishing. I probably should have put the lid back on as it got a bit more toasty especially on the ears. BUT, I shall focus on the good qualities!
It's poofy, the slashing turned out nicely and didn't have -huge- ears. It SMELLS wonderful, and it is the first well-shaped loaf I've made with the starter I made from scratch. I think some of the darkness comes from the fact that I substituted stone-ground whole wheat for lighter wheat, rather than simply being overdone.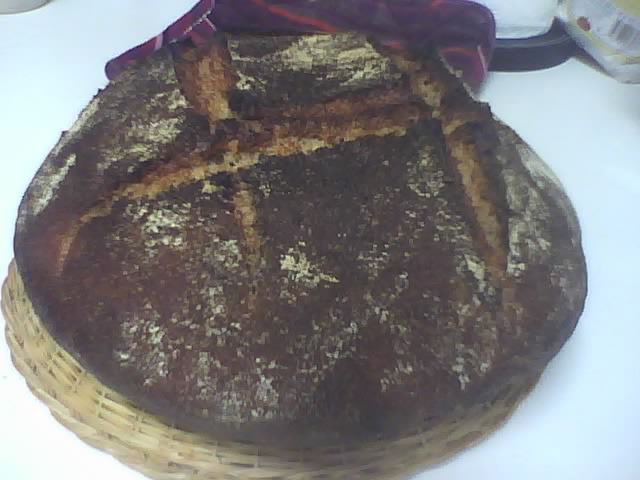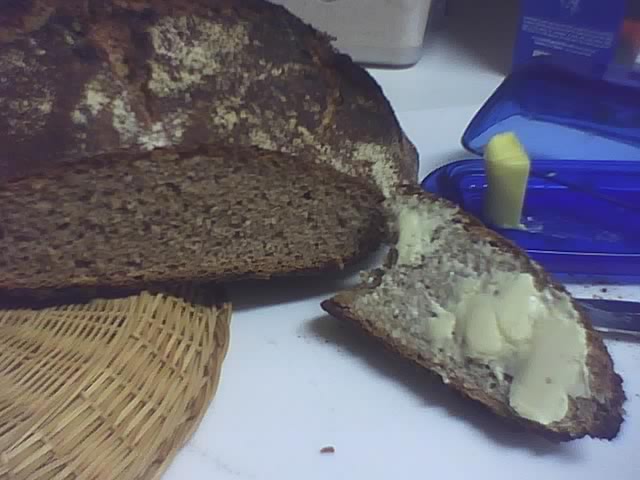 The inside texture is nice and chewy with a slightly open crumb typical of whole grain breads.
I think the next time I will add a tiny bit of sweetener as it does have that very 'whole grain' flavor. The butter, though is just enough to counter it. As you can tell, I couldn't wait!
Oh... and why 'Dr. Evil Bread' - because it's a Mini-Mi(che) of course!