Hi, I'm Jess, and this is my first post.  I've been stalking this site for a while now, and decided to post.  This is a pic of garlic butter bubble loaves, that I made tonight, using a recipe from the Taste of Home, complete baking cookbook.  It was awesome to say the least.  I just bought some King Arthur bread flour and new yeast from our local co-op, and what a difference fresh supplies makes.  I was amazed at the rise of the dough, in the first and second rises.
I'll add the recipe here too, in case anyone would like to drool over a terrific smelling bread!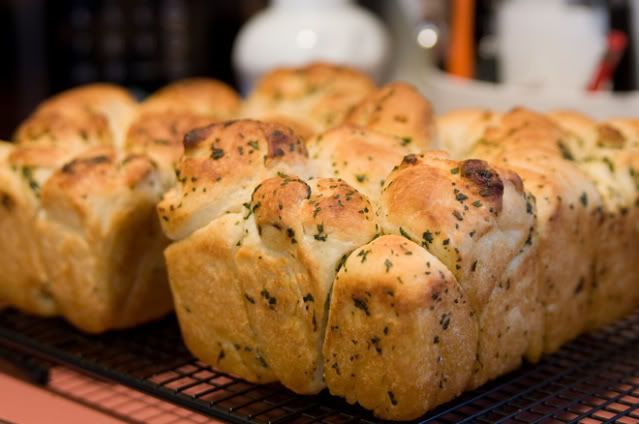 and the recipe:
2 pkgs of acitve dry yeast, (2 scant Tbsp)
1/4 warm water (110-115 degrees)
2 cups warm milk(110-115 deg)
2 Tbsp sugar
1 Tbsp shortening
2 tsp salt
6 1/4-6 1/2 cups all purpose or bread flour
1/2 cup butter
1 TBsp dried parsley
2 tsp garlic powder

In a large mixing bowl, dissolve yeast in warm water. Add the milk, sugar, shortening, salt and 2 cups flour, beat until smooth. Stir in enough remaining flour to form a soft dough. Turn onto a floured surface; knead until smooth and elastic, about 6-8 minutes. Place in a greased bowl, turning once to grease top. Cover and let rise in a warm place until doubled, about 1 hour.

Punch dough down. Turn onto a lightly floured surface; divide into fourths. Divide each portion into 12 pieces. In a shallow bowl, combine the butter, parsley and garlic powder. Shape each peice of dough into a ball; dip into butter mixture. Place in two greased 9-inx 5 in x3 in loaf pans. Pour any remaining butter mixture over dough. Cover and let rise until doubled, about 30 minutes. (Don't crowd them into the pan. put about 12 (24 total) spaced out in two irregular layers per pan)

Bake at 375 deg for 35-40 min or until golden brown. Cool for 10 minutes. remove from pans to wire racks.
I'm a part time portrait photographer, but love adding food pics to my website blog....it's been fun!