February 17, 2009 - 9:05pm
My Weekend baking - Variations on familiar themes
These were baked yesterday ...
I wanted to try some variations on a couple of breads that I have baked a lot - The "San Joaquin Soudough," which is a pain de campagne that has an overnight cold retardation at the bulk fermentation stage and the Sourdough bread from SusanFNP's Wild Yeast blog.
My San Joaquin Sourdough (SJSD) derived from Anis Bouabsa's baguette formula, as related to Janedo. See this blog entry: 
http://www.thefreshloaf.com/node/8454/pain-de-campagne 
I used KAF European Style Artisan flour with 5% each Giusto's whole rye and KAF White Rye. I also add 100 gms of firm sourdough starter. For this variation, I added to 500 gms total flour (not counting the starter) 3/4 T barley malt syrup and 3/4 T toasted wheat germ.
The malt probably resulted in the darker crust color. I really could not perceive a distinct effect from the wheat germ. In any case, this was a very tasty, wheaty, mildly sour bread. The bâtards were somewhat under-proofed, resulting in exuberant oven spring and bloom, as you can see.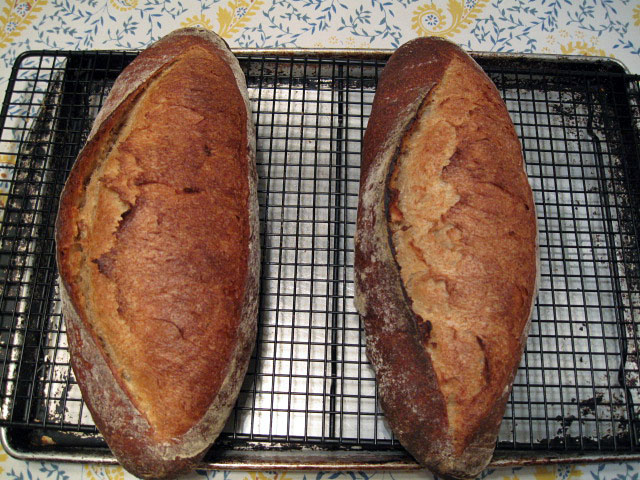 San Joaquin Sourdough Variant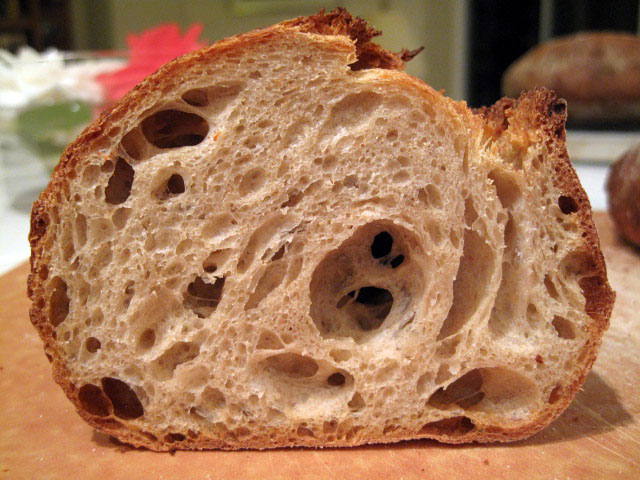 San Joaquin Sourdough crumb
SusanFNP's Sourdough bread formula has proven to be a reliable and easy bread to make. Her formula can be found here: 
http://www.wildyeastblog.com/2007/07/08/my-new-favorite-sourdough/
I used a mix of high gluten and bread flour with 10% Giusto's whole rye flour.
 The boule was formed and cold retarded overnight, proofed for 5 hours in a cool kitchen.
Susan's formula calls for 68% hydration. For this variation, I made a 70% hydration dough, trying for a somewhat more open crumb, which is what I got. I plan to boost the hydration even higher next time.
The cold retardation results in a somewhat more sour flavor in this bread compared to the SJSD. The bread was fully proofed, so I got decent oven spring and bloom, but less than with the under-proofed SJSD pictured above.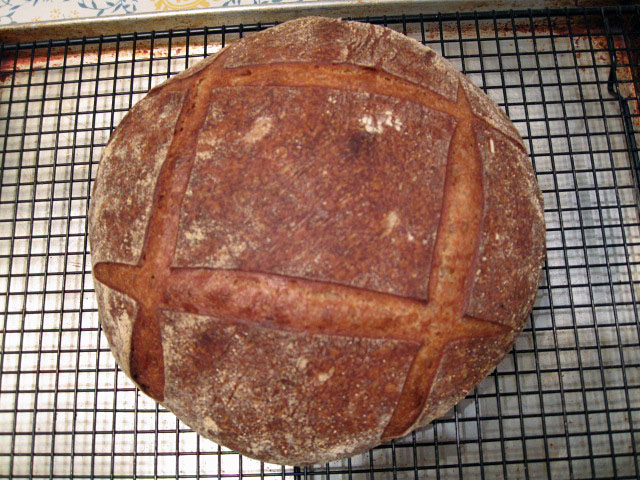 Sourdough boule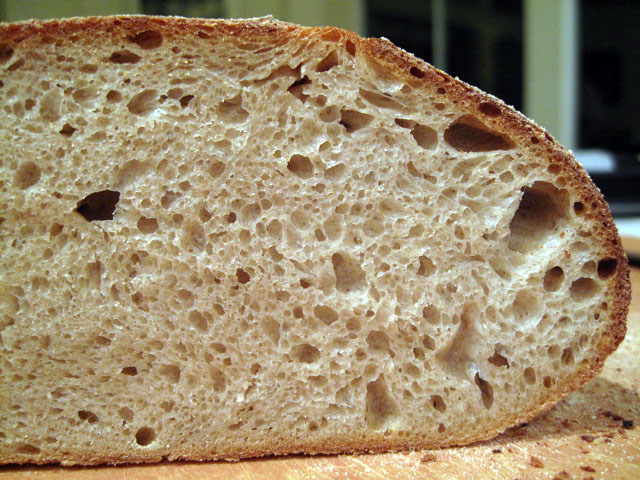 Sourdough boule crumb
David