February 17, 2009 - 12:49pm
oh you have to get out the sourdough discard right now !!
I had ripe bananas and I had a cup of discard. Ir isn't Sunday so no waffles. I turned to TFL and what did I find but a GREAT recipe for sourdough banana bread. It tastes and smells FANTASTIC. Here are the pics. I added a streusal topping before baking. I used pecans in the batter and the grated zets of one whole orange for flavor. You won't believe how great this is and how easy to stir up.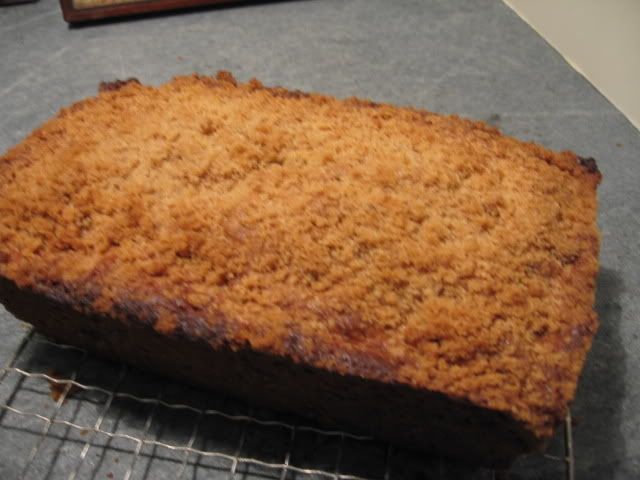 Here is the recipe, I used the search for sourdough banana bread: Submitted by buddye on March 23, 2005 - 12:46amSourdough Banana Bread This is an outstanding sourdough banana bread that I would like to pass on. This came from Don and Myrtle Holm's Sourdough Cookbook in 1972. I have used it many times with excellent results. 1/3 cup shortening 1 cup sugar 1 egg 2 cups all-purpose flour 1 tsp baking powder 1/2 tsp baking soda 1 tsp salt 1 cup mashed banana 1 cup sourdough starter 3/4 cup chopped walnuts 1 tsp vanilla or 1 tsp grated orange rind Cream together the shortening and sugar, add egg, and mix until blended. Stir in bananas and sourdough starter. Add orange rind or vanilla. Sift flour, measure again with salt, baking powder, and soda. Add flour mixture and walnuts to the first mixture, stirring just until blended. Pour into greased 9x5" loaf pan. Bake in moderate or 350� oven for 1 hour or until toothpick comes out clean. Cool before slicing.( make sure and sift flour before measuring the final amount)