September 1, 2014 - 6:20am
Autumn - poppy, sunflower, pumpkin and flax
When on the breath of autumn breeze,
From pastures dry and brown,
Goes floating like an idle thought
The fair white thistle-down,
Oh then what joy to walk at will
Upon the golden harvest hill!
What joy in dreamy ease to lie
Amid a field new shorn,
And see all round on sun-lit slopes
The pil'd-up stacks of corn;
And send the fancy wandering o'er
All pleasant harvest-fields of yore.
Cornfields,  Mary Howitt (1799-1888)
'Tis the first day of Autumn, the glorious season of skies filled with golden and brown crisp leaves falling gently and then billowing up in the air with the first gusts of cold winter winds.  As Wordsworth said: "Wild is the music of autumnal winds amongst the faded woods".  It is my favourite season of the year, it is when maple trees are ablaze with unimaginable oranges and reds, it is the season of harvest and grape-picking and unexpected balmy days of sunshine as a wink to long gone summer.  It is the season of partridge and pheasant, wild duck and mushrooms, pumpkin and swede and celeriac and Jerusalem artichoke.  It is the season of the wine festival in Lower Austria, where you try out the "sturm" which is fresh "new" fermenting fizzy wine.  It is the start of the truffle season in Italy, together with chestnuts and mushrooms and figs.  It is the season to get excited about wearing cashmere again when winter comes!
And so it came to pass that I discovered a bag of poppy seeds in our larder and it behoved me to put them to good use.  The Husband was off on another uncivilised bike/run thing and so I had the house to myself.  I put Horowitz in Moscow on full blast on the sound system and sat down with TFL for inspiration and a glass of wine for....well, because I can.  I have been gearing up for seeds and the start of Autumn seemed like the perfect excuse, as poppies, sunflowers and pumpkin flowers are all harvested around now. 
Poppy, Sunflower, Pumpkin, Flax Seed Bread with some Spelt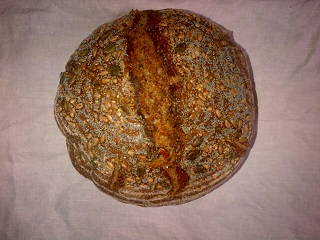 Bread Flour                  150g                (30%)
High Extr. WW              160g                (32%)
Whole Wheat Flour      90g                  (18%)
Spelt                             100g                (20%)
Wheat Germ                 30g                  (6%)
Salt                               12g                  (2.4%)
Water                            375 + 50          (85%)
Levain                          75g                  (15%)
Seeds:
Poppy                           40g                  (8%)
Sunflower                     15g                  (3%)
Pumpkin                       15g                  (3%)
Flax                              20g                  (4%)
Total Seeds                  90g                  (18% of total)
1.  Toast all seeds with the exception of poppy.  Once toasted, throw all seeds including poppy into a soaker with 50g water and leave for 6-12hours.  Also toast the wheat germ.
2.  Autolyse flours and wheat germ and 375g water for 4hrs.
3.  Mix in levain, salt and extra 50g water.
4.  Bulk ferment - 5 series of S&F every 30 minutes, add in the seeds on 2nd S&F.  Total bulk ferment was just over 4 hours.
5.  Preshape and bench rest for 25 minutes.
6.  Shape and place in banetton, proof overnight in fridge.  In this case, 14hrs at 5C.
7.  Turn out of banneton into DO straight from fridge and bake.  Do not botch it up, the way we did with the last loaf, but have a glass of wine anyway to celebrate not messing it up!
8.  Bake in 260C oven, turn temp down to 240C after 15 minutes, leave lid on for first 25mins then off for rest of baking - ca. another 15 mins.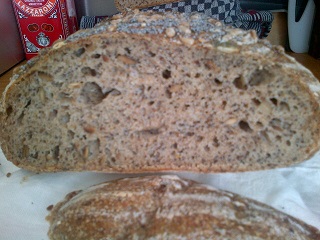 Oh my was this good!  I might have like a wee bit more oven spring, but it had a crisp crust and slightly more open crumb than I expected with all the seeds.  It is my new favourite bread, although anything with poppyseeds is a winner (especially mákos beigli, the Hungarian poppyseed roll that my grandmother made). 
Toasting the seeds was a good call before soaking, fabulous flavour comes through.  Delicious slathered with Jamon Patta Negra, chorizo, St. Marcellin, mature Cheddar, fennel saucisson sec, hummus, smoked ham, fresh tomatoes and olive oil, and lovely to mop up the prawn and white wine sauce which came with the seafood crepes.  The Husband was very apologetic about not making sourdough crepes, but as sourdough is apparently "my domain", he dared not stray outside the traditional French crepe method.  
We sat on the patio with a glass of Vina Tondonia and a slice of bread dipped in olive oil; wistfully considering the end of Summer and the joys of Autumn.
Oh, golden fields of bending corn,
How beautiful they seem!
The reaper-folk, the pil'd-up sheaves,
To me are like a dream.
The sunshine and the very air
Seem of old time, and take me there.
Cornfields
Mary Howitt (1799-1888)