Success Story: Dave's Killer Bread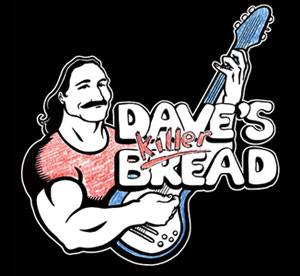 "Just say no to bread on drugs!"
So says the label on each loaf of Dave's Killer Bread, a playful tagline that alludes to both the organic nature of the ingredients and the darker side of Dave Dahl's past.
"I was a four-time loser before I realized I was in the wrong game," Dave writes on the back of each loaf of Dave's Killer Bread. Burglary. Drug dealing. Armed robbery. Dave spent close to 15 years in prison in total.
NatureBake
James Dahl, Dave's father, started the Portland, Oregon-based NatureBake bakery in 1955. Dave and his older brother, Glenn, grew up in and around the bakery, learning how to bake from their father. Glenn had an aptitude for business and began helping his father with the business side of the bakery, eventually taking over management of the business in 1988. Dave broke away from his family and the family business for many years, years in which his life when progressively downhill.
James Dahl passed away during Dave's final stint in prison, a period when Glenn's son Shobi joined the family business. Something clicked for Dave: he cleaned up his act and decided he could do something with his life. Dave reached out to his brother, who agreed to give him a chance to start over by helping out in the family business when he got out.
When Dave returned to NatureBake, the bakery, while not struggling, wasn't exactly thriving. Their breads were mostly found in health food stores and hadn't successfully connected with the younger "locavore and farmer's market" crowd. I have to admit that though I'd seen NatureBake breads on the shelves of grocery stores and co-ops in Portland forever I don't think I ever bought one. I had the impression that these were the kinds of breads you ate because eventually your doctor said you had to, not because you wanted to.
They needed something new.
Dave's Killer Bread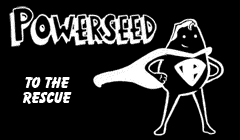 While helping out around the bakery, Dave started experimenting with some new recipes. The brothers decided to try selling a few of them and to try marketing them in a new way by letting Dave tell his story. Out went the drab packaging touting the health benefits of spelt; along came a cartoon image of Dave with long hair and a guitar, breads with offbeat names like "Blues Bread", "Powerseed", and "Peace Bomb". The breads went from being dull health food fair to hypercharged loaves of awesomeness chock full of seeds, nuts, and organic ingredients. They became killer breads.
Dave's Killer Bread made its premier at a baking festival held by the Portland Farmer's Market, Summer Loaf, in August 2005. That was only a few months after I started The Fresh Loaf and though I didn't know it at the time, I actually got photos of the premier of Dave's Killer Bread there. I took a few more photos of Dave at his booth but, alas, I haven't been able to find any of the others.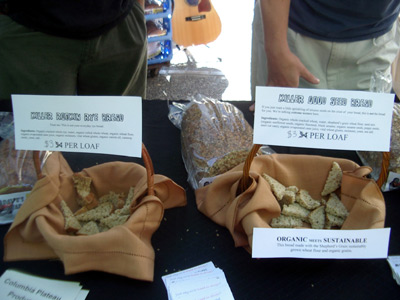 The world premier of Dave's Killer Bread
Dave's Killer Bread quickly became a success, first at the farmer's market, then local co-ops and health food stores, then regional independent grocers. NatureBake's 15,000 square foot bakery wasn't adequate to handle the increased production that would be required to get Dave's Killer Bread onto the shelves of mainstream grocery stores though, so in 2008 the brothers borrowed money to move from the existing facility in Portland to a new 52,000 square foot "bread-quarters" directly across the street from Bob's Red Mill in Milwaukee, Oregon. It was a big gamble, taken at a time when rising commodity prices were threatening to raise the price of ingredients so high that Dave's Killer Bread could not be sold profitably at a price that consumers would be willing to pay.
The gamble paid off. Around the time of the move Glenn optimistically projected that within 5 years they could be selling 100,000 loaves a week. Just two years later, they are selling over 350,000 a week. Dave's Killer Bread is on the shelves in major grocery and warehouse stores like Fred Meyer, Safeway, Winco, and Costco across the Pacific Northwest and is making inroads in California and other states. The 52,000 square foot facility that seemed like such a gamble two years is running near maximum capacity now.
"Making the world a better place, one loaf of bread at a time"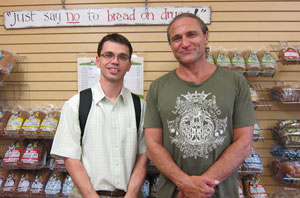 Me and Dave
Dave's story would be inspiring if it were just the tale of one man's redemption, but there is more. About 25% of the 200 employees at the bakery are ex-convicts being given an opportunity to get back on their feet. "I believe in second chances," Dave told me, "but I also believe in holding people responsible for their actions." Dave mentioned that at the bakery they let employes know they may be randomly drug tested and that he himself had taken one the day before. "We're all judged by the same standard," he said.
The Dahl's are major supporters of local charities and community organizations like Loaves & Fishes and Meals on Wheels, have worked hard to develop an environmentally sustainable production line, and are working hard to source locally grown ingredients. Dave travels around the region to share his story with inmates and community groups. Just last week Dave won the Oregon Ethics in Business Award, with good reason.
As you know I bake all the time, but we still have a loaf of Dave's "Good Seed" in the house at all times. My kids' think it is the best bread for peanut butter and jelly sandwiches. It sounds cliché, but as parent it makes me happy that my kids beg us to buy a locally-made, organic whole wheat bread rather than balloon bread. Dave's breads are killer, and NatureBake is a killer company I'm happy to support.
Companion post: a photo tour of the NatureBake bakery
Link: Dave's Killer Bread on Facebook