December 10, 2009 - 7:07pm
Update December 1, 2011: for a beautiful recent Panetonne post, see MWilson's Francesco Elmi Panettone.
I've always wanted to make Panettone but never had the guts to try it. Last week I happened to be walking by a fancy kitchen gadget shop and see Panettone wrappers near the window, so I picked some up and decided to give it a shot this year.
When I got home I looked at Panettone recipes from bakers like Michael Suas, Peter Reinhart, Ciril Hitz, Bernard Clayton, and a number of others available online. The most authentic recipes called for at least two ingredients I don't have handy: fiori di sicilia, a citrus/vanilla extract traditionally added to Panettone that was discussed here, and osmotolerant yeast like SAF Gold that performs better in sweetened or acidic doughs.
What else characterizes Panetonne? Some recipe call for orange blossom water, others citrusy liqueurs. Most are made with preferments, either sourdough or yeast, and most contain nuts, either almonds or pine nuts. They all contain dried fruits, though the recommendations vary from candied lemon or orange peel to raisins to dried cherries, apricots, or cranberries. And while all the recipes were for enriched, broiche-like doughs, some were as lean as one egg and a half a stick of  butter and others as rich as nine eggs and a cup of butter.
I decided to see if I could come up with a reasonable approximation of Panettone with just the ingredients I had at home or could easily find at any old grocery store.  I also wanted to see if sourdough was necessary or at least noticeably improved the result, so I made two batches in tandem, one with a sourdough preferment, the other instant yeast (regular, not osmotolerant). I wasn't shooting for the best or most authentic recipe, just something that I could give as a holiday gift to my friends and coworkers. Here is what I came up with.
The Recipe
Panettone
Makes a dozen small, 6 midsized, or 2 large loaves

Preferment
6 oz (1 cup) all purpose flour
8 oz (1 cup) milk
1/4 t instant yeast OR 1 T starter

Fruit Soaker
2 cups diced dried fruit (cherries, cranberries, apricots, candied orange or lemon peel, or orange or lemon zest)
2 cups golden raisins
1 cup booze, juice, or water (I used 1/2 cup rum and 1/2 cup triple sec)

Final Dough
1 pound (3 cups) all purpose flour (plus 1 tablespoon to 1/2 cup more as necessary)
2 eggs
1 stick (1/2 cup) butter
2 oz (1/3 cup) sugar
1/2 t vanilla extract
1 cup almond slices
1 t salt
1 T instant yeast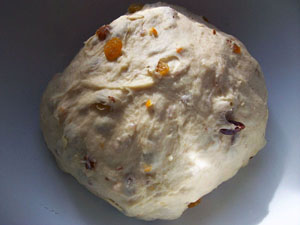 The night before, mix up the preferment with either instant yeast or ripe sourdough starter. Cover and leave at room temperature overnight.
The next morning, mix the dried fruits with the booze or juice and let them soak a while (I'm being deliberately vague here... I let it soak for an hour or so, but anywhere from 15 minutes to 24 hours would be fine).
Make the final dough by combining the all of the ingredients for the final dough except the nuts with the preferment and the liquid from the fruit soaker (withhold the fruit for the initial mix). Mix the dough for 5 to 10 minutes by hand or with a stand mixer until it begins to get silky. Add the nuts and fruit and mix, adding additional flour as necessary to get it to a proper consistency, so that it is slightly sticky but can be handled by hand. I added approximately 1/4 cup to my initial pound of flour to get it to a consistency I was comfortable with.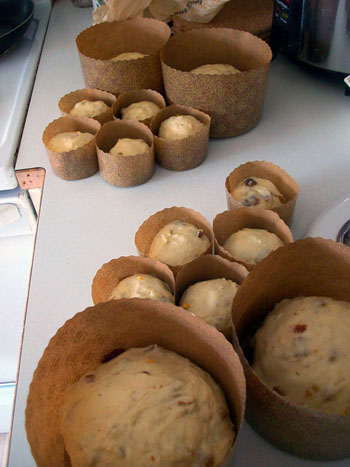 Cover the bowl and let the dough rise for two to three hours. It will not rise as much as a normal dough does and probably will not double in size. After 2 and 1/2 hours in my cool house mine had risen by about 40%, which was good enough for me.
Split the dough into the necessary number of pieces you need for the loaves you want to make. Shape the dough, place them into the molds (or pans... you don't have to make the loaf in the molds but they do look festive), cover lightly and let them rise for two to three hours again.
When the dough has risen again (again, it will rise slowly and probably not double in size), put them in an oven preheated to 350. Bake until nicely browned and the internal temperature registers 185F. My little loaves took about 25 minutes to bake, my mid-sized loaves closer to 35 to 40 minutes. Remove from the oven and let cool before slicing.
The Verdict
Did these loaves taste like authentic Panettone? Mmmm.... probably not.  But luckily none of my coworkers or family members are Panettone experts and they were all impressed and thought it tasted wonderful.  Osmotolerant yeast and fiori di sicilia may be necessary to make the real thing, but they aren't necessary to make something festive and delicious.
And sourdough versus instant yeast? I could tell that the sourdough loaves had a little more depth and a little more bite to them and they probably would have kept longer if they hadn't all gotten eaten in 36 hours, but I suspect most folks wouldn't have noticed. If you have an active starter it is worth using some of it here, but if you haven't gotten into sourdough yet don't let it stop you.  Make use of whatever you've got!