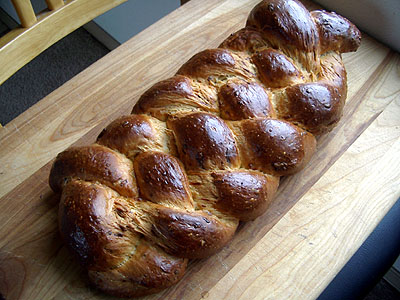 I based this on the Onion Twist Bread in Bernard Clayton's New Complete Book of Breads. I reduced the amount of yeast and used a poolish, and went for a braid instead of a twisted and panned loaf, but otherwise it is basically the same.
Onion Braid
Poolish:
1 cup all-purpose unbleached flour
1 cup water
1/4 teaspoon instant yeast

Dough:
Poolish
3-3 1/2 cups all-purpose unbleached flour
1/2 cup milk
2 teaspoons instant yeast
2 tablespoons butter or shortening
2 tablespoons sugar
1 1 3/8 ounce package of onion soup mix
2 tablespoons grated Parmesan cheese
1 egg

Wash:
1 egg
1 tablespoon milk
The night before, in a bowl, mix together the poolish until it form a batter. Cover with plastic wrap and set aside overnight.
The next morning, combine 2 cups of the flour, the yeast, the sugar, the onion soup mix. Mix in the poolish, the milk, one of the eggs, the butter, and the Parmesan cheese with a wooden spoon. Add more flour a quarter cup at a time until a proper dough forms, one that is dry enough that you can hand knead it yet moist enough that it is still tacky to the touch.
Pour the dough out of the bowl onto a clean work surface and knead the dough for approximately 10 minutes. Return the dough to a clean, greased bowl, cover with plastic, and allow to rise until doubled in size, approximately 90 minutes.
Remove the dough from the bowl and shape it however you like. I tried a braid this time. I'm not good enough that I want to give directions on how to do it yet (for that please see your cookbook), but I will include the pictures my wife took of the process: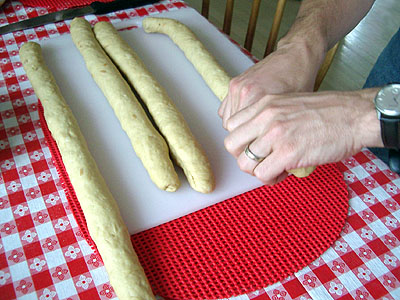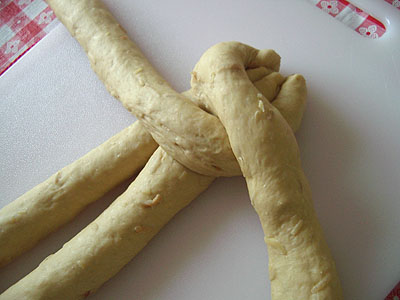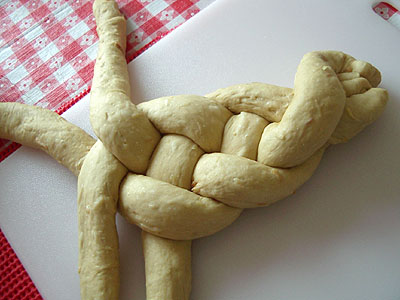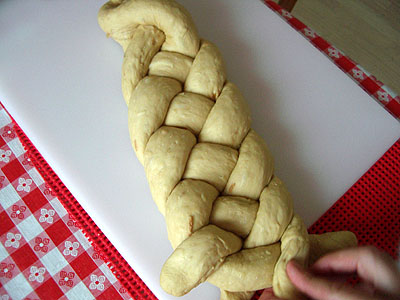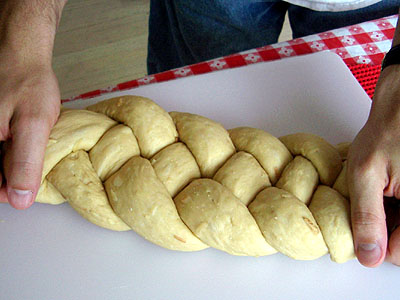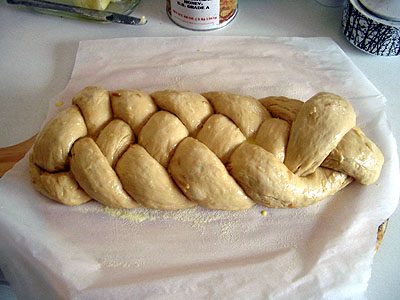 Cover the loaf with a damp towel or greased plastic wrap and allow it to double in size again, approximately 45 minutes. While you are waiting, preheat the oven (and baking stone, if you have one) to 450.
Just before baking, glaze the loaf with the egg wash. Put it into the hot oven. After 5 minutes, reduce the temperature to 375 and bake for another 15 minutes. Rotate the loaf and bake until the loaf is done. Total baking time may vary based on shape. My loaf took about 45 minutes.