Today I tried making English Muffins for the first time. They turned out pretty good: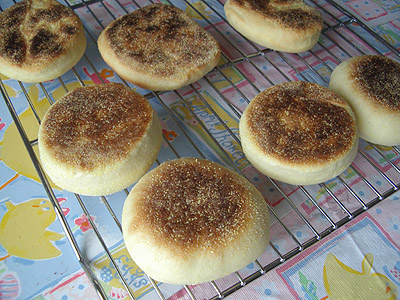 I think I made the dough a little too dry, so I didn't get the big holes inside that you want, but they still tasted good.
I used the recipe from Beth Hensberger's Bread Bible. I may try another next time, but no complaints about this recipe.
Traditional English Muffins
1/4 cup warm water (105 - 115 degrees)
1 tablespoon (1 package) active dry yeast (or a little less than a tablespoon of instant yeast)
Pinch of sugar
4 to 4 1/2 cups unbleached all-purpose flour
2 teaspoons salt
1 egg
1 1/4 cup warm milk
2 tablespoons melted butter
Cornmeal (for dusting)
If using active dry yeast, combine the water, yeast, and a pinch of sugar in a small bowl and let stand until foamy, about 10 minutes. If using instant yeast, as I did, you can just mix the yeast in with the flour and omit this first step and the sugar.
Combine 2 cups of the flour and the salt in a large bowl. Make a well in the center and pour in egg, milk, butter, and yeast mixture. Mix until creamy, about 2 minutes. Add the remaining flour 1/2 cup at a time, stirring in each time, until you have a soft dough that just clears the sides of the bowl.
Turn the dough out onto a floured work surface and knead for 3 to 5 minutes. Return the dough to a clean, greased bowl, cover with plastic wrap, and allow the dough to rise until doubled in size, about 90 minutes.
Sprinkle a work surface with cornmeal. Pour the dough out of the bowl and onto the surface. Sprinkle the top of the dough with cornmeal and then roll the dough into a rectangle about 1/2 inch thick. Use a large round cookie cutter or an upside down drinking glass to cut the muffins out of the dough.
Heat a large skillet over medium heat. Place the muffins onto the skillet and let the bake for 5 to 10 minutes until quite dark before flipping.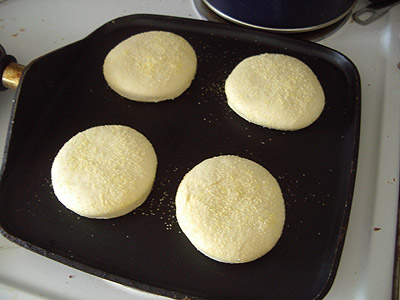 An optional step, if you are concerned about baking them all the way through (which I was), is to have your oven heated to 350. After baking the muffins on the griddle for 5 minutes on each side, place them on a cookie sheet and place them into the oven for an additional 5 to 10 minutes. This assures that they are baked through.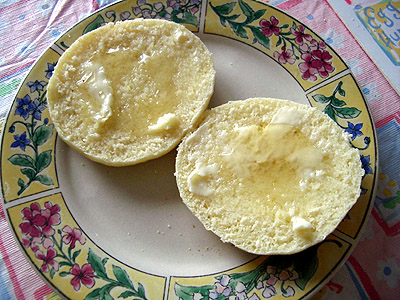 Enjoy!