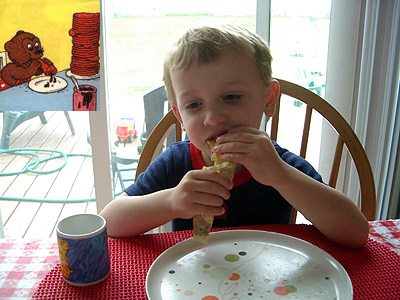 We've been reading a ton of Petzi books to our son. All of the drawings of Petzi eating crepes forced me to make crepes this weekend (yes, forced me... my life is so tough).
These were good in the morning, but the best part has been having extras in the fridge. I pull one out, spread on some Nutella, and zap it in the microwave for 20 seconds and they are as good as new.
I've used a few different recipes in the past, but I really like this one from Beth Hensberger's Bread Bible. It is extremely simple.
Crepes

Makes 15 to 20 crepes

3 eggs
1 cup whole milk
2/3 cup water or light beer
1 cup plus 2 tablespoons unbleached all-purpose flour
4 tablespoons melted butter (add a dash of salt if you are using unsalted butter)
Mix everything together with a blender, hand mixer, or whisk until it is smooth and the consistency of cream. Cover with plastic and refrigerate.
Lightly grease a skillet or crepe pan and heat over medium heat. Pour a scoop of batter onto the pan and tilt the pan to spread the batter around (or use a plastic scraper to do so). After a minute or so flip the crepe over and bake until the other side is slightly browned, 30 seconds or so.
Serve with whatever filling you like. We did Nutella and black current jam. Both were excellent.
As I mentioned, leftover crepes can be wrapped in plastic and stored in the fridge for a good long while. We actually didn't have any left over, but I made a second batch the next morning because we enjoyed them so much. It is almost time for me to make a third batch!