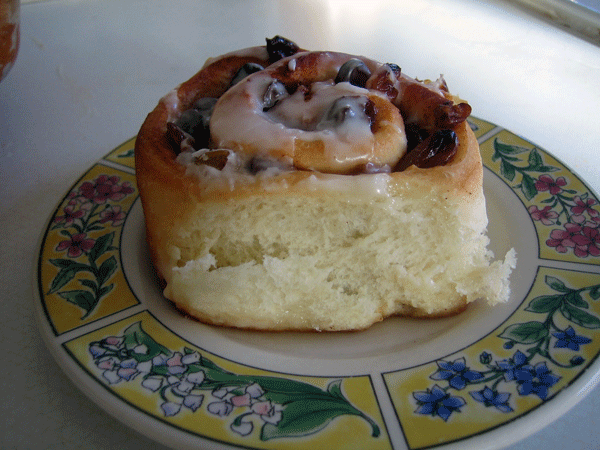 There must be a hundred different cinnamon roll recipes, from the French pain aux raisin to the British Chelsea buns to Philadelphia style sticky buns to the Midwest American truck stop cinnamon rolls that are as big as your head.
Here is the recipe I grew up with and still bake most often.
Cinnamon Rolls
Makes 12 rolls
Dough:
16 oz all-purpose flour
10 oz warm milk
2 teaspoons instant yeast
2 tablespoons melted butter
1/4 cup sugar
1 teaspoon salt

Filling:
4 tablespoons melted butter
1 cup raisins
1/2 cup brown sugar
1 teaspoon cinnamon
1/2 cup choppped walnuts or pecans

Glaze
1 cup powdered sugar
1 tablespoon lemon juice
Make the dough by combining all of the ingredients and kneading until smooth, 5 to 10 minutes. The dough should be tacky but not sticky. If it is too moist add a handful of extra flour. Place the dough in a bowl, cover the bowl, and set aside to rise until it has doubled in size (roughly an hour).
While I'm waiting for the dough to rise, I like to plump the raisins by pouring very hot water on them and letting them sit in the water for 15 minutes before draining them. This keeps them moister when you bake them, but this step isn't necessary if you are short on time.
Sometimes I prepare my filling as you'll see below: by combining the softened butter, cinnamon, and brown sugar in a bowl so they can be spread together. Again, this isn't necessary: you can simply spread the butter and sprinkle the sugar and spices as best as you can by hand. It is up to you.
When the dough is risen, roll it out on a floured surface.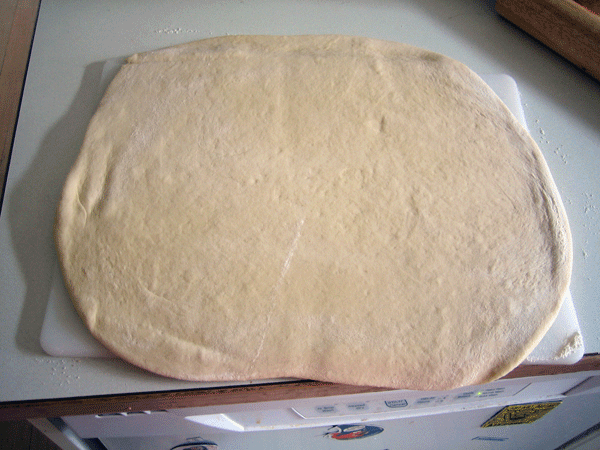 Spread the filling on the risen dough.
Also sprinkle the raisins on top.
Roll the dough up, trying as best as you can to prevent the filling form spilling out. Slice the roll into 12 even pieces.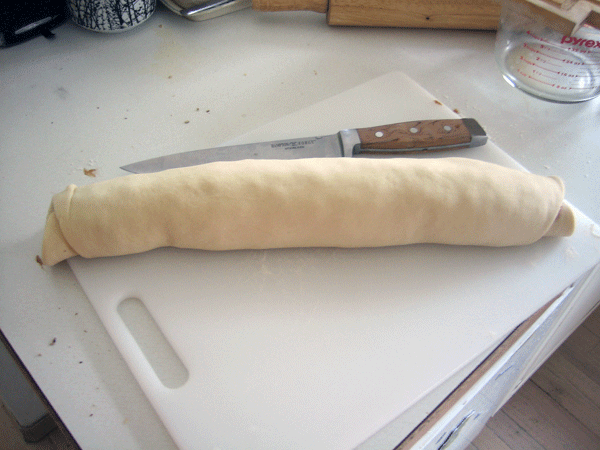 A tip from the Department of Slow Learners: I have no idea why it took me 25 years to figure out this trick, but it did. In the past, when I needed to slice something like this into 12 even pieces, I would eyeball it and then start carving one slice at a time off the end. Inevitably as I reached the final couple of slices I'd have either too much or too little left, so the final couple rolls are never the same size as the rest.
The trick I learned is to first slice the roll into two even pieces. Then slice slice each of these pieces into two even pieces, so you have four pieces total. Each of those pieces only needs to be cut twice more for you to have twelve pieces. Eyeballing how to cut a small piece of dough into three even pieces is much easier than eyeballing a twelfth of a large piece of dough.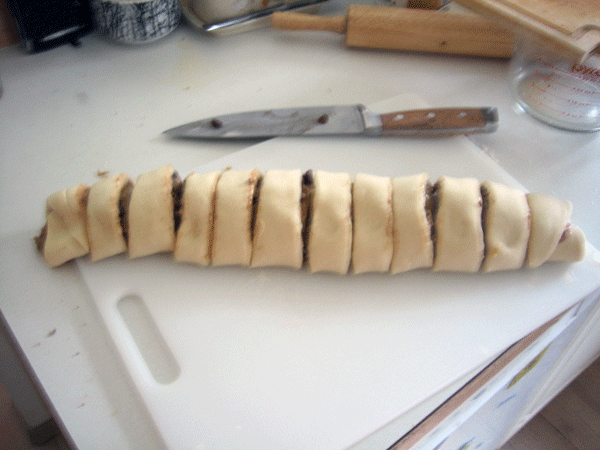 Moving on....
Now that your roll is cut into twelve even pieces, place those pieces in a baking pan.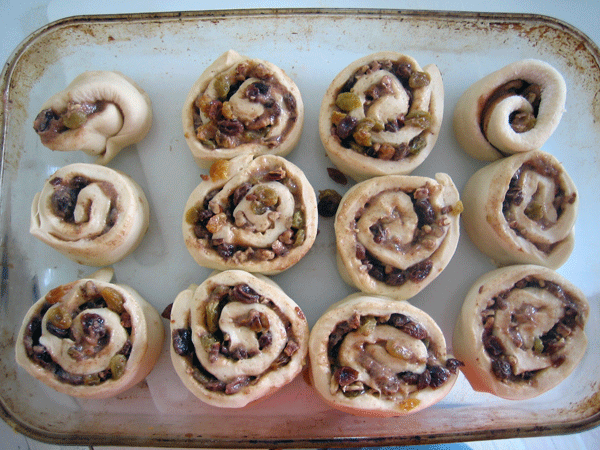 Cover the pan and let the buns rise for another 45 minutes to an hour until they've roughly doubled in size.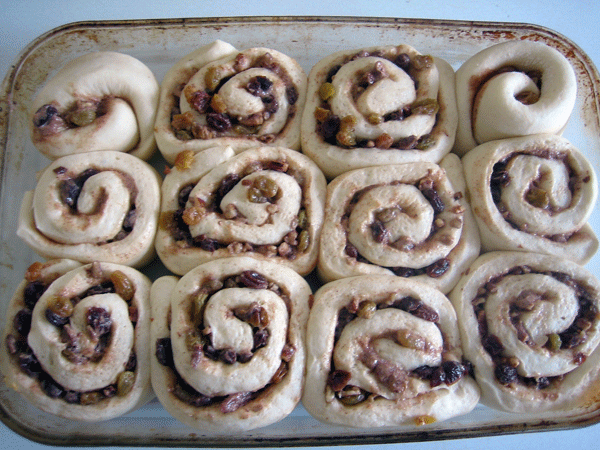 Bake them at 375 for 20 to 25 minutes. Be careful about oven positioning and overbaking: because there is quite a bit of sugar in the filling it is quite easy to burn the bottom of the rolls. I find that the second rack from the top works best in my oven, and I try to pull them out as soon as they look baked.
Let the rolls cool for 20 minutes or so before glazing them. The glaze will thicken as it cools, but if it is extremely runny feel free to add some additional powdered sugar to thicken it up.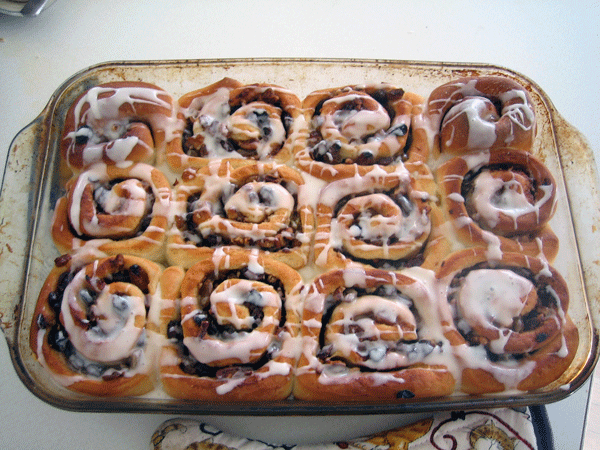 There is it.
I'd be interested in hearing about other people's favorite Cinnamon Roll recipes/techniques. Please share your recipes, ideas, and photos.