The first time I saw this recipe in Linda Collister and Anthony Blake's Country Breads of the World I nearly threw the book out the window. The recipe, called "Daniel's Saffron Bread," shows a 6 year old all decked out in an apron happily baking this Saffron Bread.
"A six year old??? Baking with saffron?!? The stuff costs as much, by weight, as gold!!!" I thought.
A month or so ago my mother-in-law returned from a trip to Portugal and brought me a souvenir: saffron. So I decided to try it. I have to admit, they are good.
The recipe in the book includes a bit more butter and skips the initial rise. He also bakes it in a loaf pan, whereas I baked them as little buns. I was happy with the way mine turned out, so I'm posting the recipe my way.
Saffron Buns
Makes 1 dozen buns.

1/2 teaspoon saffron strands
1 1/4 very warm milk
4 cups (500 grams) unbleached bread or all-purpose flour
1 teaspoon salt
1/2 cup (1 stick) butter
1/4 cup light brown sugar
2 1/2 teaspoon instant or active dry yeast
2/3 cup dried fruit
Stir the saffron strands into the hot milk and set aside to infuse for half an hour at the minimum or as long as overnight (in the refrigerator).
Combine the flour and salt in a mixing bowl. Cube the butter and cut it into the flour with a fork or a pastry cutter so that the mixture resembles course crumbs.
Stir in the sugar. If using active dry yeast, heat a half cup of the milk to room temperature, then stir in the yeast and allow to activate for 10 minutes. Otherwise, add the instant yeast directly to the flour mixture and stir in all of the milk.
Knead by hand for 6 to 8 minutes or in a stand mixer for 3 to 5 minutes. Add the dried fruit and knead some more until the fruit is distributed throughout the dough.
Place the dough in an oiled bowl, cover with plastic wrap, and set aside to rise at room temperature until doubled in size, roughly 45 minutes to 1 hour.
Shape the rolls by hand and place on a baking sheet. Cover the baking sheet with plastic and set aside to rise another 45 minutes. In the meantime, preheat the oven to 350 degrees.
Bake the rolls at 350 for approximately 20 to 25 minutes, rotating the baking sheet once halfway through. The buns should be nicely brown.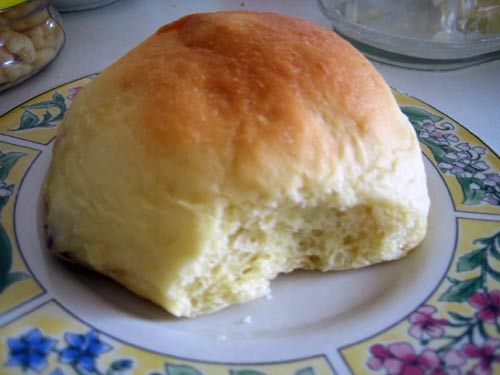 Serve immediately.