November 18, 2023 - 7:11am
Need help pin pointing where things go wrong with my seed & oatmeal bread recipe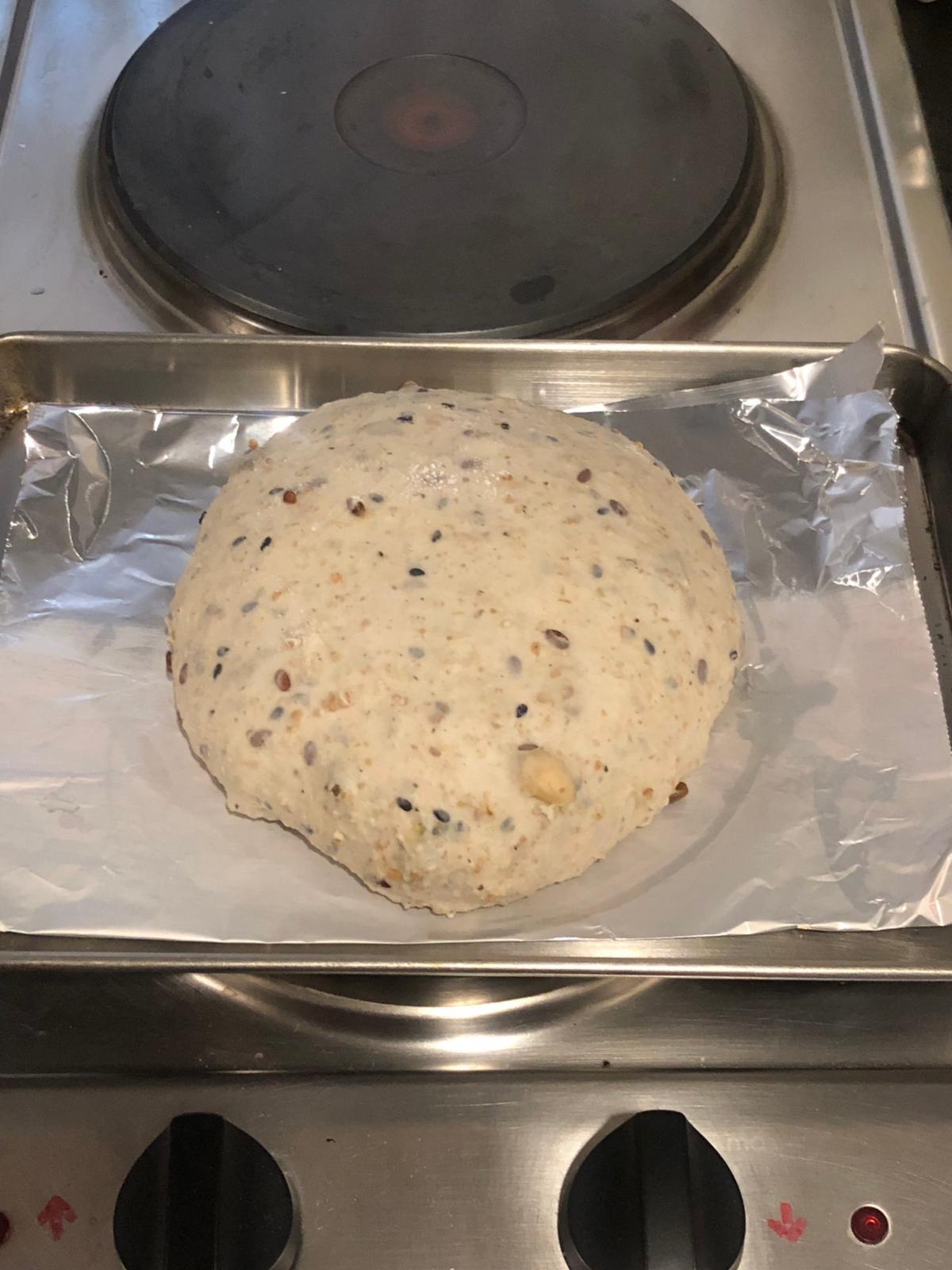 So, today I tried to adapt my sandwich bread recipe I'm fairly confident in into a multi-seeds & oatmeal bread and almost ended in a failure. I might have recued it, maybe? The bread is cooling on the rack now and result can only be ascertain after I slice in. Now, this one is only the experimental one, which, thank god I second guess myself and doing this one first, and I only have one more shot that I don't want to mess up (at least not this bad), so I'd like some more eyes to help me scrutinize where I went wrong. I'll post my speculations and detail recipe later, but first, let me explain my thought process how I get here.
It starts off when my wife mentioned she love this one multi-seeds bread from a supermarket chain near my place, which I find it a bit relatively expensive and, as a proud hobbyist, think I can one up them. Normally my wife wouldn't be happy with me baking bread that much with various personal reasons in our family, and one also being that bread isn't our staple here in SEA. Now, though, since she greenlit me to bake this weekend, I hope to take this chance to turn things around to bake this multi-seeds bread she seems to like.
So, I started off with a recipe for milk sandwich bread that I'm fairly confident in, and, from digging around in this forum and the internet, I arrive at the conclusion that:
1. I'll use a mix of pumpkin, sunflower, flax, and sesame seeds of 2:2:1:1 ration, coming to a 20% in baker's math.
2. I'll toast them and soak them until fully hydrated, and I can drain and add them right into my recipe and it shouldn't mess up my hydration, or at least, not too much.
3. Since my wife is more and more health conscious these day and I heard that oatmeal can improve the fiber content in bread greatly (the kind that is normally lack in bread or something of that sort), so why not? searching around the internet give me a recipe that use about 20% seeds and 25% oat in the recipe just fine. Although their total hydration including all the oats and seeds are at 65%, while mine is about 75%+/-3 without the seeds and oats, I decide to go with 20% oatmeal toasted and soaked before wringing out the excessive water and add into the recipe. With the same train of thought as the seeds, that shouldn't mess up my hydration, or at least, not too much... right?
4. Again, since she seems more into whole grain bread, I decide to bump up the whole wheat-rye starter proportion from 10% of the flour to 20% (just the flour part, so, as it's 100% hydration, its total weight went from 20% to 40% of flour)


So, with all the tweaking, this is the intended test run recipe:
Total flour 102g, hydration ~78.5%
- 46g Tang Zhong (20g AP flour+ 2g rice flour + 24g boiling water)
- 40g Poolish (equal whole wheat+rye, in place of 100% starter)
- 60g AP flour
- 40g Milk
- 6g Sugar
- 6g Butter, melted
- 2g Salt
- 1g Yeast
- 20g Oatmeal + 20g Mix seeds, all toasted, soaked, drained, and wrought*
Except the last item, the rest is my adjusted standard sandwich loaf that work well in the past; normally there will be only 20g starter/poolish and the flour and water will go to AP and Tang Zhong, respectively, instead (so, 70g AP and 34g boiling water)


My intended process was:
- Prepared my Tang Zhong, mixed poolish, and toasted and soaked to seeds and oat.
- Combine everything except flour and mix well, then add flour and let it autolyse for 30 minute.
- Slap and fold until gluten develop well, bulk ferment, shape, proof, bake
In retrospect, the first bad sign I should have noticed was that my Tang Zhong might have some gluten development, so it might have not gelatinized properly as I might have let my water temperature dropped too much. Another thing was that, I measured the weight just in case, and all the soakers combined came at about 100g, from a dry weight of 40g, so that's 60g water inside it (150% absorption); but I just brushed it aside.
Anyway, first thing that went off was I ended up with 1-1.5 hour. The poolish might not have ripened, but I intended to just let it ferment as much as possible before I mix the dough and add the rest of the yeast later. Then, the first real bad sign I notice was even after that long autolyse, I could barely find any strength developed in the dough. After a few minutes of slap and fold, which was more like scooping up & dropping the batter, I can only see some string appearing and thought, developing gluten from this would be next to impossible and decide to add 15g more of AP flour first to see how it went. After mixing it in well, the dough is still very slack, but I could see some more gluten development right away, so I decided to give it a shot just like that and managed to slap and fold it into shape in the end. That what I did to rescue the dough, maybe? Not sure if it's too wet and gummy inside or not.

After the fact, I come back to recheck the baker's math.
If I treat all the dry weight of a soaker as part of the total flour (so, extra 40g), and the water they absorbed as part of the water (extra 60g), my dough will be at 98.5% at the beginning, and after adding 15g of flour, that came down to 89%. This is relatively align with the feeling of the dough that I got at each stage.

Here's my questions:
1. Is my conclusion that, I should take the soaker into account as dry ingredient, and add 1.5x of their weight in the fluid part of hydration equation sounded?
2. If I just cut down the hydration of my original recipe to incorporate these extra water and dry ingredients, do you think it will have enough gluten strength to hold everything? My reasoning is that, I'd treat the 20% flour in Tang Zhong and another 20% in preferment as effectively not producing gluten since they are gelatinized and fermented, respectively. That leaves only 60% of the flour that producing gluten, 40% not producing gluten, and extra 40% are seeds and oats.
3. With that train of thought, should I actually treat this as a loaf with 142g of flour instead (22g in TZ, 20 in preferment, 60 in Main Dough, and 40 in Oat&seeds,) and increase sugar and butter proportion accordingly?
4. Any suggestion to prevent me from messing up the whole 300g flour loaf that I'll bake, maybe, tomorrow or the day after? My concern right now is that, I'm not sure if the 40% added seeds make my loaf bigger or not, or the added bulk is off set by the less rise the dough get from the seeds and oats. It feel like it is bigger to me right now. My issue is that I use a small toaster oven and 300g straight dough is as full as it can get that I got a spot burnt crust sometime due to the loaf rose up too close to the heating element.