Light rye/wheat banana bread too dart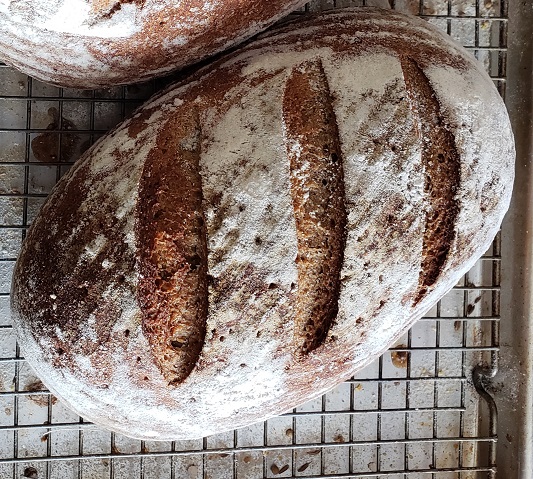 Hello All.
This is my first post so I hope I am within the guidelines. 
I make a banana bread using a rye starter. The dough consists of a 50/50 mix of light rye and light wheat flour.
I shape these into oval loaves and put them in banneton baskets, and from there, they go into the fridge overnight. The next morning, I take them out of the fridge and let them sit for about 75 minutes before going into a preheated 450°F with steam. After 10 minutes, I lower the oven temp to 400°F. 
At some point in the baking, the loaves look terrific but the internal temp is far from being done (200°F). So by the time the internal temp reaches 200°F, the top and bottom of the loaves are too dark, in my opinion. I have tried to cradle or wrap the loaves in foil some time into the baking but it doesn't seem to stop the browning process. 
Does anyone have any tips for me? Any help would be appreciated. And, please, let me know if further detail is needed. I thank you for your help.
Best,
Casey