January 17, 2023 - 9:28am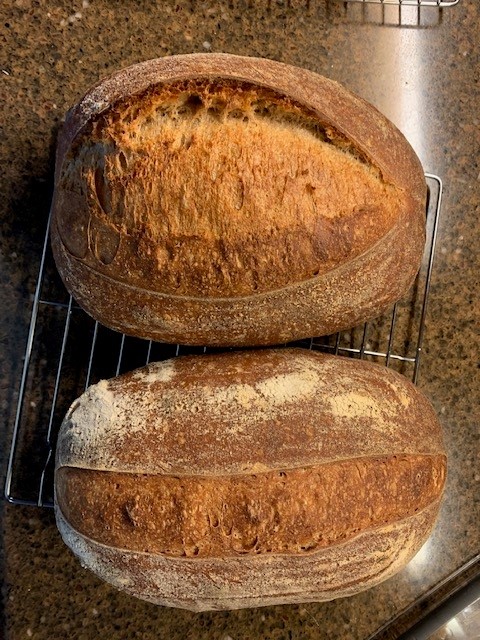 I'd appreciate advice on why two loaves using the same formula, technique, and baked simultaneously rose differently: one with an excellent, beautiful bloom and one not so great. My formula is for a 40% whole grain loaf as below:
Levain 400 g (20% of flour); Bread flour 450 g; Whole wheat 275 g; Rye flour 75 g; Salt 17 g ; Yeast 1 g; Water 530 g (73% hydration).
For this round, I allowed 4 hours of bulk fermentation before dividing and shaping. While the shaping was similar for each loaf, I reshaped one of them by reforming a dough ball, but I don't think I was too heavy-handed or that I severely degassed it on reshaping. The loaves were then retarded at 40 F overnight.
They were are baked at ~460 F on a stone with initial steam from a pan of lava rocks. As shown in the photos, one seam sealed on baking but the other broke open, allowing a beautiful bloom. Is this due to random variables that are beyond my control? Or is there something I can change in my technique to get both loaves to bloom consistently? At this point, I'm considering adding a bit more commercial yeast, but also wonder if this has something to do with my shaping technique. I welcome your advice.