January 14, 2023 - 5:15pm
clas and flas: (32%) soba noodle, N0 hand kneading
This one is easy!! No messy table, no arduous work.
Flas is helpful here: It provides liquid and the "lab"s without increasing the total flour.
Clas contributes more "lab"s while adding a component of rye (included in Ivan Orkin's ramen recipe*).
The flours are all whole grain;  clas and flas used were previously frozen.
Recipe: Dough weight ~240 gr. (1/2 lb); 2 servings;
15 g flas (liquid)
1 egg (47 g)
25 g clas  (8.6 rye fl + 16.4 water)
100 gr freshly milled hard red whole wheat
===
50 gr whole buckwheat flour (Arrowhead Mills)
==== 
Mix all ingredients (except buckwheat) in KA for 6-8 min to develop strong gluten for noodle.
Then add the buckwheat flour and let the machine incorporate it uniformly through the dough mass. (2-3 min). (You can add a bit of water if it does not compact -1 or 2  tsp?)
Press into a tight ball and wrap in plastic wrap for 2-3 hr. hydration, room temp.  Be sure the ball of dough is tightly compacted.  Note the somewhat dry cross section of dough after hydration in (a) below.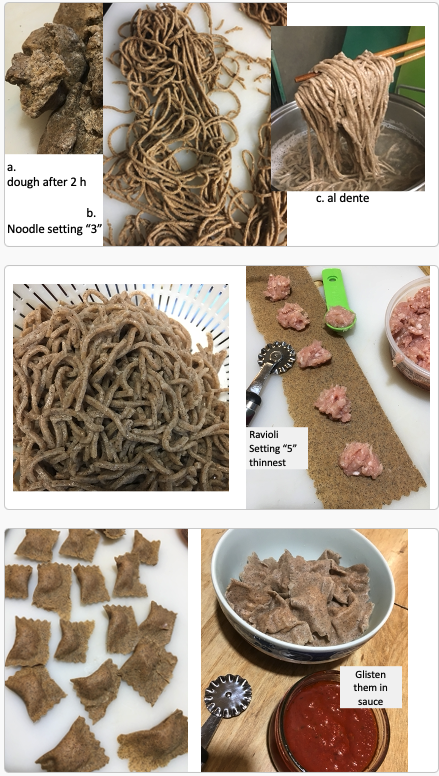 Flour %: soba 32%,ww 63%, rye 5.4%. Hydration (incl egg as liquid): 50%. 
*
"Toasted Rye Noodle"  by Ivan Orkin.
http://www.foodandwine.com/recipes/chile-eggplant-mazemen-ramen-pork-belly
https://www.youtube.com/watch?v=O8nxOu2G27g      <--start at 1:10