November 18, 2022 - 3:12pm
Help me diagnose my sourdough loaf please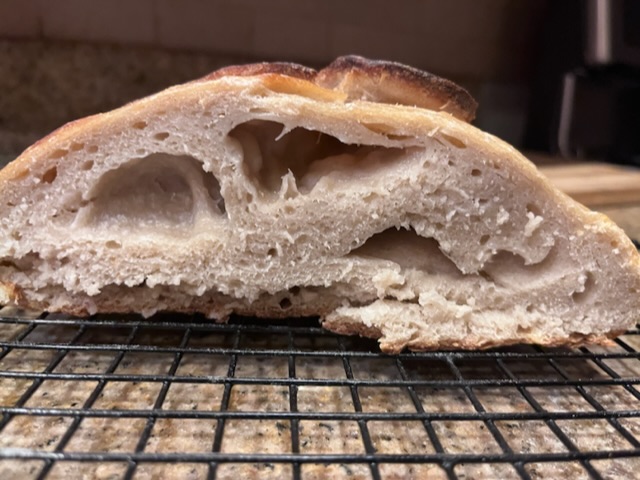 Hey everyone , so I just created a starter about 3 weeks ago and decided to make a sourdough loaf today. But as you can see it came out terribly. I sort of knew it was going to come out poorly because I more or less used the same bulk and proof times as my commercial yeast doughs just so I could have a baseline of the difference between them. However during the process several things about this ssourdough confused me. First was that during the bulk fermentation, the dough didn't raise, like at all. I did 4 stretch and folds, 30 minutes apart and never saw it rise. Then I let it go for another hour for a total time of 3 hours bulk fermentation with no visible change in the size of the dough. Another thing that intrigued me was the density, when I've underproofed loaves before I get a nice open spring but this fella stayed a puck.  Anyway here is my process so if anyone can offer some advice I'd be grateful.
1. Take about 30 grams starter(I did not feed it the day  I used it) and mix it with 100 grams flours 100 grams water for a leavin. Let that sit on the counter for 7ish hours and then I put it in the fridge overnight. 


2. Mixed 950 grams of bread flour and 50 grams rye flour, mixed in 700 grams of water at around 120 Fahrenheit with the levain and mixed it in with the flour and did a 40 minute autolyse. ( The temperature of the dough was around 82ish at this point)
3. Then I added 20 grams of salt into 50 grams of water and mixed that with the dough.
4. Stretch and fold every 30 mins for 2 hours + 1 more hour of bulk.
5 . Split the dough, did my preshape on the counter let it rest, did my final shape dropped it into the banneton and put it in the fridge covered. 


6 next morning preheated my Dutch oven at 500 for an hour, dropped the oven temp to 450 and dropped the boule in the Dutch oven and sprayed the top with water.
 So just by judging from the non change in the doughs size I would assume it's underproofed, but I didn't know that flatness was an indicator of that, I thought it was the opposite.