September 18, 2022 - 7:19pm
Diagnose my loaf - SD Milk Bread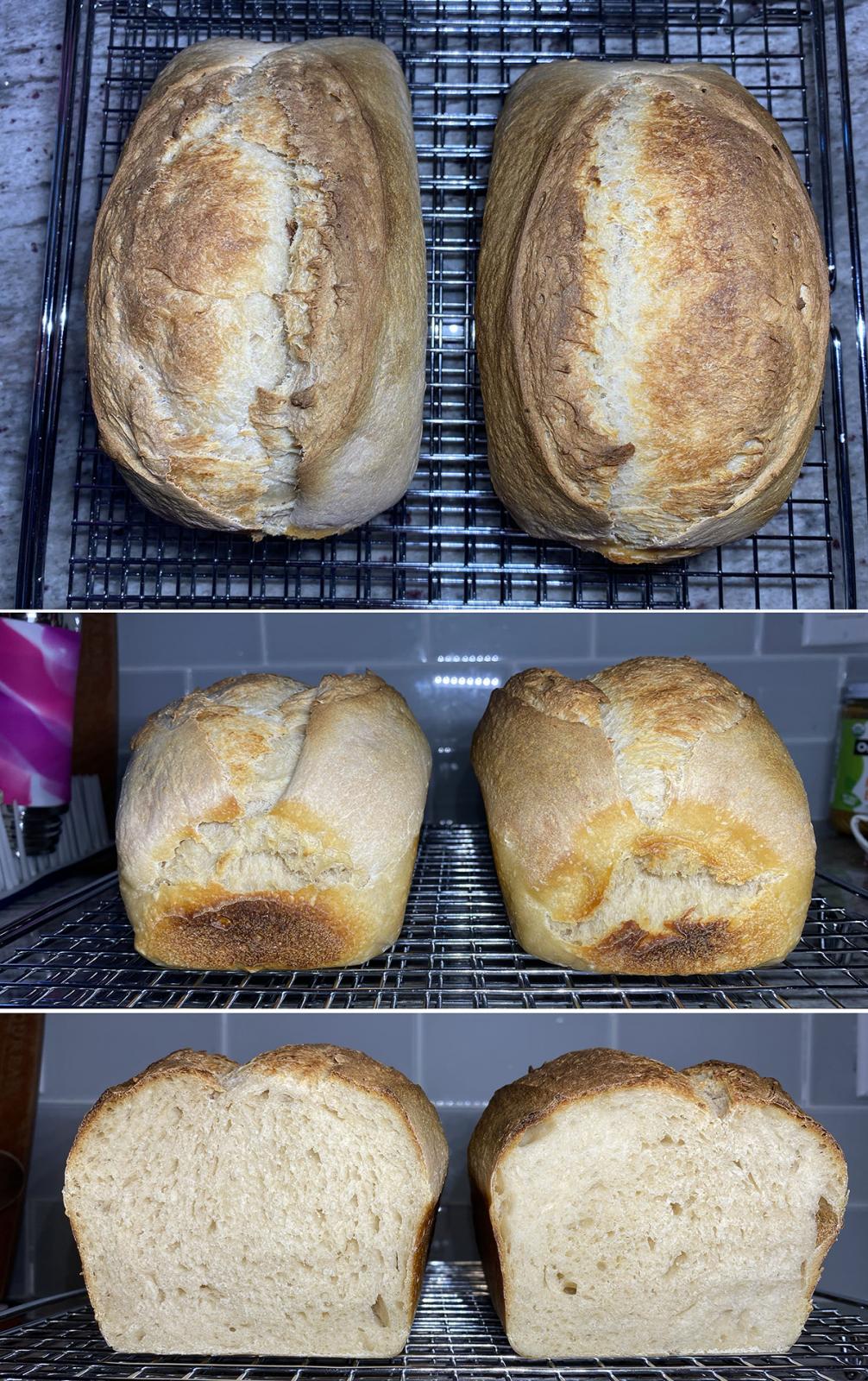 Hello,
I've attempted this recipe for Sourdough Milk Bread a few times and I'm not quite sure where it's going wrong. It seems they are always bursting out of the middle and sides, and the crust is way too hard. I couldn't figure out if I was under proofing or over proofing, so I left the right side dough for 3 hours longer in the final rise - doesn't seem that much different though. I have a WW starter at 100% hydration that generally takes longer to double, 6-8hrs, so I figured leaving longer for the final rise made sense since they were not really doubling in the pan... I also used a different shaping method that I saw on a youtube video - is it possible the problem was in the shaping??
Also any tips on how to make the bread taste less sour? I tried taking starter out of fridge a few days early and feeding at 1:2:2 (starter, flour, water) twice a day. That seemed to help the last time I made this bread but this time it was still very sour which I'm guessing is bc the final rise went too long?
The recipe I used is below (https://www.butterforall.com/traditional-cooking-traditional-living/sourdough-milk-bread/) and I did the following things differently:
- kneaded for the first two rounds bc dough was too stiff/tough to stretch & fold
- after the "several rounds of stretch & fold every 5 min" I waited 30min and did another 2-3 rounds of s&f as dough was still pretty tough
- bulk fermented around 12 hours, final rise for 5hrs & 8hrs (left & right loaf respectively)
- added a pan of water to steam during bake 
 THANK YOU!
Ingredients
300 grams (2 1/4 cups) organic all-purpose flour
300 grams (2 1/4 cups) organic bread flour
420 grams (1 2/3 cups) milk (I use raw milk)
 InstructionsThe Night Before
In a large bowl gently mix all ingredients, just until incorporated. Let the dough rest for 10 minutes.
Using slightly wet hands do several rounds of stretch and folds in the bowl, letting the dough rest for 5 minutes in between each round.
Once the dough is soft and smooth with long strand gluten development, gently shape it into a ball in the bowl. Cover and proof overnight at room temp (65℉). I let mine go for 10 to 12 hours.
The Next Morning
Do one round of stretch and fold in the bowl to deflate the dough. Let the dough rest for 10 minutes.
Butter two loaf pans and set them aside. (I use cast-iron or glass loaf pans)
Lightly flour your work surface and turn the dough out. Divide in half and gently shape each half into a loaf by first patting the dough into a rectangle. Next, bring the top third toward the center and the bottom third over it. Let the dough rest for a few minutes and then do the same patting out and folding over in the opposite direction. Let the dough rest seam side down for 5 minutes before transferring it into the loaf pan for the final rise.
Let the dough rise at room temperature until doubled.
Preheat your oven to 400℉.
Score the loaves straight down the middle with a lame or razor blade. Spray each loaf lightly with filtered water.
Bake both loaves side by side in the center of the oven for 30 minutes. Rotate the loaves once at the 15-minute mark.
Remove the loaves from the oven and let them cool for 5 minutes before turning the loaves out of the pans and cooling them completely on wire racks.