99th bake. 08/16/22. WW, rye, BF, starter, malt, IDY.
Aug. 16, 2022.  99th bake.
WW, rye, bread flour, red rye crystal malt, starter, IDY.
I used 20 grams of ground red rye crystal malt for 350 g total flour, which gave a good malty taste, but perhaps a tad too much.  Next time I'll back it off to 5%.
Inspired by other rye formulas, notably Ilya's, this time, immediately prior to baking,  I painted the top of the loaf with a mix of 6:5 ratio of water to dough.  Then after baking, I brushed on a thin layer of a gelatinized mixture taken from a small batch of about 1 tsp corn starch in 1/4 cup water. (I only used a tiny fraction.)
Soaker:
200 g home-milled hard white spring wheat, Prairie Gold. 
30 g home-milled hard red winter wheat, generic, from 2008. 
20 g Simpson's Red Rye Crystal malt, ground from whole kernals. 
See: https://www.thefreshloaf.com/node/70085
6.5 g salt. 
210 g bottled spring water. 
mixed above at 10:24 am.
Othe ingredients, mixed together and added as a whole to above:
26.5 g 100% hydration starter, using white bread flour. 
4.1 g discard (wanted to use 30 g of starter but didn't have enough.) 
40 g bottled spring water. 
7.1 g bread spice[1]. 
15 g Gold Medal bread flour. 
70 g home-milled whole rye. 
1/8 tsp Fleischmann's instant dry yeast. 
6.5 g bottled spring water. 
Mixed the dry ingredients together. Mixed the starter and water. Then right before adding the soaker, the wet and dry were combined, and then added the 6.5 g water to get hydration right. 
Then:
11:45 am - 11:53 am: mixed the above with the soaker. And added another 5 g water. 
12:32 pm: kneaded some. 
1:30 pm: kneaded some. 
2:30 pm: kneaded some. 
2:53 pm: shaped and panned in a Lodge cast iron loaf pan 4LP.  Pan was greased with melted vegetable shortening (generic Crisco) and dusted with durum semolina. 
Top of loaf was painted with a 6:5 mixture of water:dough (same dough as loaf.) 
3:59 pm: Covered in aluminum foil.  Baked in toaster oven, 400 F, with both upper and lower heating elements, "Toast Mode". Oven had been pre-heated to 450 F. 
There is a 9" round pizza stone sitting on top of the metal guards of the lower elements, but underneath (and not touching) the oven rack. The stone does not touch the heating elements. Being round, it does not cover the entire heating elements, maybe 3" of each one. This is enough to shield the bottom of the loaf pan from direct radiant heat of the lower elements. The loaf pan sits on the oven rack, a fraction of an inch above the stone. 
4:16 pm: Rotate 180 degrees.
4:22 pm: uncover, turn off upper heating elements, leaving bottom elements on, "bake mode."
4:33 pm: turn back on the upper elements, "toast mode."
4:44 pm:  Previous loaves took only 45 min to bake, but inner temp was only 188 F.   De-panned and put back in oven on rack.
4:58 pm: 206 F.
After baking, I brushed the top with a cornstarch glaze. Approx 1 tsp cornstarch in 1/4 cup water, heated until gelatinous. 
The only difference from the previous loaf  I can think of that made it require 14 more minutes of bake time is painting the top with water+dough.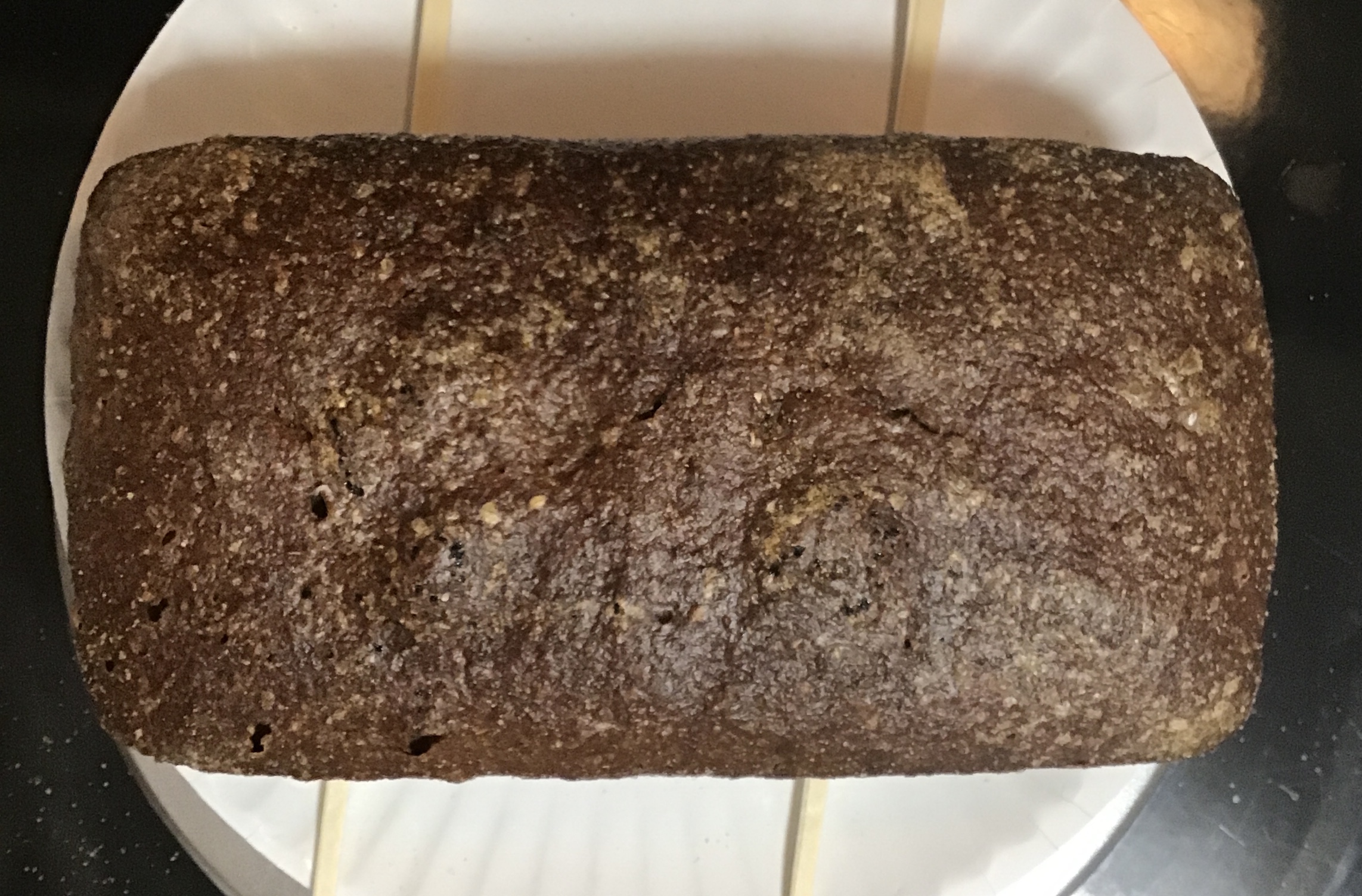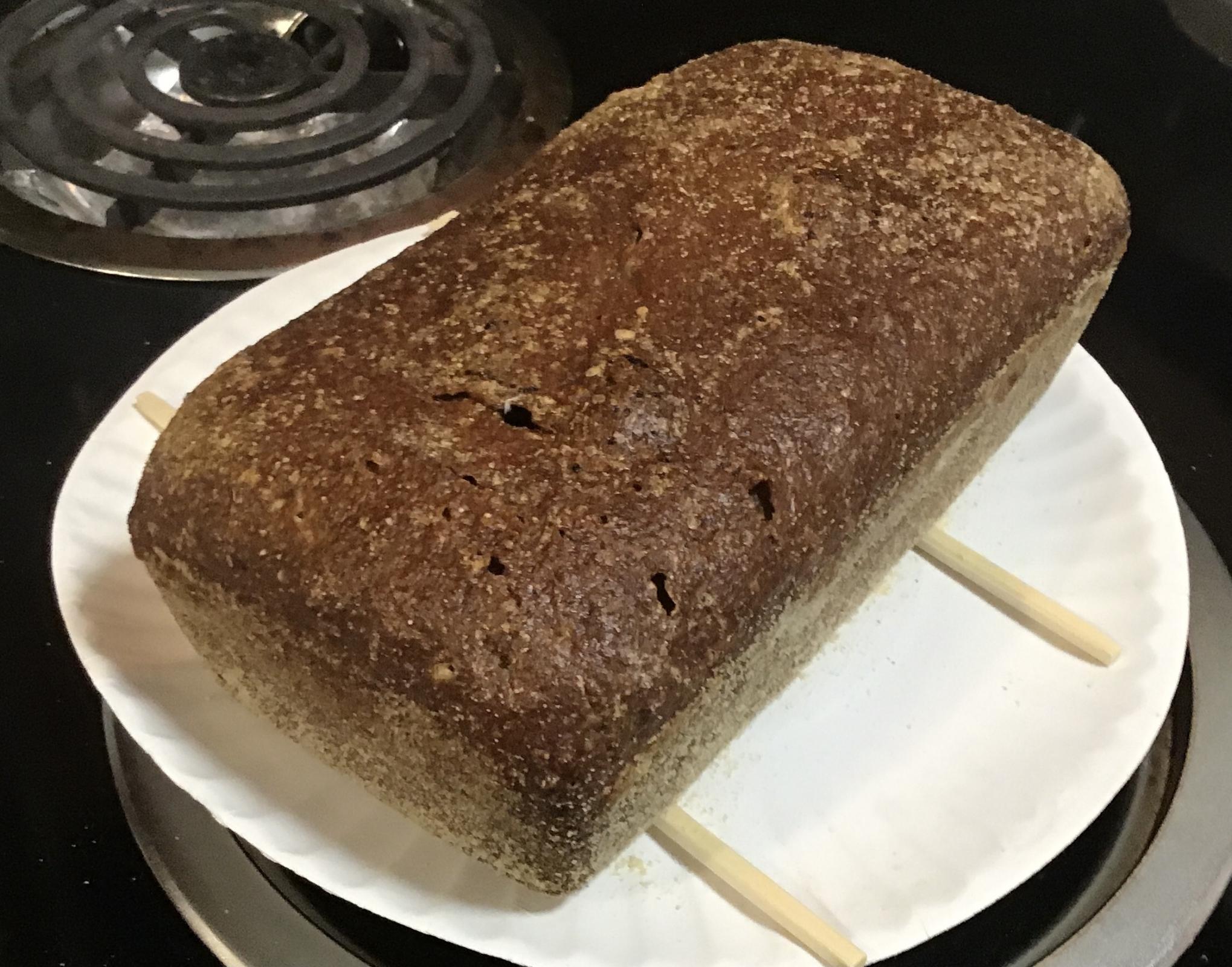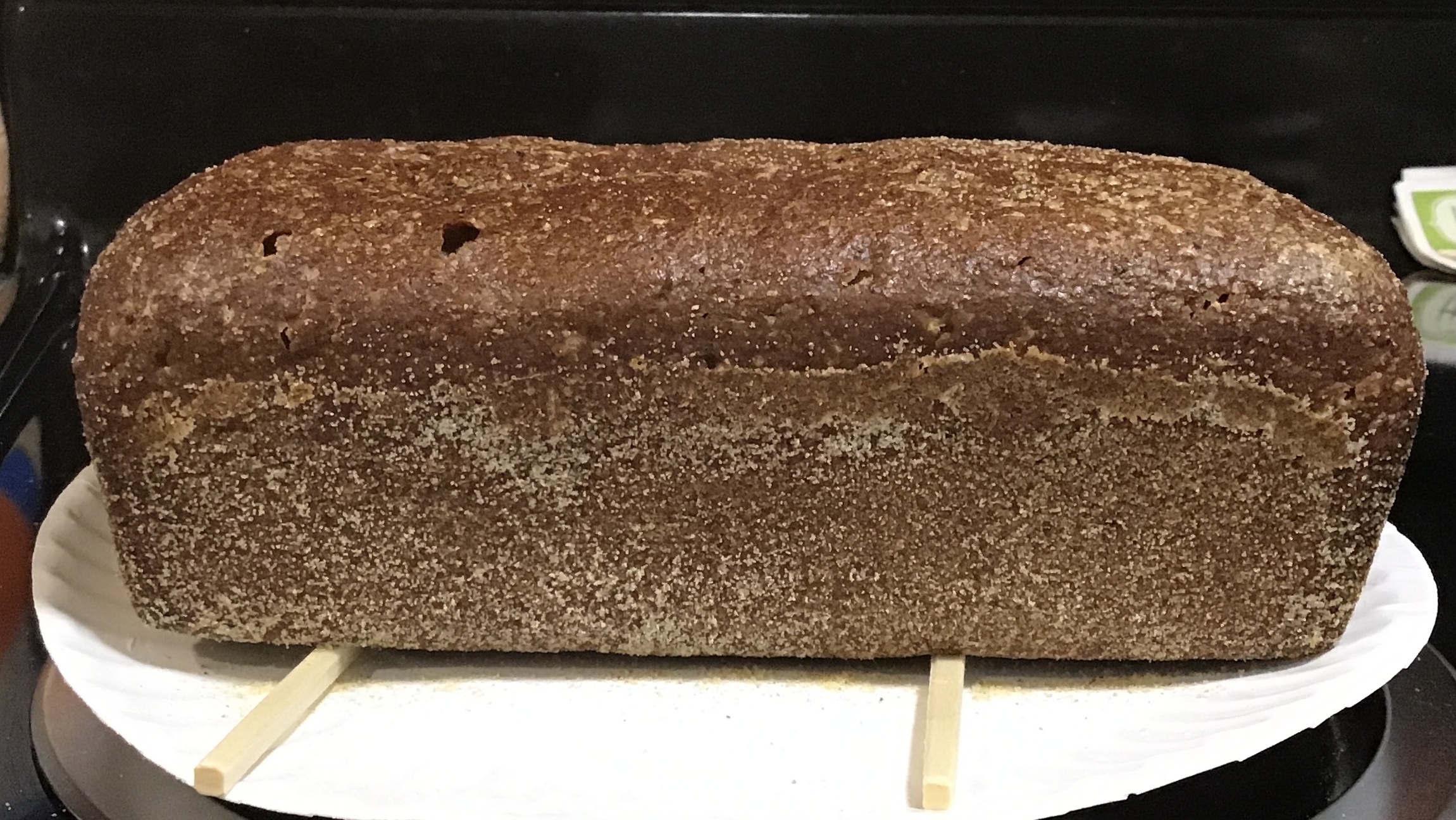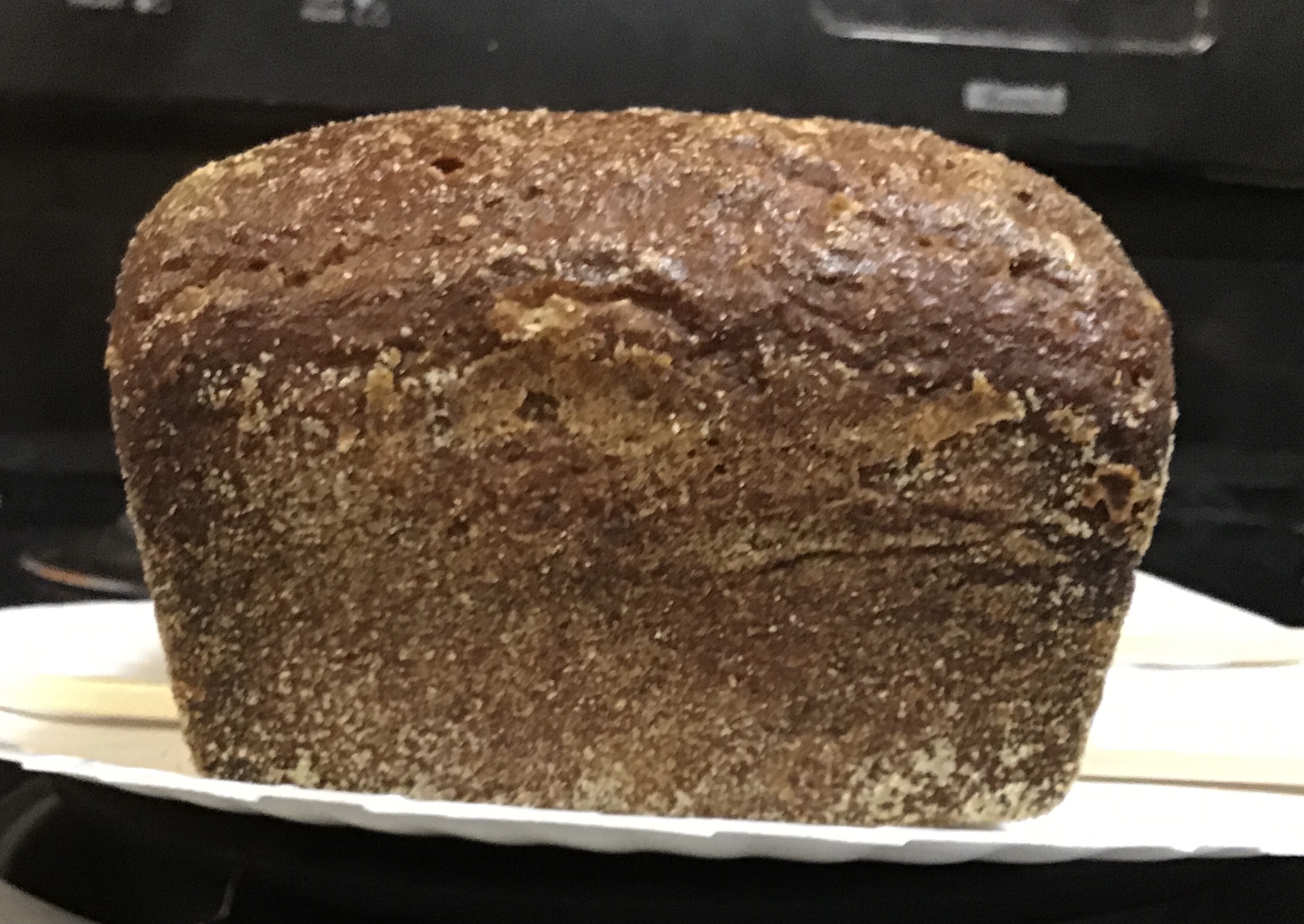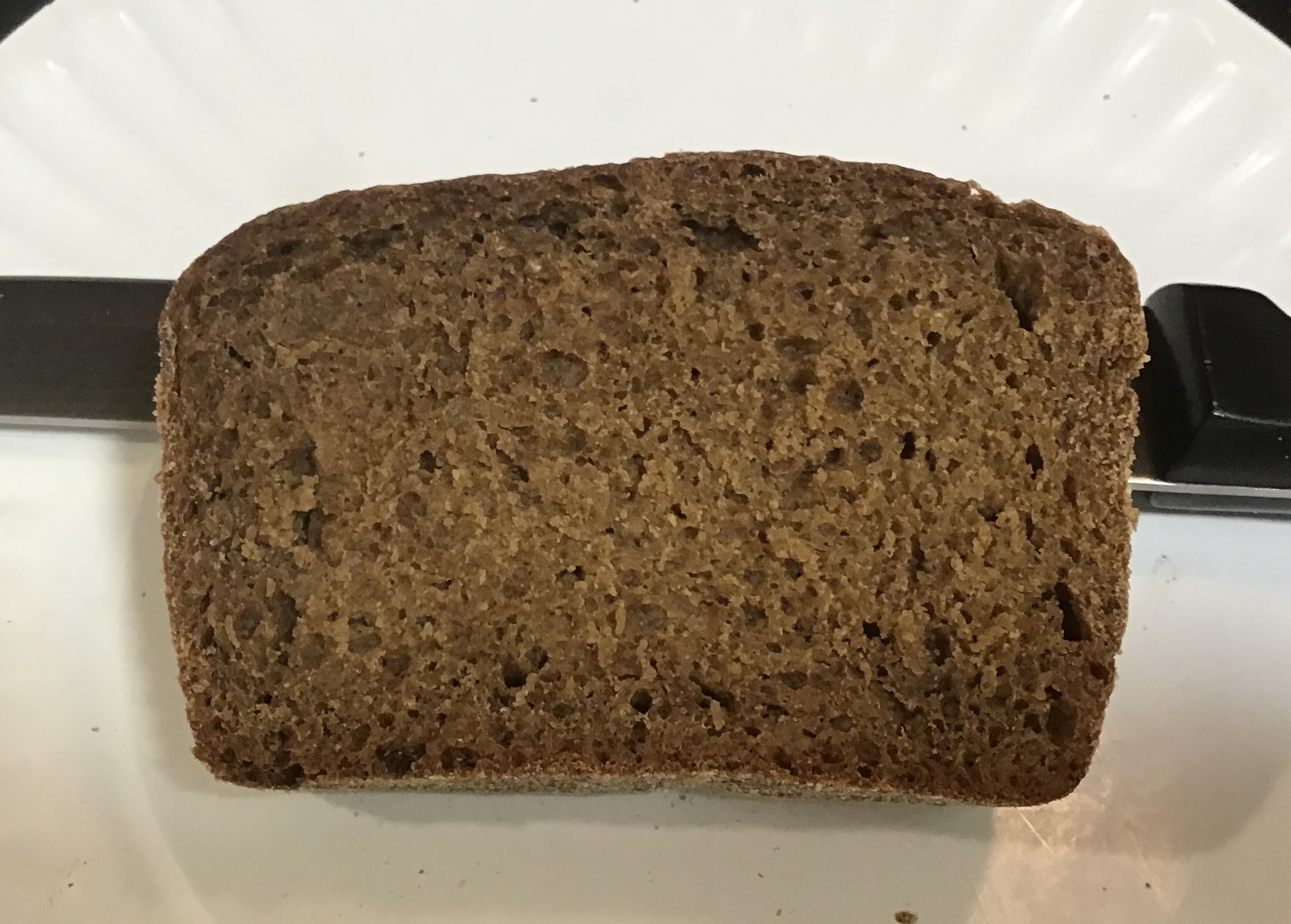 [1] A batch of my bread spice is:
1 tbsp whole dry anise. (Use another tbsp of fennel if you don't have anise.) 
1 tbsp whole dry fennel. 
2 tbsp whole dry caraway. 
4 tbsp whole dry coriander. (It's hollow and lightweight.) 
Toast the whole spices in a pan until aromatic. 
Let cool. 
Grind in a whirly spice/coffee grinder. 
I originally got it from Hanseata. She used 1 part fennel, 1 part caraway, 2 parts coriander. Toasted first, then cooled, then ground. I split the fennel into 1/2 anise, 1/2 fennel.